Reading time – 5:29; Viewing time – 9:32  .  .  .

[Ed. note: Be sure to read the "Finally" section at the bottom, which was added after the video was recorded.]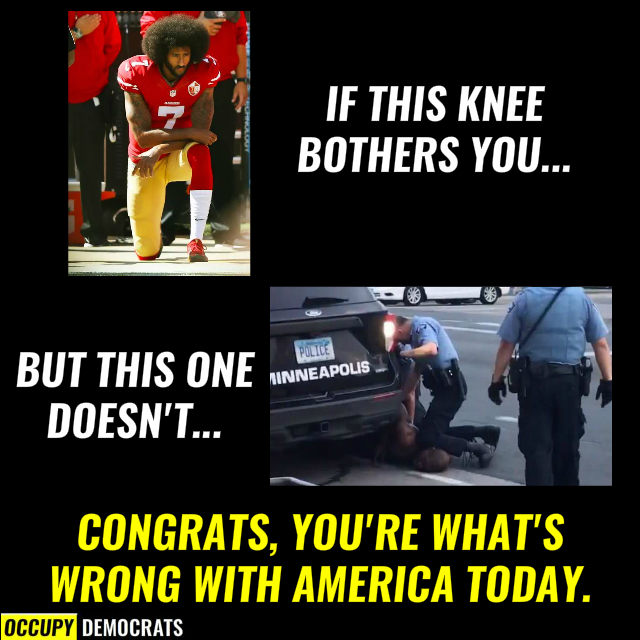 It's the Economy, Stupid

The White House announced (love that phrase – as though a building could talk) that it won't update economic projections this summer. Think about that for just a minute.
Trump and his economic geniuses have proclaimed proudly and often that our economy would be chugging along at over 3% annual growth rate, what with Trump having ridiculed President Obama for his 2-something rate following our total economic collapse of 2008-2009. Now we're in a [soon to be officially declared] depression, which is not compatible with Trump's puffery. He can't brag as the economy contracts 5.6%. So, to combat the impossibility of such bragging, the president will go on a Trump victory offensive: he'll just refuse to talk about it. Forget that the President's review of the economy is required by law. This is the Trump administration and he don' care 'bout no stinking law. And who would hold him accountable anyway? That's a problem.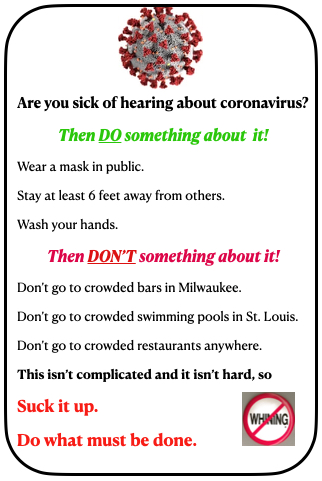 7 Days of Trumpcrap
Trump's standard playbook is to constantly throw crap at the wall and see what sticks as a distraction. He does this both to keep everyone else off balance so that he feels in control and to make you look away from his obvious failures. Most common are character assassinations, eye-googling innuendo, baseless accusations, outrageous policy shifts, stupid proclamations, repetitions of phrases as though he's not sure he said them, and of course, general air head stuff with no apparent meaning. He never backs down from anything he says, no matter the idiocy he's initiated or how harmful it is to others.
Here are some of the Trumpcrap distractions from just the past 7 days.
Trump baselessly accused Joe Scarborough of having murdered a Congressional aide in 2001 at a time when Scarborough was 900 miles away from the aide. The aide was known to have had a serious medical problem and she fell, hit her head and died. That is in the coroner's report. However, that did not prevent Trump from trying to smear a tough Trump critic with odious Trumpcrap lies and the media focused on that for days.
Trump didn't like that Twitter appended to his Scarborough smear several links to fact checks. He immediately threatened an Executive Order to attack Twitter, Google and FaceBook and released the EO on Thursday. He wants to regulate speech on the internet so that it's to his advantage, an obvious violation of the First Amendment. For this president, violating the Constitution is commonplace. Doing so always manages to attract major attention and redirects eyeballs from his ineptitude and criminal behavior.
Trump has commenced a full-mouth-press against mail-in ballots. He makes the same false claims that Republicans have been spewing for at least two decades, whining that our elections are rife with voting fraud. It does happen – about once in every 125,000 votes cast. See my upcoming post on Wednesday, June 3 for more on that. He claims that allowing voting by mail will exacerbate this non-existent problem. That Trump himself votes by mail doesn't seem to him to be evidence against his claim, nor do the years of clean experience of mail-in voting in many states make a dent in his baseless accusations. But the Trumpcrap does distract.
Trump called for an expansion of his useless border wall – he wants another 500 miles of it. You do the guessing about which Congressionally mandated programs will get cut to pay for his ego project.
He reiterated his total ban on immigration, or at least his blatherings about it. He has been consistent in his disdain for non-white people who want to come to America, including those from "shit hole countries" and Muslims from anywhere. That's always good for shifting eyeballs away from his failures and crimes.
In the aftermath of the brutal murder of fellow citizen George Floyd by a Minneapolis police officer and that officer's indictment on 3rd degree murder charges on Friday, the president held a press conference. He spoke from a Tel-e-Prompter about the China/Hong Kong situation. He had no comment whatsoever for the family of the murder victim, the aggrieved citizens of Minneapolis or the nation, for the police, the mayor, the National Guard or the Staties who arrived to help. Nothing for any of them. And he took no questions from the press. Just another distraction, a blow off of Blacks and perhaps a concession to the "good people on both sides."
From "Stat": "President Trump said Friday the U.S. would halt its funding of the World Health Organization and pull out of the agency, accusing it of protecting China as the coronavirus pandemic took off. The move has alarmed health experts, who say the decision will undermine efforts to improve the health of people around the world." And that Trump idiocy has citizens distracted by yet another bright, shiny object of Trumpcrap.
Trump issued a vague invitation to AR-15/Glock carrying "MAGA nation" to protest the protests across the nation over the murder of George Floyd. When these thugs show up, what could possibly go wrong?
All that and more in just 7 days.
This pile of Trumpcrap certainly does distract us from keeping an eye on the over 102,000 U.S. COVID-19 deaths and that over 30,000 of them were caused by Trump's bumbling. It takes a big pile of Trumpcrap to cover that many corpses.
All of this is a huge problem that can be distilled by answering the question,
What Have We Done?
Yet another unarmed black man has been murdered by police, this time in Minneapolis (again). The old semi-joke was about the crime of driving while black. That seems to have devolved, what with Breonna Taylor having been gunned down by police while she was asleep in her bed and Floyd having succumbed to a cop's knee on his neck for 9 minutes. Now it seems the crime has shifted to breathing while black. Nationwide, we consistently refuse to do anything to make things better, so this story continues to repeat itself. That's the driver of the protests in nearly every major city.  And some wonder why people riot.
We have allowed Donald Trump to break laws and we have not only let him get away with them, but we have allowed a corrupt attorney general to make outrageous claims of power for the president, to lie repeatedly to protect Trump and to use the power of the Justice Department to undermine justice in order to favor Trump's felonious friends. Compare that to the justice for George Floyd and Eric Garner and Freddie Gray and Trayvon Martin and the rest. Cops killed 1,099 people last year; 24% of them were Black, even though Blacks make up only 13% of our population. Still wondering why some people riot?
We have decided that Black lives really don't matter.
We have normalized Trump's petulant tweeting and treated his rages as official presidential communication – even as policy proclamation.
We have tens of thousands of Americans so upset over having to stay home for a couple of months that last weekend they just had to race to a pool, a beach, a bar, a resort town and restaurants, leaving their face masks at home. Clearly, these weren't destitute people who were desperate to get back to work to earn a paycheck so they could feed their families; these were people who had money to spend and who were aggrieved over having to endure a period of home confinement, what with their having had to order out pizza and play video games. Where did the American backbone go? Oh, right. Our leadership encouraged us to behave stupidly.
We have a government that is the very embodiment of George Orwell's nightmare, where lie equals truth, up is the same as down and manipulation to benefit the few is taken for granted.
Big money interests have taken control of our governments (federal, state and some local) to the point that they can buy massive voter suppression and laws to their liking.
Roughly 40% of our country thinks Trump is just fine and they don't at all mind his racism, his admitted violence against women, his law breaking, his abandoning of our poor, his cruelty toward anyone who isn't a suck up, his having made us the laughing stock of the free world and his continuing demolition of our own democracy. It's blind obedience leading us to self-destruction.
We did all of this, you and I and all the rest of us, either through ignorance or apathy or self-indulgence. Now we are paying the price in huge numbers of avoidable deaths, massive wealth inequality, such that millions more live on an economic precipice and we no longer trust ourselves to govern ourselves.
We better get to work to fix this stuff before it's too late.
————————
Finally,
In that vein – we have to fix this stuff – try this thought experiment.
If the vast majority of protesters in our cities are peaceful as they vent their fear, their sadness and their rage, and if "outsiders" are burning down buildings, inciting looting and violence and inviting police crackdowns, who are those "outsiders?" To identify them, consider who benefits from their violence. Who benefits from inciting police and military action against civilians? Who benefits by being able to claim the need for crack downs? Who benefits by having an excuse to demonize Blacks?
There's nothing random going on.
From reader and opinion writer Steve Sheffey:
If you don't channel your anger into political action, if you don't understand the nexus between rhetoric and reality, between politics and policy, then you are part of the problem, not the solution.
——————————
Ed. note: We need to spread the word so that we make a critical difference, so
Pass this along to three people, encouraging them to subscribe (IT'S A FREEBIE!).

Engage in the Comments section below to help us all to be better informed.
Thanks!
The Fine Print:
Writings quoted or linked from my posts reflect a point I want to make, at least in part. That does not mean that I endorse or agree with everything in such writings, so don't bug me about it.
Sometimes I change my opinions because I've learned more about an issue. So, educate me. That's what the Comments section is for.
Errors in fact, grammar, spelling and punctuation are all embarrassingly mine. Glad to have your corrections.

Responsibility for the content of these posts is unequivocally, totally, unavoidably mine.
JA
Copyright 2023 by Jack Altschuler
Reproduction and sharing are encouraged, providing proper attribution is given.