Relativism: The idea that nothing is any more correct or true than anything else.
.
I know, it sounds preposterous, but that is the prevailing assumption about reality in much of our society. Example: Kellyanne Conway did an interview from the White House lawn shortly after Donald Trump moved in. She was defending a false claim that press secretary Sean Spicer had made at his first press briefing a day earlier. He had insisted that Trump had the greatest number of attendees at his inauguration of any president, ever. When presented with empirical evidence that the claim was false, Conway announced that they (the administration) believed "alternative facts."
Let's be clear that "alternative facts" doesn't mean that they were looking at other metrics, nor does it mean that they had additional information not included in the original observations. It means specifically that they believed that they were free to make up anything they wanted and that their made-up story was just as valid, accurate and true as any other. For them and for so many others, false = true, fiction = fact. Relativism.
While Trump is gone from a position of power and is now preparing for his position as defendant, alternative facts have not disappeared. We hear them every day from politicians blabbering some vacuous reinvention of history, from QAnon spouting another impossible conspiracy fiction, from yellow journalism masquerading as news and from extremists breaking the law while claiming they're protecting the Constitution. But these conjurors of alternative facts aren't alone. Indeed, we have a major cultural problem.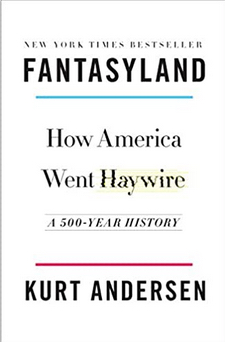 Kurt Andersen's book Fantasyland is an historical trip through our wondrous American tapestry of belief in fantasy, in anything goes. Andersen quotes science fiction writer Phil Dick, introducing his words writing, "  .  .  .  he wrote a perfect summary of his dread about the transformation of American society and culture as the real and unreal became indistinguishable." Sounds a lot like today, don't you think?
'The problem is a real one, not a mere intellectual game. Because today we live in a society in which spurious realities are manufactured by the media, by governments, by big corporations, by religious groups, political groups – and the electronic hardware exists by which to deliver these pseudo-worlds right into the heads of the reader, the viewer, the listener.  .  .  .
'And it is an astonishing power: that of creating whole universes, universes of the mind. I ought to know. I do the same thing. It is my job to create universes.  .  .  .
'I consider that the matter of defining what is real – that is a serous topic, even a vital topic. And in there somewhere is the other topic, the definition of the authentic human. Because the bombardment of pseudo-realities begins to produce inauthentic humans very quickly, spurious humans – as fake as the data pressing at them from all sides.  .  .  .  Fake realities will create fake humans. Or, fake humans will generate fake realities and then sell them to other humans, turning them, eventually, into forgeries of themselves. So we wind up with fake humans inventing fake realities and then peddling them to other fake humans. It is just a very large version of Disneyland.'
And here we are in our alternative worlds, stumbling through our cultural Fantasyland of alternative fact inbreeding. We believe whatever we want to believe and then accept the mutants we're creating, as we befuddle ourselves to death, all because relativism rules.
This is dangerous stuff. It is where people believe whatever they want to believe with no weight given to reality. They believe whatever serves their motives and fears and hopes, like believing that the 2020 election was stolen from Donald Trump; like sending partisan know nothings to audit the last election so that they can fabricate the desired result; like people selecting themselves to attack democracy, even as they invoke the red, white and blue. It is what causes little self-inflated men and women to lie and to cling to power over others, while justifying their actions with fantastical fabrications. That and more goes on every day in America, regardless of how our detachment from tangible facts causes us to self-immolate.
Perhaps that is why President Biden speaks of fighting for the soul of America. It needs life support intervention right now and nobody else is showing up to do national CPR.
————————
Tweets So Far This Week
From @richardhine:
"If 53% of Republicans think Trump is still President but only 26% of Americans say they belong to the decaying Party of Trump, that would mean only 14% of Americans think Trump is still President. Which might be an accurate measure of the batshit fringe."
From @HunaNaMeaHuna
"Vote Theft Is Your Future Denied"
Gerrymandering and sham voting audits will do that.
————————————
Did someone forward this to you? Welcome! Please subscribe and pass this along to three others, encouraging them to subscribe, too. (IT'S A FREEBIE!) Use the simple form above on the right.

Said John Maynard Keynes, "When the facts change, I change my mind. What do you do, sir?" So, add your comments below to help us all to be better informed.
Thanks!
The Fine Print:
Writings quoted or linked from my posts reflect a point I want to make, at least in part. That does not mean that I endorse or agree with everything in such writings, so don't bug me about it.
Errors in fact, grammar, spelling and punctuation are all embarrassingly mine. Glad to have your corrections.

Responsibility for the content of these posts is unequivocally, totally, unavoidably mine.
JA
Copyright 2023 by Jack Altschuler
Reproduction and sharing are encouraged, providing proper attribution is given.