Sun Tzu
The great soldier, leader and philosopher Sun Tzu offers wisdom from 5th century BC China that is valuable even today. Here's a case in point.
Donald Trump has shown repeatedly that he doesn't care a bit about America, democracy, the law, truth, reality – this list could be quite long. All he cares about is enhancing his power and wealth and he doesn't care what he has to destroy to get it. Here's Sun Tzu on this:
.

.
We have millions of our fellow citizens behaving badly. They weren't always hostile and ready to believe the unbelievable, but with charismatic leadership from a sociopath, they've gone reptilian. They want nothing less than to vent their rage in destruction and in dangerous and anti-American ways. And they take their direction from Donald Trump.
What do you think we should do about that? I mean before Donald Trump and his mobs burn our own nation to the ground.
"Let me say this to my MAGA Republican friends in Congress:
Don't tell me you support law enforcement if you won't
condemn what happened on [January] 6th.
For God's sake, whose side are you on?"
.
Yes, there are sides. You know the right side to be on and it surely is NOT the "burn it to the ground" side.
What Do You Think We Should Do About This?
.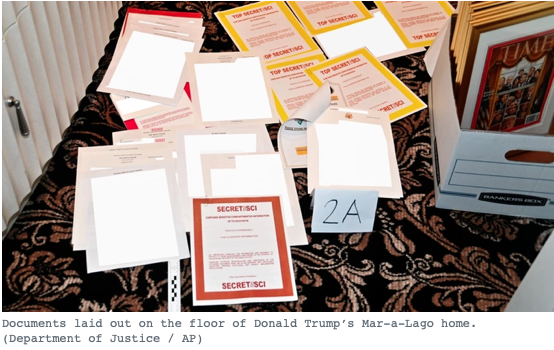 Trump is the brat who threw the board game all over the room when it was clear that he was going to lose. He broke pieces and stomped on the board. If he couldn't win he was going to make sure that nobody else could win, either. He's still behaving that way, but today the game is a dire one, because the stakes are life and death.
There were more than 11,000 documents or photographs found at insecure Mar-a-Lago that were not classified. There were also 31 documents marked CONFIDENTIAL, 54 marked SECRET, and 18 marked TOP SECRET.
Among the materials stolen by Trump and recovered by the FBI are 48 folders marked at some level of classification like those in the picture above, but the folders are empty. The secret documents are gone.
Some folders are labeled TOP SECRET; some are SECRET/SCI, the most closely guarded information. That designation means that the information in such a folder is critical to our national security. And the super secret information in the documents those folders used to contain is missing.
This isn't about some love note from a malicious despot. It isn't a picture of Trump with some dignitaries. What's missing is likely information concerning our nuclear arms, strategic plans, secret agreements with allies and more. That information may well no longer be secret.
The documents and information that belong in those folders were where they belonged, in those folders, on January 20, 2021. That's when Trump metaphorically sneaked out of the White House and smuggled the classified documents out with him by hiding them under his overcoat. And now that we know those super secret folders are empty, we are faced with some existential questions:
–  Who has the contents of those folders now?
 –  What have they done with the documents?
–  Who and what are now imperiled because Trump has released the information to unknown persons and nations who may well be our enemies?
Trump lost the game of President and, because of that, has repeatedly tried to prevent Joe Biden from winning and keeping it. But this isn't a board game. This is the most serious game in the world. It's the game where informants are killed when they're found out. It's the game that, when nations lose, the worst happens.
We cannot afford to let Trump break alliances, out the very people who feed us critical intelligence and throw the moving pieces of this game all over the world, but he may well have already done just that. To mix metaphors, this time it may not be ketchup on the wall. This time it might be blood.
What do you think we should we do about that?
Related: For a clear and valuable take on "the soul of our nation," have a look/listen to this. Many thanks to JA for the pointer.
Watch for What Should We Do About That? – v2.0 on Wednesday, September 7.
————————————
Our governance and electoral corruption and dysfunction and our ongoing mass murders are all of a piece, all the same problem with the same solution:
.
Fire the bastards!
.
The days are dwindling for us to take action. Get up! Do something to make things better.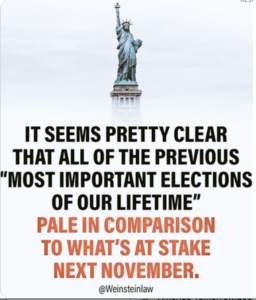 Did someone forward this post to you? Welcome! Please subscribe – use the simple form above on the right. And pass this along to three others, encouraging them to subscribe, too. (IT'S A FREEBIE!)

And add your comments below to help us all to be better informed.
Thanks!

The Fine Print:
Writings quoted or linked from my posts reflect a point I want to make, at least in part. That does not mean that I endorse or agree with everything in such writings, so don't bug me about it.
There are lots of smart, well-informed people. Sometimes we agree; sometimes we don't. Search for others' views and decide for yourself.
Errors in fact, grammar, spelling and punctuation are all embarrassingly mine. Glad to have your corrections.

Responsibility for the content of these posts is unequivocally, totally, unavoidably mine.
Book links to Amazon are provided for reference only. Please purchase your books through your local mom & pop bookstore. Keep them and your town vibrant.
JA
Copyright 2023 by Jack Altschuler
Reproduction and sharing are encouraged, providing proper attribution is given.