There are always impassioned young men who are quick to anger, who instantly deliver a snarl and vitriol, are over-eager to dominate and impatient for violence. Some remain that way for a very long time. They love their hate and anger and the rush of power they get from that, as their spittle flies. Ignorance is no impediment and they are easy targets for manipulators. They are heedless of who gets hurt in their quest for power and vengeance. Indeed, hurting others is more than collateral damage; it's their reason. *
It should come as no surprise to any of us that people nurture their grievances today much as the Southern traitors did in 1861. They justify their rebellion in their victimhood. They have the power rush and their absolute belief in their righteousness. They hunker down and plot ways to attack, to hit back. We're seeing it today in a continuing assault on reality, on our democracy and in their cowardly, selfish retreat from integrity.
Our ongoing mass carnage is testament to our national belief in violent solutions to all problems. The Gun Violence Archive tracks our mass shootings (that means bullets ripping apart 3 or more people in a single incident). To understand the efficiency with which we execute violent solutions, there have been 25 mass shootings in just the past 12 days, with 18 killed and 96 wounded. Click on the pic above or the inline link in this paragraph in order to read the page. Then scroll through the other pages. It might come to you that our killing one another isn't just horrible; it's normal. It's every day. And that's just the gun violence.
Timothy McVeigh thought he was a patriot and hero for bombing the Murrah Federal Building in Oklahoma City and killing 168 people. Dylann Roof thought he was doing the right White supremacist thing by killing all nine people present at the Mother Emanuel AME Church in Charleston. And the January 6 insurrectionists are still sure they are the true patriots, having beaten, bear sprayed, stabbed, blinded and killed the very people they pretended to champion with their Blue Lives Matter flags. May the rivers of testosterone forever flow!
Here's a short list of things standing in our way of making things better:
The lack of courage to enforce our laws evenly and fairly.
Politicians whose primary driver is their self-interest.
As a subset of #2, politicians who are terrified of their constituents and are spineless to the point of complete refusal to lead.
Politicians who know they can't get reelected unless they lie, cheat, steal and undermine our democracy, so they do it all.
A rapidly changing world that has left millions in terrible circumstances. That's matched with a Congress and state legislatures that are bereft of solutions, are intransigent and useless for everything but stoking the fire of rage in their "base" in order to get reelected.
Idiots promoting guns, encouraging "Second Amendment remedies" and the message that everyone should be packing heat.
Our refusal to energetically teach and promote civics.
Our lack of a requirement for service to our nation, leaving us ignorant of one another and unwilling to sacrifice for our common good.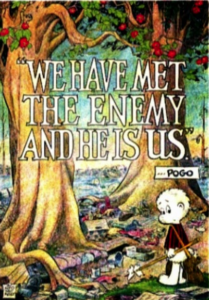 Clearly, this list could go on for pages. Glad to have your important additions – use the Comments section below.
It's satisfying to point fingers, especially at politicians, but the truth that we really don't want to acknowledge is that Pogo was right – see the cartoon to the left.
We met US in Oklahoma City, Charleston, Ft. Hood, Parkland, the Pulse Night Club and the Las Vegas concert, at Sandy Hook, the Capitol Building and in so many other places. And in every case we were and are Americans committing violence on Americans.
It is still true that the behavior we tolerate is the behavior we get. And we have tolerated far too much.
If becoming an actual United States in a more perfect union is the goal, then that begs the question of what we are willing to do make that happen. We have some congresspeople, mostly ex-military, who get the idea of protecting and defending the Constitution, who are wired for duty, honor, country and who understand integrity and accountability. One thing we can do is to elect more people like them, irrespective of party labels.
It's painfully obvious that pointing fingers will not be useful. If we are to get better results, we're going to have to do something different.
—————————–
" The spoken words are often shouted by overheated individuals who evidently believe that the lungs are the seat of wisdom." George Will
————————————
The days are dwindling for us to take action. Get up. Do something to make things better.
Did someone forward this to you? Welcome! Please subscribe – use the simple form above on the right. And pass this along to three others, encouraging them to subscribe, too. (IT'S A FREEBIE!)

And add your comments below to help us all to be better informed.
Thanks!

The Fine Print:
Writings quoted or linked from my posts reflect a point I want to make, at least in part. That does not mean that I endorse or agree with everything in such writings, so don't bug me about it.
Errors in fact, grammar, spelling and punctuation are all embarrassingly mine. Glad to have your corrections.

Responsibility for the content of these posts is unequivocally, totally, unavoidably mine.
Book links to Amazon are provided for reference only. Please purchase your books through your local mom & pop bookstore. Keep them and your town vibrant.
JA
Copyright 2023 by Jack Altschuler
Reproduction and sharing are encouraged, providing proper attribution is given.