Reading time – 2:10  .  .  .
Following the Nevada debate  .  .  .
Trump's vile-sters will do all the opposition research – all of it – and they'll have the ugly crap to sling during the general election campaign, so last night's 2-hoiur display of said crap would come out anyway. But last night the Democratic candidates declared the crap in blaring, mouth frothing attacks. The videos of those attacks will be pasted into Republican attack ads against the eventual Democrtatic nominee as validation of the candidate's unworthiness to be President and inferiority to Trump. Why are these Democrats doing Trump's work for him? Why are they providing him ammunition with which to shoot them later?
And why was all the focus and energy at the debate on tearing down one another instead of attacking Trump?
The 2020 election is the Democrats' to win or lose, because a minimum of 59% of Americans loathe Trump.  All the Democrats have to do is to hammer him with the truth of his wrongdoing, his back stabbing of working Americans and the poor, his attacks on justice and all the rest. Instead, these candidates are using all their energy to smear one another. This is classic Democrat "Let's find a way to lose the election" stuff.
I had hopes for Bloomberg, but he came across as an unprepared stiff who will inspire nobody. Warren did her best to imitate a rabid rottweiler. Biden is a doddering old man. Sanders is Angry, Grumpy Grampy who is the roaringly enthusiastic candidate who will get 22% of the vote. Too bad Trump will get 49%. Buttigieg is frighteningly smart and much too rehearsed, as well as awkward as an attack animal, setting himself up for a pie in the face. Besides, America isn't ready for a gay man to live in the White House. Yes, that's astonishingly unfair. And it's a truth that is a general election loser. Klobuchar seems to have some cred, but she's a robot with talking points she repeats over and over. Let's see, how many bills has she passed? Oh, right – it's over 100 and she has the receipts and she's been in the arena and she's never lost an election, even back to 4th grade.
And these are the people vying to go head-to-head with Trump.
Of course, there's also Tulsi Gabbard. Someone please explain why she's still in the race.
And there's Tom Steyer. No clue how he might have done on that stage, but Bernie would have told him he couldn't have so much money.
This is not Politicsland at Disney World. This is the real deal and everything we hold dear – and yes, I mean everything – is at risk of disappearing permanently. We have to get this right or all will be wrong. This is no time for the stupid stuff we saw last night.
So, one more time: To win this election it must be entirely a referendum on Donald Trump and his awfulness. The only thing that will defeat him is to attack him over and over. So, Democrats, focus on that or go home.
———————————
Sean Illing, Vox: "You could watch this entire debate and have no idea a lawless illiberal autocrat is currently in the White House. That can't be great for the Democratic Party."
————————————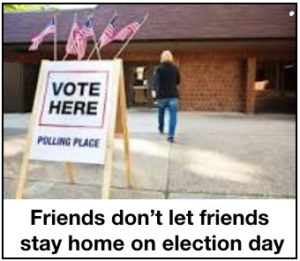 Ed. note: We need to spread the word so that we make a critical difference, so
Pass this along to three people, encouraging them to subscribe (IT'S A FREEBIE!).

Engage in the Comments section below to help us all to be better informed.
Thanks!
The Fine Print:
Writings quoted or linked from my posts reflect a point I want to make, at least in part. That does not mean that I endorse or agree with everything in such writings, so don't bug me about it.
Sometimes I change my opinions because I've learned more about an issue. So, educate me. That's what the Comments section is for.
Errors in fact, grammar, spelling and punctuation are all embarrassingly mine. Glad to have your corrections.
Responsibility for the content of these posts is unequivocally, totally, unavoidably mine.
JA
Copyright 2023 by Jack Altschuler
Reproduction and sharing are encouraged, providing proper attribution is given.