Reading time – 3:19  .  .  .
I haven't done the research, so I don't know if William Barr is the most morally corrupt, Constitution flaunting Attorney General we've ever had, but surely he's a strong contender for the title.  How proud his mother must be.
Lest we forget, Roger Stone was convicted on seven (7) felony counts, including witness tampering (intimidation) of Randy Credico. Credico recently said, "If Stone goes to jail I'm a walking dead man." That is the type and the path of justice preferred by Donald Trump and William Barr. And this is just one case they want to tamper with. There are others, including the sentencing of double-dealing National Security Advisor Michael Flynn.
A couple thousand former judges have lodged their vehement disapproval of Barr interceding in Justice Department cases in order to bend things to Trump's benefit. We have to assume that their condemnation will mean nothing more to Trump than another opportunity for him to brat-call opponents some carefully selected scandalous names and claim he's a victim. On the other hand, their prodding might have a significant impact on Barr.
I don't imagine Barr will cave to pressure from the legal community to step down from his post; he doesn't have sufficient integrity to do that. However, if the American Bar Association were to disbar him (can they do that?) or censure him for his lying and attempts to manipulate justice, that might do the trick. Perhaps the ABA will align with all those judges and take such a stand. We can only hope.
Actually, we can do more than hope. We can send the ABA our demands that they disbar or censure William Barr immediately. Click the ABA logo link above and make your voice heard.
---
I told you in a recent post that I'm reading Rick Wilson's book Running Against the Devil and promised a report, so here are a few things about it:
This book is THE PLAYBOOK for Democrats in 2020. This race is not about education, economics, healthcare or foreign affairs: if we want to evict Trump and begin to repair all the damage he's done to our country, then this race is entirely a campaign against Trump, and for all the reasons you already know and likely some others, too.
My friend Sheila Markin writes a fine political blog and you must subscribe to it. Her recent post is focused on Wilson's book and her review will tell you much of what you need to know. After reading her comments, buy and read Wilson's book for yourself.
Nominating a socialist is like shooting yourself in the head just before getting into a street fight with the bad guys. Sadly, that's probably true if the nominee is a gay man. Use your imagination to see the oppo ads ("In the Lincoln bedroom?!!!"). You're right: it isn't fair. More to the point, it just won't play well for a great many otherwise persuadable voters and will give the election to Trump.
Democrats, stop the circular firing squad. Stop doing Donald Trump's work for him. Stop trying to lose this election.
---
The White-Collar-Criminal Pardoner-In-Chief just commuted the sentence of Rod Blagojevich, the 40th governor of Illinois. Yes, it's true that we in Illinois have a long and proud tradition of sending our governors to jail, but this one is particularly interesting. I promise that the story ties back to Donald Trump's insecurity and temper tantrums, despite the fact that Blagojevich was sent away in 2009.
He was convicted of soliciting bribes for political appointments, including trying to sell Barack Obama's Senate seat after Obama moved to 1600 Pennsylvania Avenue. Quoting Blagojevich,
"I've got this thing and it's f***ing golden, and, uh, uh, I'm just not giving it up for f***in' nothing. I'm not gonna do it. And, and I can always use it. I can parachute me there."
There are plenty more Blagojevich potty-mouth quotes like that. Makes all we Illinoisans proud. Here's how that connects to today.
The U.S. Attorney who vigorously and successfully prosecuted Blagojevich is Patrick Fitzgerald, now the U.S. Attorney for the Northern District of Illinois. Fitzgerald is a long time good friend of (drum roll, please) James Comey, former head of the F.B.I. and perpetual neurotic response generator in the psyche of Donald Trump. Trump commuted Blagojevich's sentence yesterday, cutting short his prison time by 6 years.
You don't suppose that in doing so that Trump was trying to stick it to Comey, do you? I mean, Trump can't manage to smear Comey with an investigation and indictment, so all that's left to Trump is name calling and screwing Comey's friend by commuting slime ball Rod Blagojevich's well deserved prison sentence.
Please pass a barf bag.
————————————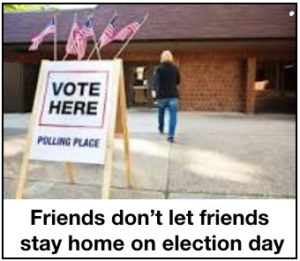 Ed. note: We need to spread the word so that we make a critical difference, so
Pass this along to three people, encouraging them to subscribe (IT'S A FREEBIE!).

Engage in the Comments section below to help us all to be better informed.
Thanks!
The Fine Print:
Writings quoted or linked from my posts reflect a point I want to make, at least in part. That does not mean that I endorse or agree with everything in such writings, so don't bug me about it.
Sometimes I change my opinions because I've learned more about an issue. So, educate me. That's what the Comments section is for.
Errors in fact, grammar, spelling and punctuation are all embarrassingly mine. Glad to have your corrections.
Responsibility for the content of these posts is unequivocally, totally, unavoidably mine.
JA
Copyright 2022 by Jack Altschuler
Reproduction and sharing are encouraged, providing proper attribution is given.