Reading time – 1:21  .  .  .
Trump drives ever more lawlessness; then career people resign in protest. I get it. Makes sense. They don't want to be a part of his criminal activities or the destruction of our democracy, so they both make distance from Trump and make a public statement. The concern I have is for what happens when all the good guys are gone.
At that point the government will be run by nothing but toadies, criminal conspirators and the nothingness that is left when critical positions aren't filled. What could possibly go wrong?
It's bad enough when there's a coal industry lackey running the EPA and a fossil fuel lobbyist heading the Energy Department. Now, though, we're looking at a Justice Department headed by William Barr, Donald Trump's "Roy Cohn." Cohn was a sleazy attorney/fixer for Trump's father. Barr has abdicated his role to protect and defend the Constitution in favor of protecting and defending President Trump; i.e. Barr is Donald Trump's personal attorney/fixer.
With his own bag of nefarious activities, Barr is inducing good guy attorneys to quit. Three withdrew from the Roger Stone case and one disappeared altogether last week because of Barr's interference in the sentencing recommendations for Stone, Trump's long time dirty tricks guy and advisor.
There were others who left the DOJ in disgust before that and, considering the thumbs – no, make that bowling balls – Trump and Barr are putting on the scales of justice, there will be many more good guys who will protect their integrity by resigning. And for the good guys who remain a little while longer, it's likely their efforts to enforce justice will be compromised. Who does that leave to ensure justice in America?
Whatever positions are refilled, keep an eye focused on who shows up. Given what we know from the last three years of this sordid Trump administration, we just might get some sketchy people who will administer sketchy justice. That's what could possibly go wrong.
————————————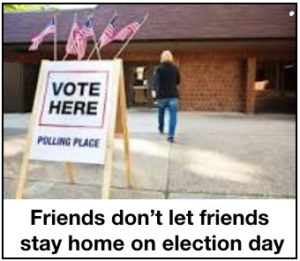 Ed. note: We need to spread the word so that we make a critical difference, so
Pass this along to three people, encouraging them to subscribe (IT'S A FREEBIE!).

Engage in the Comments section below to help us all to be better informed.
Thanks!
Fine Print:
Writings quoted or linked from my posts reflect a point I want to make, at least in part. That does not mean that I endorse or agree with everything in such writings, so don't bug me about it.
Sometimes I change my opinions because I've learned more about an issue. So, educate me. That's what the Comments section is for.
Errors in fact, grammar, spelling and punctuation are all embarrassingly mine. Glad to have your corrections.
Responsibility for the content of these posts is unequivocally, totally, unavoidably mine.
JA
Copyright 2023 by Jack Altschuler
Reproduction and sharing are encouraged, providing proper attribution is given.