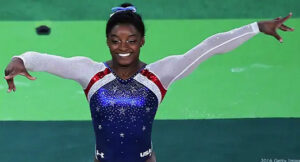 Simone Biles, easily one of the best and perhaps the best of women gymnasts, dropped out of the team competition. She cited a case of the "twisties" and perhaps some other issues that were troubling her. Social media creeps wasted no time in attacking her, calling her a quitter and applying far more horrific labels. She has retained her dignity and has not responded to the ugly. That leaves us with two things.
First, the internet trolls continue to show us the depths to which humans will go to be inhumane, to be cruel, selfish and hateful. They teach us the boundlessness of their ignorance and the harm they hope to do in their ignorance. While that may give them a rush of power, we know who and what they are.
The second thing we are left with is a profile in courage, a demonstration of bravery to do what is right in the face of enormous pressure to do otherwise. We have a picture of what honesty looks like, a stake in the ground for mental health, a demonstration of class and a reminder and an opportunity to fine tune our caring and empathy for one another.
Whatever records are set, whatever astounding performance in sports is displayed, however we are wowed by the elite Olympic athletes, Biles withdrawing from the team competition is and will stand as the most valuable event at the Tokyo Olympics.
————————————
Did someone forward this to you? Welcome! Please subscribe and pass this along to three others, encouraging them to subscribe, too. (IT'S A FREEBIE!) Use the simple form above on the right.

And add your comments below to help us all to be better informed.
Thanks!

The Fine Print:
Writings quoted or linked from my posts reflect a point I want to make, at least in part. That does not mean that I endorse or agree with everything in such writings, so don't bug me about it.
Errors in fact, grammar, spelling and punctuation are all embarrassingly mine. Glad to have your corrections.

Responsibility for the content of these posts is unequivocally, totally, unavoidably mine.
Book links to Amazon are provided for reference only. Please purchase your books through your local mom & pop bookstore. Keep them and your town vibrant.
JA
Copyright 2023 by Jack Altschuler
Reproduction and sharing are encouraged, providing proper attribution is given.