Reading time – 4:34; Viewing time – 6:40  .  .  .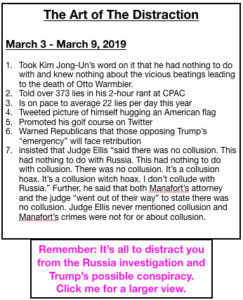 Ed. Note: Be sure to check out our periodically published new feature, You Can't Make This Stuff Up at the end of the regular post.
___________________________________
By now you've at least heard of the kerfuffle created by the remarks of Rep. Ilhan Omar (D-MN) and it's entirely possible that you're both offended and pretty well annoyed by the whole mess. I've decided to weigh in only because the key issue seems to have been missed and it's a really big issue. It's a life and death issue.
To recap, Omar dispatched tweets and comments that triggered an explosion. They were:
Feb.10 – Responding to a tweet about the Boycott, Divestment and Sanctions movement (BDS) against Israel, she tweeted, "It's all about the Benjamins baby."
Feb 11 – Responding to a question about who's paying these Benjamins, she tweeted, "AIPAC!" referring to the American Israel Public Affairs Committee.
Feb 11 – Following criticism from Democratic leadership, she tweeted a sort-of apology, saying in part, "My intention is never to offend my constituents or Jewish Americans as a whole. We have to always be willing to step back and think through criticism, just as I expect people to hear me when others attack me for my identity. This is why I unequivocally apologize."
Feb 28 – Speaking as a panel member at a DC venue she said, "I want to talk about the political influence in this country that says it is OK for people to push for allegiance to a foreign country. I want to ask why is it OK for me to talk about the influence of the NRA (National Rifle Association), of fossil fuel industries or Big Pharma, and not talk about a powerful lobbying group that is influencing policies?"
In a recently discovered 2012 tweet she wrote, "Israel has hypnotized the world, may Allah awaken the people and help them see the evil doings of Israel."
That's a lot to digest, so let's boil it down to the essentials. Omar is saying,
Wealthy Jews are buying influence.
AIPAC is using "Benjamins" to control Congress and the President.
American Jews have "allegiance" to a foreign country, Israel, implying they are disloyal to America.
Jews have some semi-occult ability to hypnotize others and cause them to do the bidding of Jews.
Let's start with the easiest to dispel. AIPAC doesn't make political contributions to candidates or politicians. Now on to the real damage.
The stereotype of Jews being wealthy and using their wealth to control others and thus do harm to those others has been around a long time. The same is true of the lunacy that says that Jews can "hypnotize the world" and get their way. Neither would be a big deal if it were just a few psychotics screaming such things in a rubber room. Sadly, devastatingly, it doesn't stop there and it never has.
These hateful tropes have been believed by the uninformed, the gullible and the hateful and powerful for centuries, perhaps millennia. They have been used to justify some of the the most vile and hateful acts, including the Spanish Inquisition, pogroms across Europe and Russia, the Holocaust and tens of thousands of small scale violent events all over the world. Think: Tree of Life Synagogue.
That is to say, words matter. They have impact on people and that drives people's actions. When the words are hateful – especially when they qualify as a Big Lie, as Omar's do – they incite people to violence. She helped to continue the hateful lies and to support the haters' justification of their hate and their violence. That's the real issue.
In her weenie apology she managed to demand to be listened to as a qualification of her "unequivocal" apology. It's a bit like apologizing by saying, "I apologize if what I said was offensive." Kinda misses the mark of apologizing for actually being offensive.
Much of the political tap dance of both Democrats and Republicans has been an astonishing circus sideshow of posturing for political advantage. I especially love the justifications claimed by the 23 Republicans who voted against the resolution condemning hate. One stands out as the winner of the Totally Daft Award. See #3 below.
Legitimate criticism of Israel is welcome. Opposing the government or the policies is in bounds and justifiable. Spreading hate is not.
This whole thing is simpler than the political theater of the absurd would allow you to see and it's way beyond finding Omar's words offensive or reacting to her poorly crafted jiu jitsu apology. We need to focus on the key issue, which is the spreading of hate and the potential incitement to violence done by Rep. Omar's words. It's a really big issue. It's a life and death issue.
For more on the impact of words, see this post.
---
You Can't Make
This
Stuff Up
A short compendium of current events that are too dumb even for fiction
Veteran conservative broadcaster and columnist Jane Chastain recently wrote a column titled "AOC WAS A GIRL SCOUT .  .  .  JUST SAY NO TO THE COOKIES."
Finnish investigative journalist Jessikka Aro has been courageously reporting on Russian propaganda and its troll factories for years. She was informed she was to receive the International Women of Courage Award in Washington, D.C. Then the Trump State Department learned that Aro had been critical of the President, so her award was cancelled.
Rep. Mo Brooks (R-AL) said that he voted against the House resolution condemning bigotry and hate because its wording, ".  .  .  suggests America's House of Representatives cares about virtually everyone except Christians and Caucasians."
Sourced from Daily Kos and The Washington Post. You can look it up.
              ————————————
Ed. Note: I don't want money (DON'T donate) or your signature on a petition. I want you to spread the word so that we make a critical difference. So,
YOUR ACTION STEPS:
Pass this along to three people, encouraging them to subscribe (IT'S A FREEBIE!).

Engage in the Comments section below to help us all be better informed.
Thanks!
Copyright 2023 by Jack Altschuler
Reproduction and sharing are encouraged, providing proper attribution is given.