Instructions
Study this material. There is a test at the end.

‾‾‾‾‾‾‾‾‾‾‾‾‾‾‾‾‾‾‾‾‾‾‾‾‾‾‾‾‾‾
I know that this isn't the time, because after each horrific mass shooting in America Mitch McConnell tells us that yet again. He said that after Sandy Hook. He said that after Parkland. He said that after the Pulse Nightclub and Sugar Land and Mother Emanuel AME Church and Aurora and Poway and Tree of Life Synagogue and El Paso and I'm pretty sure he's going to say it now, after the Buffalo and Laguna Woods church shootings last weekend.

Yesterday, Rep. Elise Stefanik (R-NY), third-ranking Republican in the House, said, "It is not the time to politicize this tragedy," yet she paid for ads pushing the replacement lie. Just another day in HypocrisyLand.

It seems that it's never time to talk about doing anything to stop our American massacres. And it's not because they happen infrequently. In fact, there have been 27 mass shootings this month alone and it's only the 18th. Actually, we're pretty good at murdering one another and we're steadfast in doing nothing to make us safer.

For decades over 80% of Americans – that includes over 72% of NRA members – have wanted strict, universal background checks prior to the sale of any firearm. The vast majority of us want assault weapons to be prohibited. Same for large capacity magazines, bump stocks and both concealed and open carry. How's that working out for We The Majority?
It was just a short time after those twenty little 6- and 7-year-old kids and their six teachers and staff were slaughtered at Sandy Hook Elementary School that Wayne LaPierre of the NRA began to insult this country with, "The only thing that stops a bad guy with a gun is a good guy with a gun." I have to admit that was a most excellent, chest-thumping marketing ploy for selling more guns.
There are way more guns in this country than people, so there must be a lot of good guys with guns. But how many bad guy murderous rampages have been stopped by a good guy with a gun? Can you think of even one? Neither can I.
Can you imagine a good guy with a gun at Marjorie Stoneman Douglas High School in a shoot out with the bad guy as the halls were full of kids between class periods?
I'm not running for office and I don't care who I upset by saying this:
I want universal background checks before the sale or transfer of any firearm. That includes Grandpa giving his favorite hunting rifle to his grandson. That grandson just might be named Dylann Roof or Nicholas Cruz or  Eric Harris or Dylan Klebold or Omar Mateen or Robert Gregory Bowers or Adam Lonza. He might be mentally ill or he might be a White Supremacist, hate-filled homicidal maniac like the Buffalo murderer. I don't want that grandson to get his hands on any firearm.
I want assault weapons to be illegal. These are so-called "man guns" with which our over-testosteroned, angry, under-educated, morally deficient people get their "man card reissued." Yes, that was the advertising for the Bushmaster assault rifle, the murder machine used at Sandy Hook Elementary School.
I want absolutely no large capacity magazines or bump stocks or automatic firearms of any kind to be allowed anywhere. Alternatively, Americans to have the right to own as many muskets and musket balls as they want, just as the Founders intended when they wrote the Second Amendment.
I want all new firearms sold to have an interlock so that only the owner can fire it. That will help to stop the theft of guns and their subsequent use to kill you and me. If technology makes it possible, I want all existing firearms to be retrofitted with that same technology.
I don't want any civilian walking my streets carrying a firearm, whether concealed or open carried. And I don't want anyone to have a gun in the passenger compartment of their vehicle, just like we don't allow open containers of alcoholic beverages in cars. We don't need homicidal road rage any more than we need drunk drivers.
I want a full semester of civics taught to every 8th grade school kid, whether in public or private school. Then I want every high school senior to take two semesters of civics classes. Graduation should be contingent upon successfully completing those classes. Maybe that will help to establish a sense of responsibility in our young citizens. They might even grow up to be responsible older citizens. That would be a refreshing change for our country.
Until I'm in charge you better make your voice heard. Otherwise, you'll once again hear McConnell tell us this is not the time to talk about ways to stop the bleeding and the dying. You'll have to endure chorus after chorus of "thoughts and prayers" from our jellyfish elected officials. You can identify them as those occasionally somber looking people with special lapel pins and who haven't the courage to sneeze without first getting permission from their Party leaders, from the hate spewers and from the gun crazies.
If you and I don't stand up and speak up there will be lots more dead fellow citizens who did nothing worse than go to school or go to an outdoor concert or go to church or have the audacity to go grocery shopping while Black.
Test
Answer each question to the best of your ability. If you find yourself stuck on any question, go on to the next one. When you circle back to the unanswered questions, if you find you still need help, you may use the Hint and the Explainers below.

Questions
Why isn't this already fixed?
How is it possible that our circumstances have become far worse?
What have we become?

Story Problem:

On Monday Victor Blackwell of CNN interviewed survivors of the slaughter rampage in Buffalo last weekend. Two women he talked with had been on their way to the Tops supermarket. Their aunt was already there and was killed by that White supremacist gunman. One of the women was entirely distraught and the other was, as she described herself, devastated. Their pain was so palpable that Blackwell could barely keep himself together.

At last he turned to the camera and to his anchor in the studio and said,

"I was counting in the car, talking with my producer  .  .  .  I've done 15 of these – at least the ones I can count. And we keep having the conversation about Democrats will say guns, Republicans will say mental health, and nothing will change.

"And I'll probably do another one this year. Family after family, having nowhere to go with their grief.

"We'll get into a political conversation later, but is this the way we're supposed to live? Are we destined to just keep doing this, city after city? Have we just resigned that this is what we're going to be?"

Q. What are your answers for Victor Blackwell?
‾‾‾‾‾‾‾‾‾‾‾‾‾‾‾‾‾‾‾‾‾‾‾‾‾‾‾‾‾‾‾‾‾‾‾‾‾‾‾
Hint
   The answer to questions 1 – 3 (and maybe #4) can be found in one word: Apathy.
Explainers
The behavior we tolerate is the behavior we get.

If we always do what we've always done, we'll always get what we always got.

Unless something changes, nothing will change.
Joke of the Week
This is humorous, but it's sadly related in style to our present reality, including our domestic terrorism.
Fox News anchors stole engines #3 & 4 from the right wing of several large airplanes, then blamed it on a left wing conspiracy.
Many thanks to MA for this.
————————————
The days are dwindling for us to take action. Get up! Do something to make things better.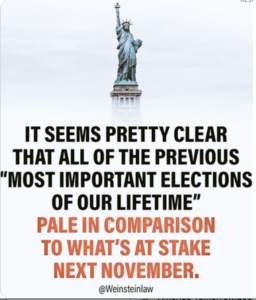 Did someone forward this to you? Welcome! Please subscribe – use the simple form above on the right. And pass this along to three others, encouraging them to subscribe, too. (IT'S A FREEBIE!)

And add your comments below to help us all to be better informed.
Thanks!

The Fine Print:
Writings quoted or linked from my posts reflect a point I want to make, at least in part. That does not mean that I endorse or agree with everything in such writings, so don't bug me about it.
There are lots of smart, well-informed people. Sometimes we agree; sometimes we don't. Search for others' views and decide for yourself.
Errors in fact, grammar, spelling and punctuation are all embarrassingly mine. Glad to have your corrections.

Responsibility for the content of these posts is unequivocally, totally, unavoidably mine.
Book links to Amazon are provided for reference only. Please purchase your books through your local mom & pop bookstore. Keep them and your town vibrant.
JA
Copyright 2023 by Jack Altschuler
Reproduction and sharing are encouraged, providing proper attribution is given.