Excess death is what happens when a virulent killer arrives at civilization's door. It's the number of people who have died over and above the number who would have died in the absence of, say, bubonic plague, the Spanish Flu or Covid-19.
The World Health Organization (WHO) recently announced that there were 15 million excess deaths worldwide over the first two years of Covid. The Economist has done an exacting study of this issue and concludes the number is 18 million additional dead people.
We just passed the dreadful mark of 1 million Americans dead from Covid in just two years and we know that's a low number for reasons identified below. For now, let's put that into perspective by comparing that number to our battlefield war dead.
Here's a chart from Statista – you can click the chart for details and to read the labels more easily.
Simple addition tells us that our total battlefield war dead from all major conflicts since 1775 is 1,284,702. In all cases the deaths from our wars were horrific and a tragedy and we were shocked by the losses.
It's crazy that we're well on our way to surpassing that number solely due to Covid and in just two years. In fact, we could surpass that number this year; certainly by next year. How strange that we continue to mourn our war dead but seem to have accommodated the ongoing massacre of our countrymen from Covid and have relegated their deaths to background noise.
One of the fascinating denials in the early days of our pandemic was the claim that Covid was far less of a threat than the flu, so what's the big deal? I heard claims that the flu kills "only" 65,000 Americans every year and that Covid's reach was far less, Eat, drink and be merry.
Turns out it hasn't been that merry.
The CDC shows us that, depending on the flu variant, between 12,000 and 52,000 Americans die each year from influenza. That's between 39 and 142 deaths from flu per day.
Here's a chart of new daily Covid deaths through May 12: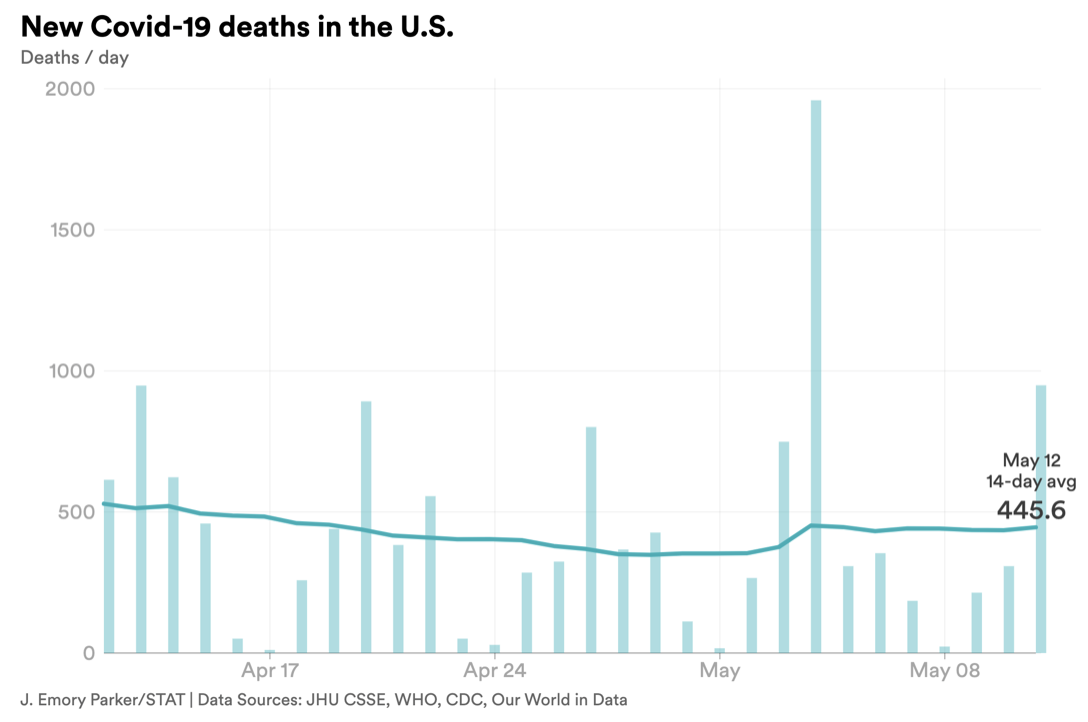 As you can see, we're now at 445 deaths from Covid per day – that's a rate of 162,425 for the year. That's more death from Covid than from the flu this year or in any recent year – at least 3 times more. And that math doesn't take into consideration the escalating number of deaths from Covid expected as this year progresses.
Here's a STAT chart of our 1 million Covid deaths through March:
Yes, it's true that vaccinated people can contract Covid and a few can die – see the blue lines at the bottom of the chart. The difference is that most don't die from it. They just need medical help for a while and then they go home and resume their normal lives.
This chart only reflects the officially reported Covid deaths since vaccines became available. They don't count the people who died without a diagnosis or who died away from a medical facility that tallies the numbers, two of the reasons that the total Covid death count is almost certainly much higher than 1 million.
This chart also doesn't count those who died because they couldn't get help for an unrelated affliction, and if the present trend continues we are going to have lots more excess deaths like that. These people will be, for example, heart attack, stroke, cancer and car crash victims who were unable to access the medical care they needed in time to save them because their medical facility was overrun by Covid patients.
Think: Dad died from a heart attack while waiting in his car in the Emergency Room parking lot. He was there because unvaccinated Uncle Bubba had Covid and was in the bed that dad needed and was taking the time, attention and energy of the doctors and nurses who could have saved Dad.
So, don't imagine that you're safe from Covid because you're vaccinated and boosted and you're a good little mask wearer. You might one day require medical help that you can't get because of all the unvaccinated people who are sure that Covid isn't as bad as the flu, or because they think that vaccines cause all manner of imaginary symptoms or are loaded with Bill Gates' nanobots or because their freedom is more important than anything, including your life – and who are in hospital beds needed by others.
These are the numbers. Factual, empirical data. Again, the current daily Covid corpse count is 445 and that number is expected to rise. Making that worse is that we don't know how many more people will die because the unvaccinated are clogging hospitals. I sure don't want the people I love or me to be among those excess deaths. Just guessing you feel the same.
Video of the Week
If you paid attention during the Democratic primary season of 2020 you learned that Pete Buttigieg is a really smart fellow. He's clear, articulate and is a no drama presenter. Take a listen to his discussion of the implications of the Supreme Court's likely smack down of Roe during his visit to the Institute of Politics at the University of Chicago last week. Note especially his metaphor that now might be the last high water mark for rights and freedom in America. Brian Tyler Cohen's commentary following Buttigieg is well worth the watch, too.
For the full Buttigieg session, click here.
————————————
The days are dwindling for us to take action. Get up! Do something to make things better.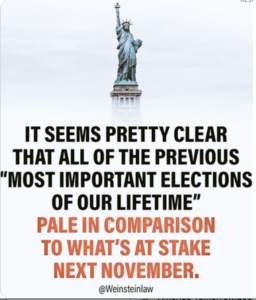 Did someone forward this to you? Welcome! Please subscribe – use the simple form above on the right. And pass this along to three others, encouraging them to subscribe, too. (IT'S A FREEBIE!)

And add your comments below to help us all to be better informed.
Thanks!

The Fine Print:
Writings quoted or linked from my posts reflect a point I want to make, at least in part. That does not mean that I endorse or agree with everything in such writings, so don't bug me about it.
There are lots of smart, well-informed people. Sometimes we agree; sometimes we don't. Search for others' views and decide for yourself.
Errors in fact, grammar, spelling and punctuation are all embarrassingly mine. Glad to have your corrections.

Responsibility for the content of these posts is unequivocally, totally, unavoidably mine.
Book links to Amazon are provided for reference only. Please purchase your books through your local mom & pop bookstore. Keep them and your town vibrant.
JA
Copyright 2023 by Jack Altschuler
Reproduction and sharing are encouraged, providing proper attribution is given.