Reading time – 3:02; Viewing time – 4:40  .  .  .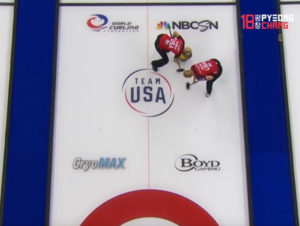 Some folks find the sport of curling exciting to watch. On the other hand, the subtlety and beauty of the game are pretty well lost on me. That gives credence to what Sly Stone told us in his song Everyday People, declaring,
Or as Henry David Thoreau so elegantly explained it:
If a man does not keep pace with his companions, perhaps it is because he hears a different drummer. Let him step to the music which he hears, however measured or far away.
Yet as different as we Americans are, there are some things on which there is universal agreement and we are in lock-step about them. Alarmingly, we're very late in getting serious about one of them. Here are the facts:
The Russians hacked Clinton, DNC and Podesta emails and used them to attack our 2016 election for the sole benefit of candidate Donald Trump. And Trump welcomed the help.
The Russians sent its troll farm into our social media, infesting it with false and distorted propaganda. They reached 126 million Americans. That's almost as many of us as turned out for the 2016 election. They did it to ensure the election of Donald Trump. And Trump welcomed the help.
The Russians attempted to hack into the voting machines of all 50 states and lifted complete voter registration databases from at least two of them. Trump was good with that, too.
All of that happened and Trump still refuses to take action against the Russians either to penalize them for what they've done or to prevent them from further manipulation of our democracy.
What's the proper word for that?
We Americans are in complete agreement that it isn't okay for foreign powers to attack us. We think that one part of patriotism is to be dedicated to protecting and defending the Constitution and our nation. The oath of office that every federal employee takes requires them to do that protecting and defending. That includes our legislators and the President, yet that isn't what is happening.
The President overtly declares – falsely – that there was no Russian meddling in our 2016 election. His absurd assertion flies in the face of the Special Counsel investigation findings and all 17 agencies of our intelligence community, which declare unequivocally that not only did the Russians cyber-invade, but that Trump willfully accepted illegal help from them. And Trump has invited yet more attacks by the Russians for his 2020 campaign.
What's the proper word for that?
That is compounded by the "Grim Reaper" – his own label – Mitch McConnell, or "Moscow Mitch," as Joe Scarborough has called him. There are bills ready for a vote in the Senate that would create action to protect and defend our country, but McConnell refuses to allow any such legislation to come to the floor of the Senate for a vote. *
Millions of Americans have put their lives on the line to protect and defend what Trump and McConnell are giving away.
Those men whom we trusted with so much power to do the right things for our nation are easing the path for a hostile foreign power to attack our nation and crush our democracy. What they're doing is a little like the sweepers in a curling match making a path of least resistance. Only, in curling, it's just a game. In our democracy, it's our entire way of life that's at risk and these men are refusing to protect our country.
They are violating their oath of office and our trust. They are co-conspirators in the willful disarming of the United States as an enemy attacks.
And arguably, Trump and McConnell are al Qaeda's best friends, too, because they are aiding in the destruction of the core of western democracy, exactly what Osama bin Laden attempted to do.
What's the proper word for that?
Please pass this along to both your Trump supporting friends, as well as your "I could never vote for a Democrat" friends so they can double-check how they are being double-crossed.
---
————————————
Ed. Note: I don't want money or your signature on a petition. I want you to spread the word so that we make a critical difference. So,
YOUR ACTION STEPS:
Pass this along to three people, encouraging them to subscribe (

IT'S A FREEBIE!

).

Engage in the Comments section below to help us all to be better informed.
Thanks!
NOTES:
Writings quoted or linked to my posts reflect a point I want to make, at least in part. That does not mean that I endorse or agree with everything in such writings, so don't bug me about it.
Errors in fact, grammar, spelling or punctuation are all embarrassingly mine. Glad to have your corrections.
Responsibility for the content of these posts is unequivocally, totally, unavoidably mine.
JA
Copyright 2023 by Jack Altschuler
Reproduction and sharing are encouraged, providing proper attribution is given.