Hypocrite of the Week
Iron Dome is a defensive rocket system that finds and destroys attacking missiles. During the Gaza war in May 2021 Israel used it against the roughly 4,400 rockets fired from Gaza into Israel and knocked down about 90% of therm. This entirely defensive system is all that stands between Israeli civilians and the next barrage of rockets launched by Hamas in Gaza.
Israel's supply of these defensive rockets was greatly depleted during that war, so Israel is looking to the U.S., the only source, to replenish the supply. There is near universal support for that in the U.S. Congress, with the notable exception of Sen. Rand Paul. He has blocked the funding bill for Iron Dome four times, leaving the security of Israel in peril for over 90 additional days as of this writing.
This is the same Rand Paul who voted against humanitarian aid for the people devastated by Gulf Coast hurricanes, but who now has pleaded for help for Kentuckians devastated by that super tornado a couple of weeks ago.
I guess if it doesn't help Rand Paul personally, it's just not important to him. And being a hypocrite isn't a problem for him, either. That makes Rand Paul the winner of the Hypocrite of the Week Award for a lot of weeks.
Hypocrites of the Year

Read these examples highlighted by Steve Sheffey:
More than 800,000 Americans have died from COVID, but Republicans continue to oppose vaccine mandates. Last week marked the ninth anniversary of the shootings at Sandy Hook, when 20 first-graders and six educators were murdered, but Republicans continue to block gun-control legislation.
Gotta add that this Valentine's Day will mark the fourth anniversary of the massacre at Marjory Stoneman Douglass High School in Parkland, FL, where 17 students and teachers were killed and 17 more were injured by the bullets fired by a deeply messed up former student. And still Republicans refuse to pass gun safety legislation that over 80% of Americans want. These Republicans are the same people who loudly proclaim that they are pro-life. Yes, seriously.
So, it's the same deal: If it doesn't help these Republicans personally, it's just not important to them. And being a hypocrite isn't a problem for them, either, just like Rand Paul. That makes them individually and collectively this year's winners of the Hypocrite of the Year Award, same as last year. And the year before. And next year.
Oddly, Americans selected this hypocrisy by voting these people into positions of power. Ruminate on that a bit.
The 2021 Lucy Award
The Pull-The-Football Award Committee is unanimous in awarding the 2021 Lucy Award to Sen. Joe Manchin of West Virginia for his steadfast commitment to not committing. Furthermore, the Committee's deliberation led them to the obvious conclusion that Manchin must also receive the Goalpost Mover Citation of Excellence for his incremental "one more thing-ism." It's unclear as of the time of this writing if Manchin will change parties and throw control of the Senate to Mitch McConnell and the obstructionist Republicans, but experts suspect that move may be on the way. That would secure the Benedict Arnold Award for Manchin, too.
Hypocrite of the Century
The votes are in and only one candidate received votes – all of the votes. Congratulations to Donald Trump for securing the well deserved Hypocrite of the Century Award! Here's what's amazing about that.
There are 79 years to come in this century, yet all 7.9 billion people on planet Earth agree on the winner of this award. "People are saying," that it will be impossible for anyone to be a bigger hypocrite. This award is bestowed upon its recipient even knowing that he is on his way to becoming the world's biggest loser, going from the Oval Office to the Iron Bars Office. He'll be a hypocrite there, too.
Dupes of The Year Award
Ronald Reagan began the overt demonizing of government four decades ago and it has been amped up continuously by people appealing to the frustrations of ordinary citizens. Donald Trump tapped into that and exponentially increased that anger with the very things that get people to follow him, including his lies, never backing down regardless of how obviously wrong he is, continuously circus barking promises that will not and could not be fulfilled and always appealing to victimhood. And grift.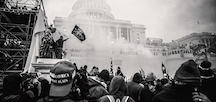 Trump has manipulated thousands of elected officials and pundits to repeat and even expand his inflammatory lies and together they have fooled millions of Americans. Now over 60% of Republicans believe the 2020 election was stolen and 20 million think violence is appropriate for "taking back our country."
These millions are once again the winners of the Dupes of The Year Award. Ensuring this honor for them were the hundreds of thousands of their fellow Americans who refused to mask or be vaccinated because of the right-wing lies told to them and who subsequently died. It's possible that they are worthy contenders for a Darwin Award, too, which each year goes to people who most improve the human gene pool by removing themselves from it.
Wrong Time Award

No, not that kind. I'm talking about Time Magazine and their poor choice for their 2021 Person of the Year. Read Eugene Robinson's clear, compelling case that Eugene Goodman is the real deal and should have been awarded that honor and been on that magazine cover. That's why the Wrong Time Award goes to Time.
The Hope Award
If you watched NASA TV early Christmas morning you saw the launch of the James Webb Space Telescope on an Ariane 5 Rocket. For we science geeks (Key requirement: you must believe in science) it was another lump in the throat success, a reinvigorater of can-do spirit and an ultimately cool way to restore a sense of pride.
An observation that I found impossible to miss is that the vast majority of NASA scientists are 20-somethings. That's right, it was kids who put the most sophisticated telescope in the world out of this world. And it's kids who make Elon Musk's rockets back down onto their launching pads and onto the "Of Course I Still Love You" barge in the ocean.
And it's largely kids protesting and demonstrating for action to battle climate warming all around the globe. It's kids who are jettisoning racial and gender hatreds. It looks as if we Boomers and X-ers at last have done something right: we raised this upcoming generation who just might save us from ourselves and fix upon our times the label: "Hope." That's why our 20-somethings get The Hope Award.
Finally
We have skyrocketing infections and deaths due to the twin epidemics of COVID and American pigheadedness, and plenty more threats to send us out on the ledge. But before you climb through the window, reread The Hope Award section above and then read this from Dan Rather. He's no Pollyanna, but he's been around the block enough times to have a valuable perspective on the use of ledges.
In this season of wishing for stuff, I wish for us a just nation, where right matters and wins, where democracy always prevails, where we care about one another in the ways that truly matter and where we think and plan far into the future to set things on the best path for our children, grandchildren and all who will come after us. I figure it's our job to make all of that happen, so wishing isn't enough.
————————————
The days are dwindling for us to take action. Get up! Do something to make things better.
Did someone forward this to you? Welcome! Please subscribe – use the simple form above on the right. And pass this along to three others, encouraging them to subscribe, too. (IT'S A FREEBIE!)

And add your comments below to help us all to be better informed.
Thanks!

The Fine Print:
Writings quoted or linked from my posts reflect a point I want to make, at least in part. That does not mean that I endorse or agree with everything in such writings, so don't bug me about it.
There are lots of smart, well-informed people. Sometimes we agree; sometimes we don't. Search for others' views and decide for yourself.
Errors in fact, grammar, spelling and punctuation are all embarrassingly mine. Glad to have your corrections.

Responsibility for the content of these posts is unequivocally, totally, unavoidably mine.
Book links to Amazon are provided for reference only. Please purchase your books through your local mom & pop bookstore. Keep them and your town vibrant.
JA
Copyright 2023 by Jack Altschuler
Reproduction and sharing are encouraged, providing proper attribution is given.