Reading time – 4:21; Viewing time – 6:06  .  .  .
Contrary to his firm, clear declaration, Richard Nixon was a crook. Setting aside allegations that have a dollar sign directly attached to them, he obstructed justice. That's a crime. He sent thieves into the night to break and enter the office of Daniel Ellsberg's psychiatrist, as well as to rob the Democratic National Committee offices in the Watergate complex. Those are crimes.
Nixon committed treason during the 1968 presidential campaign by urging the North Vietnamese not to conclude a peace treaty with the U.S., telling them they'd get a better deal from him if he were elected. That's a crime.
None of these is about personal offensiveness or the breaking of norms. All of these are crimes. By any definition, Richard Nixon was a crook. And he was just short of certain impeachment and removal from office by the Senate when he resigned his office.
Say what you will about Bill Clinton's ethics, his moral rectitude, if any, "crook" is hardly useful to describe him.
At the height of Newt Gingrich's power as Speaker of the House he hired Ken Starr to investigate the Clintons – both of them. Starr's charge wasn't to focus on an indication of the commission of a specific crime. Rather, it was a target-of-opportunity witch hunt. He was to find something – anything – to hang around Bill Clinton's neck.
Starr investigated everything both Clintons had touched, including the Rose law firm in Arkansas, the Whitewater land deal, the death of Vince Foster, various extramarital affairs and more and he found nothing illegal. Nothing. Then Linda Tripp, a confidant of White House intern Monica Lewinsky, called the FBI to disclose Clinton's sexual relations with the young woman. Clinton's actions, while perhaps repugnant, weren't a crime.
Starr hauled Clinton before a grand jury and asked about the affair. Clinton lied, denying it. That was a crime – lying to a grand jury. And shaming Clinton into that was all that Starr could conjure after over four years of digging for dirt. There's no question about the crime and Clinton was impeached, but the Senate made it clear that this was hardly treason, bribery or a high crime or misdemeanor. Stupid, yes. Worthy of removal from office? Come on.
Now, things are different. Donald Trump is guilty of either extortion or bribery and maybe both. Those are crimes. He is guilty of using funds allocated by Congress to have a foreign power give him support for the 2020 election. That constitutes at least three crimes; one is the withholding of funds directed by Congress; another is abuse of power; yet another is soliciting election help from a foreign government, one of only a handful of specific crimes listed in the Constitution.
By ignoring subpoenas and ordering all from the Executive Branch of government not to testify at the House Intelligence Committee's hearings. Trump obstructed justice. Then there are his ongoing violations of the emoluments clause in the Constitution. These are all crimes and he's guilty of them. We know that, not only because of the clear, direct testimony by greatly respected individuals with firsthand knowledge and through documentary evidence, but because Trump has bragged about all of these crimes.
Trump's malfeasance is far beyond Nixon's thievery and obstructions of justice and way past Bill Clinton's lying about his dalliances. Trump is flagrantly guilty of bribery and high crimes and misdemeanors and everyone knows it.
All this has nothing to do with Trump's distractions, like his continuous lying, his bullying, his violations of governmental, civic and decency norms, his ethics violations or even his dereliction of duty to our national security. For those who have spent the last few years admonishing that we ignore what Trump says and instead focus on what he does, that's exactly what is happening right now.
The House is going to impeach Trump. It's the right thing to do if we still believe in the rule of law and in protecting and defending the Constitution against all enemies, both foreign and domestic.
There's only one question left: Do the Republicans in the Senate have even the small amount of integrity needed to do the right thing? Do they still believe in conservatism? We better hope that at least twenty of them do.
Gerald Ford pardoned Richard Nixon. Ronald Reagan avoided responsibility for the Iran-Contra crimes. George W. Bush skated from his having started two illegal wars. If Trump is allowed to walk, our refusal to hold high officials accountable will have been permanently erased. That is why impeachment and removal from office are the right things to do.
Finally,
From pal Allan Shuman on Friday:
November 22, 56 years ago, was also a Friday. That was truly the day that the music died. There was hardly a mention today in any of the media.
John F. Kennedy was assassinated that day and that changed a generation and perhaps the entire world. Cynicism was kindled in Boomers and trust was dealt a terrible blow. We had had belief on November 21st; not so much on the 23rd.
Now Trump's maniacal need for attention and our national acquiescence to it has stolen even that remembrance from us.
————————————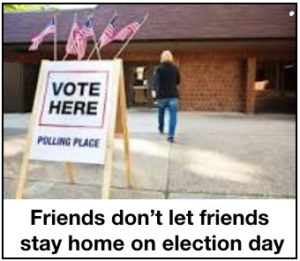 Ed. Note: I don't want money or your signature on a petition. I want you to spread the word so that we make a critical difference. So,
YOUR ACTION STEPS:
Pass this along to three people, encouraging them to subscribe (

IT'S A FREEBIE!

).

Engage in the Comments section below to help us all to be better informed.
Thanks!
NOTES:
Writings quoted or linked from my posts reflect a point I want to make, at least in part. That does not mean that I endorse or agree with everything in such writings, so don't bug me about it.
Errors in fact, grammar, spelling or punctuation are all embarrassingly mine. Glad to have your corrections.
Responsibility for the content of these posts is unequivocally, totally, unavoidably mine.
Copyright 2023 by Jack Altschuler
Reproduction and sharing are encouraged, providing proper attribution is given.