Reading time – 2:06  .  .  .

You know what's going on – the crimes, the abuses of power, the obstructions of Congress, the abandonment of national security and the rest. His guilt is not in question, not just because of witness testimony, but because he's bragged about his violations. What's in question is what you will do about it, because you have a problem.
You've seen that those who get on the wrong side of Donald Trump face consequences, like being attacked by him on Twitter and vilified in sound bites. In addition, Republicans who cross the President almost certainly will face a primary opponent endorsed by Trump. After your having done so much work to get where you are, paid your dues and sacrificed so much, opposing Trump is a daunting undertaking.
But our nation is at a critical crossroads, one it has never had to deal with before. We are at a choice point between continuing our 242 year experiment in democracy – self-rule – or abandoning it and devolving into a monarchy or dictatorship. The only way to stay on the road of democracy is for the Senate to stand up and assert its full powers to check an egregiously damaging president.
There is an honest and continuing conflict for anyone in Congress between advancing the will of those you represent and getting out front and leading in the right direction when that direction isn't popular. In standing up and saying, "THAT way!" you necessarily assume the risk of criticism and perhaps even scorn. There is the potential for being voted out of office for standing in leadership in that way, but in fact, insisting on doing what is right is what you agreed to do when you took your oath of office.
The rule of law is under attack in America. Democracy has been manipulated for the benefit of one man and to the detriment of our country and it is now in peril. Our nation is divided and people are saying and doing outrageous and dangerous things and current leadership stokes the menacing fires of division. You know all of this to be true. That's why this is a time that requires strong, courageous leadership – leadership that puts everything on the line for what is right.
There aren't enough Senate Democrats to stop the abuse of power, the obstruction of Congress and the rest of Trump's wrongdoing, so the fate of democracy lies squarely in the hands of Senate Republicans. The Constitution is calling your name. It's time for you to stand and be counted. You may have to take one for Team America.
What you do will be written into history books and recorded for all time. No amount of rationalizing will justify getting this one wrong, so do what you'll be proud to tell your grandchildren you did.
————————————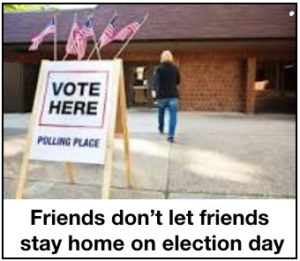 Ed. note: We need to spread the word so that we make a critical difference, so
Pass this along to three people, encouraging them to subscribe (

IT'S A FREEBIE!

).

Engage in the Comments section below to help us all to be better informed.
Thanks!
NOTES:
Writings quoted or linked from my posts reflect a point I want to make, at least in part. That does not mean that I endorse or agree with everything in such writings, so don't bug me about it.
Errors in fact, grammar, spelling and punctuation are all embarrassingly mine. Glad to have your corrections.
Responsibility for the content of these posts is unequivocally, totally, unavoidably mine.
Copyright 2023 by Jack Altschuler
Reproduction and sharing are encouraged, providing proper attribution is given.