Reading time – 1.38  .  .  .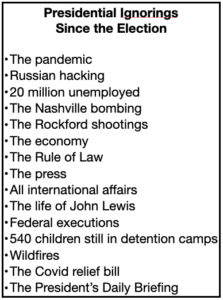 It is the morning of the Electoral College report to Congress. Donald Trump has encouraged militants like the Proud Boys and neo-Nazis to demonstrate in the streets of DC, knowing full well that they will bring their anger and their firearms. As of this writing it is unknown if violence will erupt, but DC Mayor Muriel Bowser has called out the National Guard. We have a real live political and cultural divide that has the capacity to explode.
This kind of contentiousness, this threat to our national welfare and safety has happened before, most notably and disastrously in the Civil War. And during the 1960s we were torn apart over the concurrent crises of the Vietnam War and a renewed fight for civil rights.
It was mostly young people in opposition to an entrenched conservative power structure. That makes sense, in that it was young people being sent off to fight people they did not recognize as an enemy and perhaps to die for no good reason. They faced down generations of people who had been taught to do as they were told and who expected the 60s young to do the same.
That generational struggle also made sense because while young Blacks certainly had suffered racism, they weren't yet beaten down by a life of racial discrimination and they refused to live with that injustice. So, they stood up to the entrenched conservative power structure, too, and were joined by white activists.
All that opposition led to violent confrontations and a lot of people were injured and some were killed. Some were assassinated by police, like Fred Hampton and Mark Clark, leaders of the Black Panthers. The Chicago Police didn't knock, didn't announce themselves, but simply started shooting, firing nearly 100 bullets into their residence late one night as the men slept. Some were killed by National Guardsman, like the student demonstrators at Kent State in 1971. Some were clubbed mercilessly by Chicago Police in what the Kerner Commission labeled a "police riot." The times were indisputably violent and deadly. People in power don't willingly give up their power.
There were calls by some for moderation and many tried to find a way forward that avoided violence, but passions ran high and Americans were polarized. Does that last sentence feel familiar? Isn't that what is going on right now?
It's clear that we didn't resolve that basic conflict 50 years ago. George Santayana told us, "Those who cannot remember the past are condemned to repeat it," and surely we're doing that right now. Mark Twain told us, "History does not repeat itself, but it rhymes." Take your pick. Either way, our national divide isn't new and it has all the capacity for delivering terrible results just as before, especially when so many on one side seem to act as though violence is the the best solution. Plus, they're very well armed.

I have some suggestions for an anthem for our time. Both of these are from the late 60s and even if you know them well I encourage you to listen with fresh ears. Perhaps the messages from these can provide some sane direction.
Maybe you have a notion for how we can move forward safely. Maybe you have a suggestion for an anthem to guide us through these very dangerous times. Please share them in the Comments section below.
For What It's Worth by Buffalo Springfield – 1967
Everyday People by Sly and the Family Stone – 1969
—————————————-
—————————————-
Ed. note: We need to spread the word so that we make a critical difference, so,
Did someone forward this to you? Welcome! Please subscribe and pass this along to three others, encouraging them to subscribe, too. (IT'S A FREEBIE!) Use the simple form above on the right.

Engage in the Comments section below to help us all to be better informed.
Thanks!
The Fine Print:
Writings quoted or linked from my posts reflect a point I want to make, at least in part. That does not mean that I endorse or agree with everything in such writings, so don't bug me about it.
Said John Maynard Keynes, "When the facts change, I change my mind. What do you do, sir?" So, educate me and all of us. That's what the Comments section is for.
Errors in fact, grammar, spelling and punctuation are all embarrassingly mine. Glad to have your corrections.

Responsibility for the content of these posts is unequivocally, totally, unavoidably mine.
JA
Copyright 2023 by Jack Altschuler
Reproduction and sharing are encouraged, providing proper attribution is given.