Reading time – 3:29  .  .  .
The beginning of wisdom is to call things by their proper name. – Confucius
The Crash occurred in October of 1929 during Herbert Hoover's first year as President. He had been successful in business and had held several high level government posts where he produced good results. He beat Al Smith in the 1928 presidential election, was sworn in and proceeded to bungle his presidency because of his grossly inadequate response to the Great Depression.
Hoover opposed efforts to provide federal relief measures for the millions of suffering Americans, which was quite odd. He had led the American Relief Administration to help European countries following WW I and also led the federal response to the Great Mississippi Flood of 1927 to provide emergency relief. But he refused to do the things that were needed to help struggling Americans and to dig this country out of the depression.
One of the outcomes of Hoover's intransigence was an enormous amount of homelessness. People were evicted for nonpayment of rent, but they didn't just vanish. The had to go somewhere, so they found what materials they could and built ramshackle shelters. These hovels joined with others to create slums and there were hundreds of these miserable villages of homeless people all across the country. In a derisive gesture at the insufficient actions of the president they were called "Hoovervilles".
Hoover wasn't responsible for the crash, just as Trump isn't responsible for the virus. Each of them, though, is accountable for their response to an American catastrophe that confronted them and each failed miserably. Hoover refused to do what was necessary. Trump blatantly said, "I don't take responsibility at all."
Trump proceeded to make a lot of noise about Covid-19, promising wildly impossible things ("It's going to disappear. One day — it's like a miracle — it will disappear."), recommending treatments that are ineffective (hydroxychloroquine) or even toxic (Lysol and Clorox) and doing effectively nothing to protect the people. We're nearly a year into the pandemic and we are still woefully short of PPE, Covid tests, contact tracing to create safety quarantines, and leadership to encourage the simple preventive measures that can minimize our suffering and deaths. There are vaccines, but Trump has refused to see the job through, making it impossible to get vaccines into American arms rapidly. Instead of helping the people, he's still doing his "don't blame me" dance. Trump's refusal to take responsibility means that he put Harry Truman's "The buck stops here" sign into locked storage and abandoned his post.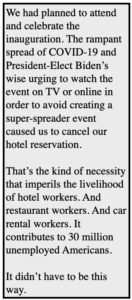 The old saying is that Nero fiddled while Rome burned, but of course that isn't literally true. The violin wasn't invented until 1500 years after his death. But, "His infamous reign is usually associated with tyranny, extravagance" and ruthlessness. He killed his own mother. Perhaps oddly, Nero was a populist, having captured the fancy of many commoners. Nevertheless, Nero was a cruel sociopath.
Most of those descriptors of Nero sound painfully familiar today. Instead of his fiddling, we can accurately say that Trump golfed while hundreds of thousands died. It's projected that 700,000 Americans will be dead from this disease by the time 75% of us are vaccinated some time late this year. At 2,000 – 3,000 deaths per day over the winter, the math is pretty simple. If the vaccine distribution problem isn't fixed quickly, the mortality numbers will be far worse.
Roughly 75% of all of the deaths from this pandemic would not have occurred with proper presidential leadership from the start (see this).  The number of excess deaths caused by Trump's ineptitude and intransigence are staggering. Biden's plan should help, but the momentum is baked in for producing a terrible total.
It's crucial that we apply the proper name to Trump's well-earned responsibility for our massive, preventable suffering and death. What shall we call that? Trump Fever? Death by Sociopath? Leadership Abandonment Syndrome?
And what is the proper name for the slums of today that are populated by people displaced by this pandemic? Trumpvilles? MAGA Motels? Trump Tower Slums?
History will record the craziness of these years and the great harm brought to our country by a madman. There will be headlined paragraphs in history textbooks with the proper names for these times. One will be American Supplication to Russia. Another will be The Massive Assault on Democracy. Still another will be When America Abandoned Reality. But the biggest, boldest headline of all will be Massive Death and Suffering By Presidential Abandonment.
Here's hoping that we learn the painful lessons* before us and make 2021 the year we restarted America's great march to form a more perfect union.
—————————
* Try this on for a painful lesson we need to learn.
From a recent commentary: "the casualties to date are shocking and far in excess of what was expected  .  .  ." But are we really shocked?
Front line healthcare workers have been shocked. Families of the dead were shocked. The unemployed and food insecure are shocked. But a huge percentage of Americans – tens, perhaps hundreds of millions of us – go on with only minor changes to our lives, which doesn't result in shock – only minor inconvenience. Worse, the numbers of the infected, hospitalized and dead are so large as to be mere statistics without an apparent connection to human beings and their suffering. It seems that there is no shock unless people are impacted directly. Perhaps we have a national empathy outage.
What shall we do with this lesson?
And millions of Americans oddly refuse to believe that Covid-19 is real. With the reality of suffering and death all around, they steadfastly hold to their claim that it's a hoax and respond to calls for simple public health measures with refusal and scorn. Of course, that spreads the disease quite efficiently, which means far more people get sick.
What is the lesson begging for understanding in that?
—————————————-
—————————————-
Ed. note: We need to spread the word so that we make a critical difference, so,
Did someone forward this to you? Welcome! Please subscribe and pass this along to three others, encouraging them to subscribe, too. (IT'S A FREEBIE!) Use the simple form above on the right.

Engage in the Comments section below to help us all to be better informed.
Thanks!
The Fine Print:
Writings quoted or linked from my posts reflect a point I want to make, at least in part. That does not mean that I endorse or agree with everything in such writings, so don't bug me about it.
Said John Maynard Keynes, "When the facts change, I change my mind. What do you do, sir?" So, educate me and all of us. That's what the Comments section is for.
Errors in fact, grammar, spelling and punctuation are all embarrassingly mine. Glad to have your corrections.

Responsibility for the content of these posts is unequivocally, totally, unavoidably mine.
JA
Copyright 2023 by Jack Altschuler
Reproduction and sharing are encouraged, providing proper attribution is given.