Reading time – 2:21; Viewing time – 3:34  .  .  .
The world of sales is chock full of techniques to get a prospective customer to say yes. For example, there's the "yes questions" tactic, which consists of asking a series of questions, all of which will be answered "yes," in order to prepare the prospect to answer yes to the last question, which is, "Can we write that up now?"
Picture a couple with two kids in tow, looking around a new car showroom. Salesman Slick introduces himself and asks,
Are you looking for a new car today?
Will this be a family vehicle?
You'll want something that gets great gas mileage, right?
You get the idea.
One of the most manipulative of sales schemes is the "scare 'em and save 'em" technique. This scheme starts with painting a horrible future scenario in order to scare the prospect out of their skin. Terrible things will befall them. They need to be saved. That's when the sales person comes to the rescue with the solution, which includes buying something from that very same sales person.
For example, "Mr. and Mrs. Dingy, of course you don't want to buy insurance. Who would? But the U.S. Geologic Survey just released its annual report and it shows you right in the center of a new, developing flood plain. It's just a matter of a little time before your basement begins to flood. You've already seen the changing weather patterns, the more violent storms and greatly increased precipitation. I'll bet you'll get a couple of feet of flooding when the heavy spring rains begin, and that's just the start. It's a good thing I have a most affordable flood insurance plan for you. It's time, don't you agree?"
If you don't think that's common stuff, watch TV commercials and you'll find a large percentage of them use the tactic of scaring you, then saving you with their product.
What that has to do with our political life is how often politicians use this tactic to manipulate us and how Donald Trump uses it constantly.
His acceptance speech at the Republican National Convention depicted a darkly dystopian future for America and only he could save us from catastrophe.
His inaugural address was dismal and foreboding. The future according to Trump was going to be awful and he let us know that only he could make the sun shine again. When he finished, George W. Bush turned to Michelle Obama, who was seated beside him, and said, "That was some crazy shit." He was right.
Trump has worked hard to make us afraid of many more things, like immigrants, Muslims, Democrats, the press, our intelligence agencies and more. He does that all the time. And he recently told us that he is "the chosen one." He'll save us from the unwashed hoards, the fake news and the rest. Hitler used the same tactic and the German people bought into his manipulation.
Perhaps you noticed that during the impeachment hearings, both in committees and in the full House debates, Republicans over and over declared how awful things would be, how scheming and dishonest the Democrats are and isn't it lucky for our nation that the Republicans are there to safeguard against all the harm the Democrats would bring?
Honestly, that was some crazy shit.
I never would have imagined it possible that I would be quoting George W. Bush as a source of wisdom. These are strange times, indeed.
————————————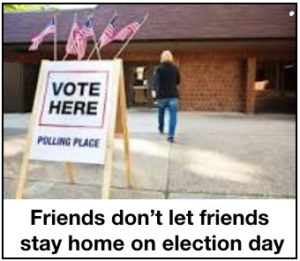 Ed. Note: I don't want money or your signature on a petition. I want you to spread the word so that we make a critical difference. So,
YOUR ACTION STEPS:
Pass this along to three people, encouraging them to subscribe (

IT'S A FREEBIE!

).

Engage in the Comments section below to help us all to be better informed.
Thanks!
NOTES:
Writings quoted or linked from my posts reflect a point I want to make, at least in part. That does not mean that I endorse or agree with everything in such writings, so don't bug me about it.
Errors in fact, grammar, spelling or punctuation are all embarrassingly mine. Glad to have your corrections.
Responsibility for the content of these posts is unequivocally, totally, unavoidably mine.
Copyright 2023 by Jack Altschuler
Reproduction and sharing are encouraged, providing proper attribution is given.