Reading time – 1:44  .  .  .
Trump gambles with American lives so he can brag
As suggested in an interview with Dr. Stephen Hahn, head of the Food and Drug Administration, he was under extreme pressure from our "Public Health"First" president to issue emergency use authorization for treatments and preventives for Covid-19. Emergency use authorization ("EUA") means giving the okay to meds or procedures that have not been fully vetted to ensure they are safe to use (i.e. won't kill the patient) and that they actually do some good (efficacy). And now it's happened.
The FDA has issued an EUA for convalescent plasma therapy. That's a procedure where the blood plasma from a person

who has had Covid-19 and recovered is injected into a patient suffering from the disease. The theory is that the antibodies in the plasma from the donor will fight the disease in the recipient. There was a statistically small beneficial effect for a narrow band of patients from this procedure in a trial at Mayo Clinic. So far it appears to be safe, but that's not proven, and its efficacy has not been fully tested. In other words, according to the FDA's guidelines, it isn't ready for prime time. But it's approved now, thanks to Dr. Trump's manipulation. Recall his success in prescribing hydroxychloroquin and how that worked out for patients.
In the face of the scientific clarity that this procedure is chancy at best, Trump has pressured Dr. Hahn into authorizing this procedure right before the Republican National Convention. Without reality to support her, White House press secretary Kayleigh McEnany has already announced that this procedure is a "major therapeutic breakthrough."
Expect to hear waves of superlatives from Trump about himself as the protector of the people and some form of "Only I can beat this pandemic." Expect this treatment to be described by Trump as "like nothing you've ever seen before," "the greatest thing medicine has ever developed," "We're now winning the battle against the pandemic thanks to my strong leadership," and more.
How odd, then, that over the weekend Trump tweeted that the FDA is part of the "deep state" that only he can crush. Odd, too, that economist Peter Navarro, Assistant to the President, Director of Trade and Manufacturing Policy, would confront FDA officials, pressuring them with, "You are all Deep State and you need to get on Trump Time." Exactly how would he know a thing about what it takes to ensure safe and effective meds? Would you trust your life to Peter Navarro?
Don't expect to hear from the FDA about its abandoning its own rules and ethics, as yet another department of government caves in to Trump in yet another of his epic tantrums to make the entire world about him and to get what he wants.
Too bad for the Covid-19 patients who learn that they were given false hope in Trump's campaign to manipulate the election.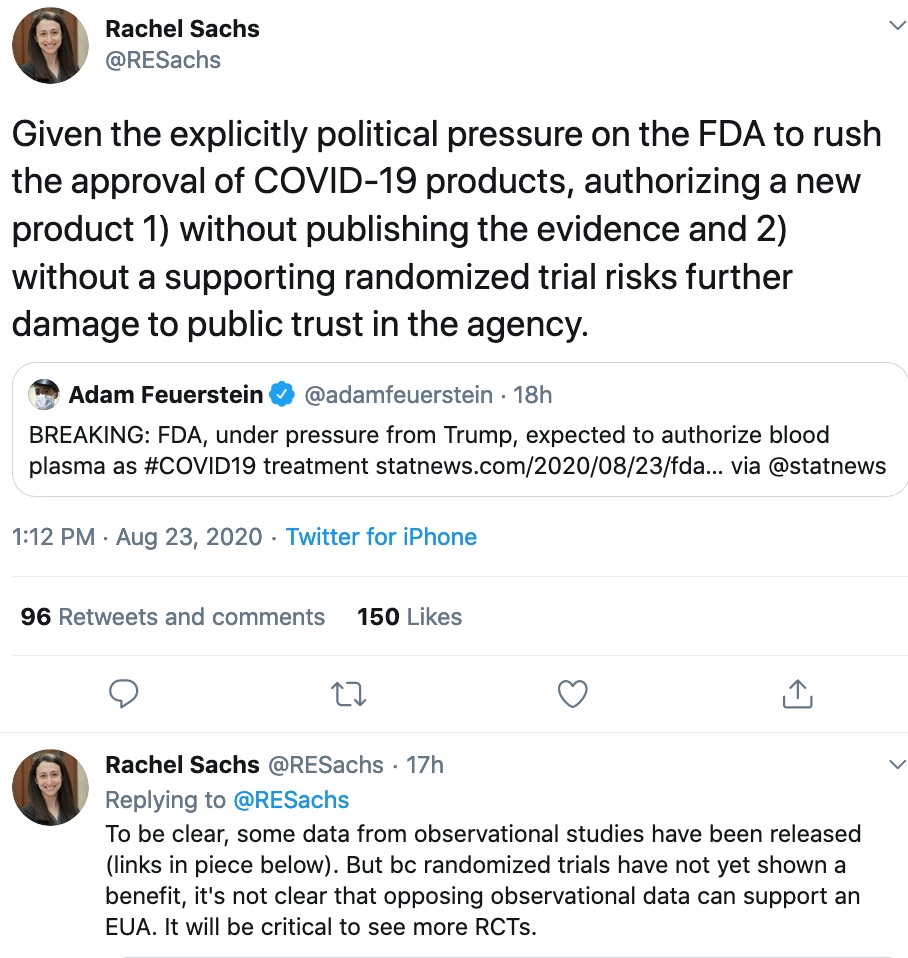 Be sure to read this post from Mike Murphy, a sane, formerly Republican consultant, on what can happen.
—————————————-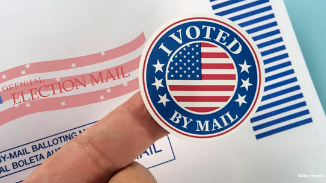 Ed. note: We need to spread the word so that we make a critical difference, so
Pass this along to three people, encouraging them to subscribe (IT'S A FREEBIE!).

Engage in the Comments section below to help us all to be better informed.
Thanks!
The Fine Print:
Writings quoted or linked from my posts reflect a point I want to make, at least in part. That does not mean that I endorse or agree with everything in such writings, so don't bug me about it.
Sometimes I change my opinions because I've learned more about an issue. So, educate me. That's what the Comments section is for.
Errors in fact, grammar, spelling and punctuation are all embarrassingly mine. Glad to have your corrections.

Responsibility for the content of these posts is unequivocally, totally, unavoidably mine.
JA
Copyright 2023 by Jack Altschuler
Reproduction and sharing are encouraged, providing proper attribution is given.