Reading time – 1:51  .  .  .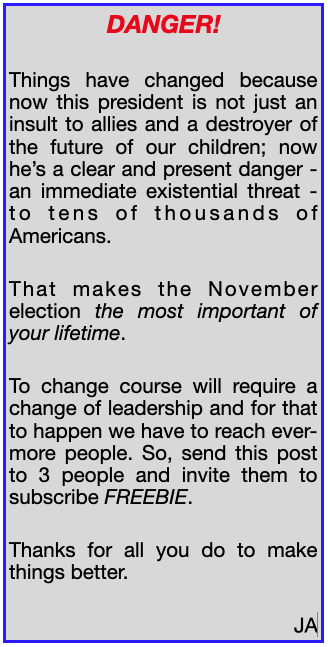 President Trump signed an executive order on August 8 to temporarily delay the withholding of employee contributions to Social Security payroll taxes from September 1 to December 31 for people making less than $2,000 per month. I have just two comments about that executive order.
First, this is no gift. Gotta wonder how that EO helps people to pay the rent or mortgage or feed their kids or pay for their meds or repair the car, because they'll have to pay back every cent soon. And because people are likely to spend those extra bucks, they're going to be in a nasty bind in January. But, of course, that will be after the election. That temporary extra few bucks is just more Trump smoke and mirrors to get re-elected.
Second, it took 3 months for Trump to do even this hollow BS executive order. (To be fair, he signed 4 executive orders which, in the aggregate, amount to nothing.) That includes his refusing to do good faith negotiating with the House and the complete absence of Mitch McConnell's Senate from negotiations. Where's the concern for the people? Oh, right; Trump and the RNC aren't about the people.
——————————–
The Republican National Convention started of with an  impressive parade of lies, misleading statements and a massive airing of grievances, most of which refer to things that don't exist on planet Earth. There were reality-free attacks on Joe Biden, a continuing hatefest (easy for them – think: children in cages), never-ending claims of America as dystopia and a brainless fealty to Trump. We knew about the brainless fealty in advance of the RNC–Trump reality show, partly because the Republican Party flatly told us that's where they stand.
This Republican Party literally has no platform for the 2020 election and they will be creating no policy statements at all. Nothing to tell us about their values. No way for us to know where they stand on anything. Their entire statement is a one-pager.
Well, there is one thing they've told us about where they stand. It is that they exist solely to serve Donald Trump. Here's a direct quote from their 1-page non-platform:
RESOLVED, That the 2020 Republican National Convention will adjourn without adopting a new platform until the 2024 Republican National Convention;
RESOLVED, That the Republican Party has and will continue to enthusiastically support the President's America-first agenda;
That's it. All Trump, no brain, all the time.
Download the entire 67-page non-platform here and see for yourself. You'll only have to look at the first page, because pages 2-67 are the 2016 platform. Perhaps the RNC included those outdated pages to make the document thicker so we'd think there's something of substance there. Of course, there isn't.
The Republican Party has formally declared that it is de facto a cult of personality. They have terminated all of their higher brain functions in favor of robotic declarations of Trump fantasy and blind support of Dear Leader, Mein Fuhrer, His Majesty or whatever is today's groveling object title. They are formally no longer conservative. They stand for subservience. They are the Door Mat Party. And they're proud of that.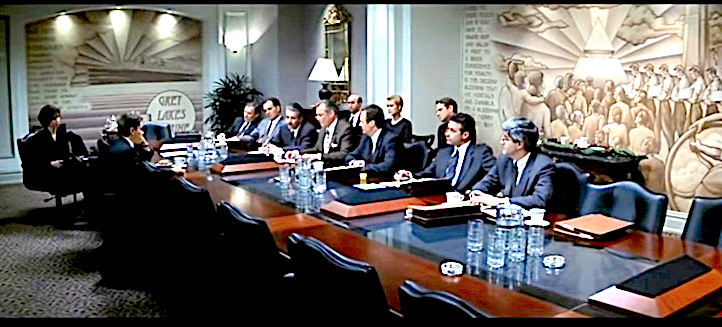 This quote from the1997 movie The Rainmaker seems to fit for today's members of the Republican Party:
"Do you even remember when you first sold out?"
—————————————-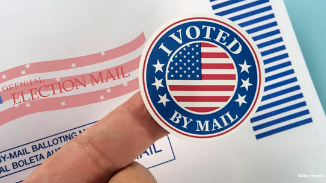 Ed. note: We need to spread the word so that we make a critical difference, so
Pass this along to three people, encouraging them to subscribe (IT'S A FREEBIE!).

Engage in the Comments section below to help us all to be better informed.
Thanks!
The Fine Print:
Writings quoted or linked from my posts reflect a point I want to make, at least in part. That does not mean that I endorse or agree with everything in such writings, so don't bug me about it.
Sometimes I change my opinions because I've learned more about an issue. So, educate me. That's what the Comments section is for.
Errors in fact, grammar, spelling and punctuation are all embarrassingly mine. Glad to have your corrections.

Responsibility for the content of these posts is unequivocally, totally, unavoidably mine.
JA
Copyright 2023 by Jack Altschuler
Reproduction and sharing are encouraged, providing proper attribution is given.