Gerrymandering
Here are results from the 2020 U.S. House of Representatives elections* in some "swing states." Have a look.
Texas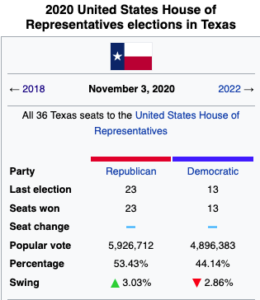 Republicans won 53.43% of the popular vote, but have 63.9% of the House seats.
Wisconsin
Republicans won 51.43% of the popular vote, but have 62.5% of the House seats.
North Carolina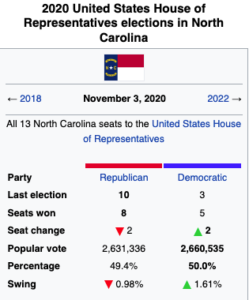 Republicans won 49.4% of the popular vote (they lost the popular vote!), but have 61.5% of the House seats.
Missouri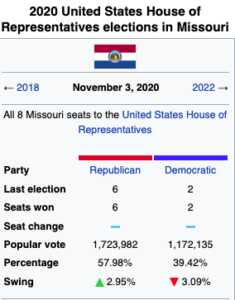 Republicans won 57.98% of the popular vote, but have 75% of the House seats.
Oklahoma
Saving the best for last: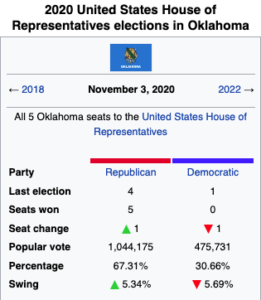 Republicans won 67.31% of the popular vote, but have 100% of the House seats!
This is what gerrymandering does to elections and to the will of We The People. It is what causes constant obstructionism in Congress. In the states, it is what produces the most draconian, evil, voting suppression laws, the "we promise to steal the next election" laws, the Texas "we love vigilantes" law and Mississippi's attack on Roe v. Wade.
If this looks okay to you, there's no need to do anything. But if this looks to you like a corrupt assault on democracy and an undermining of the will of We The People and like your vote is being tossed into a dumpster fire, contact the National Democratic Redistricting Committee (former A.G. Eric Holder's shop) and tell them you want to help to repair this hideous abuse of our democracy.
Self-Neutering
Democrats are wimpy. Their words are too nice and they speak with the confusion of different messages, all with way too many words to remember and all at once. They get steam-rolled every day by strong, anger-inducing and unified messages from Republicans, who have the benefit of not being constrained by truth or reality.
Democrats are talking about the cost of the BBB bill, which at best causes eyes to glaze over and at worst scares the hell out of voters. Instead, they should consistently be talking about the benefits of their program, the stuff that voters will feel and love, the stuff that polls at around 80%. Instead, their time is used to bicker among themselves. I don't know what they are seeing, but I'm seeing a party in disarray that can't manage to walk across the street without creating a traffic jam. Do they think they're convincing voters?

Democrats continue their insanity and while that's happening the Republicans are picking the pocket of our democracy. The theft is going on in plain sight and most of the Democrats most of the time are squabbling with one another, insisting on their version of perfect, instead of protecting our country from the insurgents. What are we to do with this?
Sheila Markin addressed ways to stop the theft of our democracy in her recent post, but I tell you that I am not encouraged. Here's a point from that essay.
Congress could pass the new Manchin inspired Voting Rights Act that outlaws PARTISAN gerrymandering but to do so Congress would need to carve out an exception to the filibuster and that looks like a pipe dream right now.
Anybody have time for a pipe dream?
I get that a complete end to the filibuster would make it impossible to stop the barbarian hordes when they are once again in the majority in the senate. Fine. Just do a carve-out for voting legislation. I do not understand the Democrats refusing to do that.
What do you think draconian Mitch McConnell as Senate Majority Leader would do were he faced with a situation like this? Right. And he would get what he wants. What is the point of the Democrats self-neutering? Somebody explain that to all of us.
It seems to me that the only way for us to have free, fair elections and to ensure the continuation of our democracy is for Democrats to find the courage to modify the filibuster with a carve-out for voting rights legislation. Then pass both pieces that are ready to go and DO THAT RIGHT NOW.
———————-
* Charts are from Wikipedia
————————————
The days are dwindling for us to take action. Get up! Do something to make things better.
Did someone forward this to you? Welcome! Please subscribe – use the simple form above on the right. And pass this along to three others, encouraging them to subscribe, too. (IT'S A FREEBIE!)

And add your comments below to help us all to be better informed.
Thanks!

The Fine Print:
Writings quoted or linked from my posts reflect a point I want to make, at least in part. That does not mean that I endorse or agree with everything in such writings, so don't bug me about it.
Errors in fact, grammar, spelling and punctuation are all embarrassingly mine. Glad to have your corrections.

Responsibility for the content of these posts is unequivocally, totally, unavoidably mine.
Book links to Amazon are provided for reference only. Please purchase your books through your local mom & pop bookstore. Keep them and your town vibrant.
JA
Copyright 2023 by Jack Altschuler
Reproduction and sharing are encouraged, providing proper attribution is given.