I've heard it so many times and early on I realized something. It starts by them declaring, "You can't tell me that .  .  .  " fill in the blank. What I realized is that they're right: I can't tell them.
I can't tell them that the 2020 election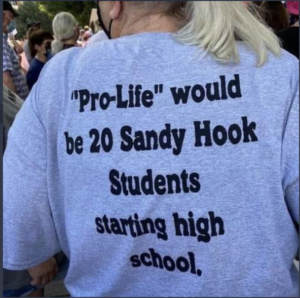 wasn't stolen (this in contrast to the 2000 election, which actually was stolen).
I can't tell them we should have gun safety laws.
I can't tell them there wasn't widespread voting fraud.
I can't tell them that the mainstream media isn't biased against true Americans.
I can't tell them that immigrants we allow into our country aren't rapists, murderers and drug mules.
I can't tell them that there weren't young girls being sex trafficked from the basement of that DC pizza restaurant or that the building doesn't even have a basement.
I can't tell them that Hillary isn't a puppet of a global cabal of Satan worshipers.
I can't tell them that Barack Obama was born in this country.
I can't tell them that the forest fires in the west weren't ignited by Jewish space lasers.
The list is long, but that's a good representation of what I can't tell these people. They are quite right that I can't tell them. I can say the words, but the point is that their minds are closed, so I can't reach them.
And I was so very surprised to discover that I had my own list of what you can't tell me.
You can't tell me that the January 6 insurrectionists were patriots, regardless of the self-justifications they told themselves, like that Blue Lives Matter, as they stomped the life out of cops.
You can't tell me that the various efforts to chip away at Roe over the years aren't the efforts of some to have their religious beliefs forced upon the rest of us. No way that doesn't violate the Establishment Clause.
You can't tell me that the Roberts court didn't write law from the bench in the Citizens United case, deciding to give large corporations all the rights we actual humans have. They unlocked hundreds of millions of dollars for corporations to buy their very own senators, congressmen, state legislators and president with a ruling that wasn't in contest in the case before the Court.
You can't tell me that McConnell didn't steal a Supreme Court seat from Obama using twisted, false logic, and then reverse the logic when Trump was in office so he could get his far right judicial cranks installed there and in the lower courts.
You can't tell me that the Republican Texas governor and legislature care about the Constitution or the rights of the vast majority of Texans.
This group is a reasonable start of what you can't tell me. And I'm right about that – you really can't tell me. The difference between me and those to whom I can't tell anything is the difference between fact and fiction.
Plus, I really will listen to someone with a fact-based argument that counters my views. Give me your best shot to challenge my notions and I'm eager to hear you. Maybe you really can tell me.
Here's one more, "You can't tell me."
You can't tell me that the terrible storms and the resulting floods that repeatedly inundate the eastern parts of the U.S. and the Gulf Coast aren't from the Framers, mad as hell at what we've done, and spitting on us from above. Maybe worse.
Disingenuous Comment of the Month
Gruden got caught spewing cruel, macho, put down stuff, trumpeted in order to feel tougher, more testosterone-y. The point of including this is the last sentence in the blurb. Gruden says, "I never meant to hurt anyone."
YES HE DID! Hurting others was the whole point of his saying those vile things.
Sadly, this is the kind of thing that today passes as an apology. It's a non-apology apology, a disingenuous, cowardly attempt to avoid responsibility. It's a refusal to own up to the harm he's done to others and to begin to make amends, just as though he actually cares about those he's hurt. Which, it's obvious to say, he doesn't.
This is now standard sleaze from public officials who get exposed as sexual predators or harassers or idiots who wore blackface back when they were young and stupid, in contrast to what they do now, when they're old and stupid.
Back to the main theme, You Can't Tell Me.
You can't tell me that Gruden didn't mean it. He passed out his cruelties like they were candy. His hate was meant to harm others. You can't tell me he didn't mean it, because he did and he does.
Same for officials who get caught with their hands in the proverbial cookie jar. You can't tell me they're sorry for anything other than getting caught, like two indignant Supreme Court justices who got away with it.
————————————
The days are dwindling for us to take action. Get up. Do something to make things better.
Did someone forward this to you? Welcome! Please subscribe – use the simple form above on the right. And pass this along to three others, encouraging them to subscribe, too. (IT'S A FREEBIE!)

And add your comments below to help us all to be better informed.
Thanks!

The Fine Print:
Writings quoted or linked from my posts reflect a point I want to make, at least in part. That does not mean that I endorse or agree with everything in such writings, so don't bug me about it.
Errors in fact, grammar, spelling and punctuation are all embarrassingly mine. Glad to have your corrections.

Responsibility for the content of these posts is unequivocally, totally, unavoidably mine.
Book links to Amazon are provided for reference only. Please purchase your books through your local mom & pop bookstore. Keep them and your town vibrant.
JA
Copyright 2023 by Jack Altschuler
Reproduction and sharing are encouraged, providing proper attribution is given.