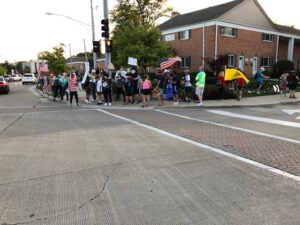 Just back from the demonstration / counter-demonstration in Northbrook Friday night. Did you make it? Good on you. If not, see you next time.
There was a good turnout on both sides of the street but the crowds were very different from one another.
I was good to my word in promising to do my part to engage in civil discussion and avoid name calling. It proved to be quite a challenge and that's the learning, even as it may come to no surprise to you.
One female Trump supporter crossed the street and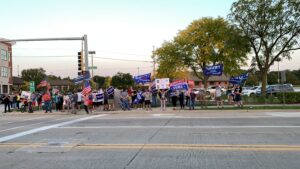 was near me, so I approached her, asking if she would talk with me. She agreed, so I asked her about her support for Trump and did she have concerns because of Trump's behavior toward women? Her answer stunned me.
She said she is from Montenegro, part of the former Yugoslavia. It's a totalitarian state, she said, which is why she came here.
"Okay, but you're a woman and Trump has a very bad reputation with women."
"Well, Kennedy did bad things  .  .  ." I stopped her and reminded her that Kennedy is not on the ballot in November. She went on with other politicians' names, claiming they all do it. Then she attacked Jill Biden and her morality. I pointed out that she, too, is not on the ballot, which she dismissed, indicating that I just don't get it.
"All powerful men do those things," she told me.
Things went on a while longer, but everything she said was some form of whataboutism. She's a Trump supporter and justifies her support with the rationalization that "They all do it." She made it clear that she is stuck where she is. And she likes it there. She seemed for all the world an angry woman who simply wanted to lash out at something. Anything.
A fellow across the street was wearing an olive t-shirt, camo pants and a ball cap turned backward. He had a loud electronic megaphone and talked incessantly. What he said was inflammatory toward Biden, liberals ("go take your meds"), anyone standing across the street and more. That paired nicely with the flyer for the Trump demonstration naming the opposition "socialist morons."
There was anger and hatred coming from Mr. Camo nonstop, so I approached him and, like the Montenegran woman, I asked him if we could talk and could I ask him a question?
I told him my name is Jack – what's yours? "George," he said. "George McGovern." He and his friend shared a snarky smile.
"As you know, you're saying things that are inflammatory to the people across the street. My question is why are you doing that?"
"Because I can."
"Yes, of course, but  .  .  ."
"First amendment. Because I can."
"Right, but you can say anything. Why are you saying these things?"
He went off on what sounded like a cocaine-fueled rant, becoming indignant, defensive, threatening, demeaning and more, so I walked away. He continued spouting accusations, schoolyard bully name-calling and more ("China, China is for Biden") until I left the scene an hour later with his continuing rant fading away over my left shoulder. He wasn't alone among the Trump supporters in behaving that way.
And the point – the learning – is about the power trip these Trump supporters are on. It's about dominance, venting their rage, demeaning others, taunting, braying their real or imagined grievances and their victimhood and deliberately ignoring reality.
It's the aphrodisiac of feeling powerful.
These are the people who are supporting Donald Trump. These are the people who want him to get away with subverting our election – anything for him to stay in power. They wave their flags even as they support Trump's destruction of our democracy. That their bullying works against their own interests doesn't seem to enter into their thinking.
We love to claim American exceptionalism. We love to proudly announce that we are the greatest nation in the world. If all that is true, then why do we need all the hatred?
I was interviewed by a couple of news agencies at the demonstration and was asked why we were there. Here's what I told them.
This is a fight for the life of our democracy and it falls to us, we the people, to win this fight. It always falls to us. It's just that we're so perilously close to rule by thug now.
Better vote early.
And read Dana Millbank's essay here. Many thanks to JB for pointing me to it.
—————————————-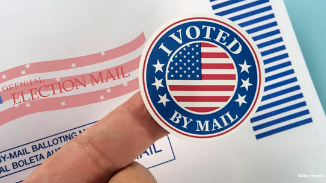 Ed. note: We need to spread the word so that we make a critical difference, so,
Did someone forward this to you? Welcome! Please subscribe and pass this along to three others, encouraging them to subscribe, too. (IT'S A FREEBIE!) Use the simple form above on the right.

Engage in the Comments section below to help us all to be better informed.
Thanks!
The Fine Print:
Writings quoted or linked from my posts reflect a point I want to make, at least in part. That does not mean that I endorse or agree with everything in such writings, so don't bug me about it.
Sometimes I change my opinions because I've learned more about an issue. So, educate me. That's what the Comments section is for.
Errors in fact, grammar, spelling and punctuation are all embarrassingly mine. Glad to have your corrections.

Responsibility for the content of these posts is unequivocally, totally, unavoidably mine.
JA
Copyright 2023 by Jack Altschuler
Reproduction and sharing are encouraged, providing proper attribution is given.