Reading time – 4:32; Viewing time – 6:38  .  .  .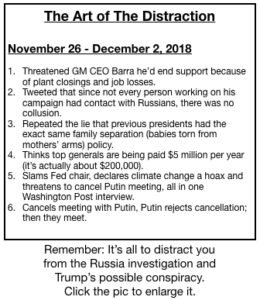 Good news! This is a safe place, because there's no coverage of Russian conspiracy, plea deals, Trump fact checking, stupid tweets, emoluments, an unworthy AG, sucking up to Saudi Arabia and Putin, obstruction of justice, temper tantrums at the G20-Argentina, a $50 million penthouse bribe or even anything about Melania's jacket. Have a pleasant Sunday
---
In my last post, This Is Going To Be A Challenge, I suggested that staying the course to right this ship-of-state, to move our democratic wagon in the right direction will take determination, focus and sacrifice. That's made more difficult by our historically new insistence on instant gratification. That's what is going to make this a bigger challenge.
I'm reading Jon Meacham's new book now, The Soul of America (thanks go to LP for the pointer), and I found this in his introduction:
In the best of moments, witness, protest, and resistance can intersect with the leadership of an American president to lift us to higher ground. In darker times, if a particular president fails to advance the national story – or worse, moves us backward – then those who witness, protest, and resist must stand fast, in hope, working toward a better day.
It looks like we might be in one of those "darker times" right now, but we're getting some traction. Don't be fooled, though, into believing that the prize is won. It took us decades to go this low and it's going to take a long, hard pull to once again begin to create a more perfect union. Our challenge is to stay the course.
---
The annual Global Climate Report mandated by Congress was just published and our unenlightened president promptly dismissed it. He made it crystal clear that he doesn't believe in climate warming or human acceleration of it and he let us know that his gut is smarter than everyone else's brains. His dismissal of the report comes at a time of national devaluation of science, suspicions that climate scientists are on the take and general distrust of anything and everything that smacks of "the establishment."
Well, Katherine Hayhoe just isn't okay with that, oddly being a believer in facts and reality. She has plenty to say about global warming, science and the idiocy of pretending that disasters aren't just around the corner. Watch any of her videos on her YouTube web page, GlobalWeirdingSeries.com. Be sure to scroll down to the video entitled "Climate change, that's just a money grab by scientists, right?" That will answer some of the self-serving blather of denial you hear daily from the knuckle draggers. Regardless, be clear that global warming and human contribution to it don't care if you believe in them. They're happening just the same.
And, as long as you've decided you want to dip a toe into the warming waters of climate change, have a look at  "Why do we need to change our food system?" prepared by UN Environment. Here's a hint: methane released from livestock poop contributes more to global warming than does all of what comes from the tail pipes of our cars.
---
Larry Kudlow made his chops as a TV financial talker. Somehow that qualified him to become Donald Trump's Director of the National Economic Council. Right now he's putting lots of effort into convincing us that there's no recession in sight. The economy's great, he tells us. Wall Street is happy. What could possibly go wrong?
Well, have a look at this piece and, after reading it, come back here and let us know about your confidence in Larry Kudlow's proficiency in accurate economic predictions.
Hint: It's terrible. As bad, he's a devoted supply-sider and has been since Reagan. That's the same as trickle-down economics. Exactly how much has trickled down to you over the past 40 years of supply side lies? And Kudlow thinks that's great.
Note: Our just-passed former President George H.W. Bush called it "voodoo economics." He was right.
---
Finally, I have a solution to a couple of our problems, tackling them both in one brilliant strategy. One is our immigration problem, which for some odd reason only seems to be an issue in connection with non-white people and non-Christian people. The other is our need for a lot more firefighters. Here's my solution.
It's impossible to fail to notice that the frequency and severity of wild fires in our western states continues to accelerate and fighting these fires is enormously labor intensive. These fires appear suddenly and just as suddenly we have a need for huge numbers of firefighters and we just don't have enough of these fine folks.
The solution to both the immigration and firefighter insufficiency challenges is to give immigrants green cards and training to become firefighters. The green card will remain valid only as long as they answer the call when they're needed, which is likely to be multiple times per year, or they reach a pre-determined age for retirement from the task.
We don't have thousands of our citizens clamoring for those fire fighting jobs, but new immigrants would be grateful to have them.
The result of this program will be that we'll get the help we need to fight our ever-growing requirement for firefighters, the immigrants will become part of our melting pot instead of a solution-less problem and we can get out of the business of ripping children from their mothers and tear gassing people whose crime is that they want to work to support themselves and their families. The only downside to this plan is that Donald Trump will have to find someone else to hate.
Do you think that's nuts? Okay. These are real and demanding challenges, so pen your idea below.
Yes, really. You and I know that we have to do better than we're doing now and our leadership in Washington seems to be solely focused on discrimination and hand wringing. That's why it's up to us. So, take a stab at this.
————————————
Ed. Note: I don't want money (DON'T donate) or your signature on a petition. I want you to spread the word so that we make a critical difference. That's the reason for these posts. To accomplish that goal requires reaching many people, so:
YOUR ACTION STEPS:
Pass this along to three people, encouraging them to subscribe (IT'S A FREEBIE!). No subscriber information is ever shared with anyone, anywhere, any time.

Engage in the Comments section below to help us all be better informed.
Thanks!
Copyright 2023 by Jack Altschuler
Reproduction and sharing are encouraged, providing proper attribution is given.