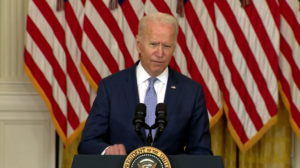 It's time for some straight talk. It's time for us to put it on the line – no political weasel words. So, here it is.
We have an epidemic in this country that isn't going away. In fact, it's rapidly getting worse. Last year it killed a lot of seniors, but our surviving elderly got vaccinated. Now it's killing younger people. It's killing babies.
This virus doesn't care about the color of your state, although the more red your state is the more likely it is that you've put out the welcome mat for the enormously infectious Delta variant.
That's why so many hospitals are full to overflowing. That's why a child with appendicitis and pregnant women aren't getting medical care when they need it. That's why the University of Mississippi Medical Center is constructing a field hospital in a parking garage. But they and we have a problem. They're so short of doctors, nurses and techs that the federal government has had to send in staff who have been borrowed from other hospitals, leaving them short of help. The entire Mississippi state health system is on the edge of failure. And that story is being replicated in other states, too.
While that's going on some of our governors are preventing mask mandates in schools, in municipalities and they're even trying to stop private businesses from requiring masks. In an effort to promote themselves, they're standing in the way of their citizens being protected. They stood in the way of protecting the 4  Broward County, FL teachers who all died in one day last week from Covid. They're standing in the way of prevention from this disease for millions of Americans. That will guarantee more and more people will become infected, more will clog our hospitals and more of our people will die.
At the same time we have citizens threatening violence because they think their freedom to not wear a mask is more important than whether they infect others, who then die.
Last week we saw some toughs threatening a man leaving a meeting of the Williamson County Board of Education in Tennessee. That man supports masks in schools and he had just attended a meeting focused on that question. Those toughs yelled at him with vicious rage and told him that they know who he is and they know where he lives. Their intent to do violence to him couldn't have been more obvious. Yet strangely, in their self-righteous anger and threats of violence, these toughs believe themselves to be patriots, so I'll speak to them directly.
I know who you are and I know where you're going, tough guy. You're headed to the ICU, so it won't be hard to find you and you won't look so tough then. Maybe they'll even have a bed and a ventilator for you. Maybe.
Just get this: Threatening my people – the American people – isn't okay and it isn't what patriots do. Threatening people with contracting Covid and with physical violence is as unpatriotic as it gets. You tough guys running around threatening people and you governors and legislators refusing to do your duty to protect your people aren't patriots. But you could be.
All it will take is for you to get beyond yourself, to stop thinking of yourself as the center of the universe, to stop imagining that your absolute freedom is more important than anyone or anything else. Here's what you need to learn:
Your freedom stops at the tip of the next person's nose and you don't have a right to infect that person or threaten them with harm.
If you're to be a patriot you have to see the plain truth, that it's time for us to sacrifice for one another. That's what true patriots do and it's way past time for you to show up and do your part.
You want to be a patriot? Here's the deal.
Take your temper tantrum someplace else. There's no room and no time for it now, because we – all of us – are in a crisis. Either lead, follow or get the hell out of the way. It's time for real patriots to answer the call of duty.
– Get vaccinated.
– Wear a mask indoors in public.
– Teach your children how to avoid bringing this virus home and infecting Granny.
Patriot wannabe, we know who you are. And we'll know if you stand to be counted when the bugle blows. It's blowing right now.
————————————
Did someone forward this to you? Welcome! Please subscribe – use the simple form above on the right. And pass this along to three others, encouraging them to subscribe, too. (IT'S A FREEBIE!)

And add your comments below to help us all to be better informed.
Thanks!

The Fine Print:
Writings quoted or linked from my posts reflect a point I want to make, at least in part. That does not mean that I endorse or agree with everything in such writings, so don't bug me about it.
Errors in fact, grammar, spelling and punctuation are all embarrassingly mine. Glad to have your corrections.

Responsibility for the content of these posts is unequivocally, totally, unavoidably mine.
Book links to Amazon are provided for reference only. Please purchase your books through your local mom & pop bookstore. Keep them and your town vibrant.
JA
Copyright 2023 by Jack Altschuler
Reproduction and sharing are encouraged, providing proper attribution is given.