Regular readers will likely recognize that over the years I have tried to understand why citizens on the far right portion of our politics consistently vote against their own interests. I've dabbled in guessing why they're willing to believe fantastical fantasies and why they are so violent in spirit and in actions. Perhaps most important, I've scrambled for a foothold of understanding of why they gladly do unpatriotic things, yet consider themselves patriots. I think I'm coming to a more complete answer. Let's start with a little walk through history.
Republican Herbert Hoover was elected in 1928. He had been a mining engineer, a business oriented fellow. Eight months after he took office the economy began its greatest crash and Hoover sat on his hands and watched as the savings from lifetimes of work evaporated and 25% of Americans wanting work were out of work. Their families were in terrible distress. Hoover told Americans to carry on, that things would get better, but in his complete absence of vision he did nothing to help, which led to Hoovervilles all across the country. By 1932 things had become far worse. That's when ordinary Americans decided that a wealthy patrician understood them and their challenges better than the Republicans did and they elected Democrat FDR to be president. It turned out that they were right.
FDR invented the WPA and the CCC and mounted massive infrastructure projects like the Tennessee Valley Authority and the Hoover Dam that brought electricity to millions of people. More important than that, those projects brought honest work and good pay to Americans, which brought with it the dignity of being able to care for one's family and oneself. FDR was so popular that he was elected to the presidency four times, with his last victory coming even as the nation knew he was dying. He was that popular.
And that's why Republicans hated him and his projects that put Americans back to work. They have been trying to kill all social and commons programs since then. And preventing that kind of success for Americans is exactly why today's Republicans want Joe Biden to fail.
Several Republican presidents wanted to get Social Security privatized to benefit fat cats, like the ones who brought us the Great Depression and the Great Recession. When President Johnson created Medicare, Medicaid and his Great Society Program, Republicans were apoplectic and they have tried to kill all of those programs, too. I don't know what they want to do about President Eisenhower's Interstate Highway System – maybe they want to privatize them and let the fat cats charge tolls. Here's the thing:
Republicans hate anything that smacks of work done in the commons and things that directly benefit the people. But the people love that stuff. And people become very angry and feel betrayed when things they've counted on are taken away. Think about what Republicans have to do, then, to get elected.
That's right: they lie.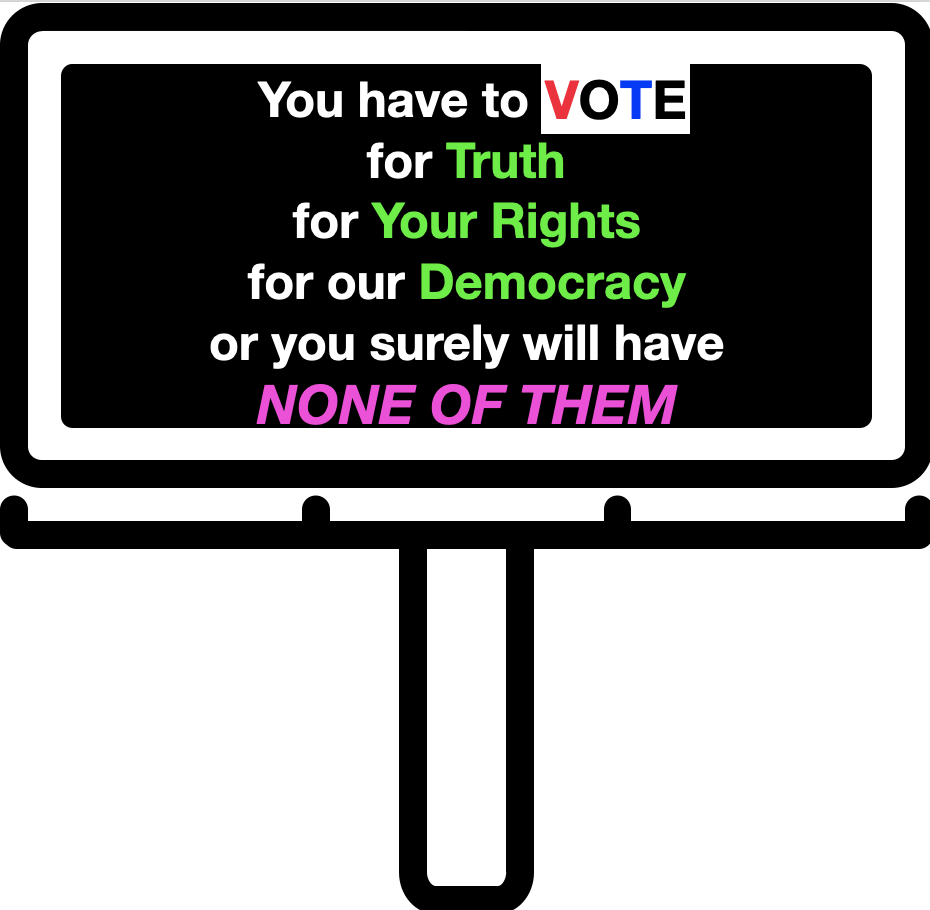 Reagan told lies about non-existent Black welfare queens living like actual queens. He told of "young bucks" – his term – meaning young Black men scamming the welfare system. His doing that makes sense, because it appealed to White fear, which brought him support. Bear in mind that Reagan opposed not just welfare, but also the Brown v. Board of Education decision. How convenient it was for him to latch onto welfare lies and appeal to White supremacy, not bothering to mention that the majority of welfare recipients were White. He just threw out hateful dog whistles that appealed to the fearful and the haters.
Then he stoked distrust and hatred of government itself, even as he was leading the government. He told Americans that, "Government isn't the solution to the problem; government is the problem." It was a new verbalization of opposition to all social programs. Surely, we wouldn't want to support anything that helps those lazy, shiftless "others," right?
As I said: lies.
Bush II was a lie spewing machine, corrupting the Constitution every day and calling it patriotism. And the patriotic thing played well. He told us, "You're either with us or you're against us," and Americans lined up, not wanting to be left behind and thought of as unpatriotic. Republicans are still playing that card. They do that even as they ended programs that would help Americans.
Manufacturing jobs were shipped overseas and citizens were left with nothing. They were betrayed by their own government. (Full disclosure: Clinton was complicit in that.) They call that patriotism and rugged individualism, "right sizing" and freedom and a lot of other fine sounding names. They use their superb propaganda machine to get people to believe their fantasy, just like a circus sideshow barker. It turn out they really can fool some of the people all of the time, even as they are being betrayed.
All the propaganda and all the betrayal has stoked the anger of the people. Plus, it's plain that Whites will no longer be a majority in this country in just a couple of decades, so Whites fear their hands will slip from the reins of power. The knowledge of that has brought more levers for Republicans to manipulate the people, like gerrymandering, the filibuster and voter suppression.
People are left in quite a confusing and simplistic mess.
Their anger is so great that they'd rather infect and kill their loved ones and die themselves, than follow simple government health guidelines crafted by doctors and scientists.
They're so blinded by their distrust of government that they believe conspiracies too loony even for a cartoon and they agitate for autocracy that would make them serfs to the ultra-wealthy.
Their sense of betrayal is so overpowering that they refuse simple and obvious realities and reject as cheating anything that doesn't go their way.
Their fear and anger are so great that they metaphorically have a middle finger extended at all times just to feel powerful.
All of that is orchestrated and overheated by big money puppet masters who manipulate fears and anger, so that the people blindly follow leaders and a party that literally have no policies other than to obstruct and disempower everyone but themselves.
So, the people cheer and send contributions to politicians who stand against the very things that would help the people, like the infrastructure bill and the good jobs that will bring; like voting rights, gun safety, reasonable cost pharmaceuticals, child care, medical insurance and broadband. With every vote or obstruction to voting on those issues and with every manufactured barrier to voting and with every appeal to fear and anger, the manipulators appeal for donations to Trump-fearing GOP sycophants in congress and in the states and municipalities. Those dollars are then used to further diminish the future of the voters and the voters' children.
But the people don't see that, because they are so angry. Worse, they don't realize they've been hoodwinked for generations. And that is why our citizens on the far right of the political spectrum consistently and unknowingly vote against their own interests, leaving them nothing but their rage and whatever weapons they own in order to feel powerful and in control of themselves.
It's all about anger, fear and hopelessness and how easy it is to manipulate people who feel that way.
.

Do you doubt that? Watch Adam Kinzinger's short video and his appeal for Country First.
– Unemployment dropped from 6.2% to 4.2%.
– Wages rose approximately 4% – the final annual numbers aren't in yet.
– The economy is so strong that there are 4 million more job openings than Americans seeking employment.
– We added 4.6 million jobs. Or is it 6.2 million? Not sure, but it's a good number.
Republicans, please stop telling Americans how awful our economy is and how the Democrats are ruining it, because that's just another Republican lie.
————————————
The days are dwindling for us to take action. Get up! Do something to make things better.
Did someone forward this to you? Welcome! Please subscribe – use the simple form above on the right. And pass this along to three others, encouraging them to subscribe, too. (IT'S A FREEBIE!)

And add your comments below to help us all to be better informed.
Thanks!

The Fine Print:
Writings quoted or linked from my posts reflect a point I want to make, at least in part. That does not mean that I endorse or agree with everything in such writings, so don't bug me about it.
There are lots of smart, well-informed people. Sometimes we agree; sometimes we don't. Search for others' views and decide for yourself.
Errors in fact, grammar, spelling and punctuation are all embarrassingly mine. Glad to have your corrections.

Responsibility for the content of these posts is unequivocally, totally, unavoidably mine.
Book links to Amazon are provided for reference only. Please purchase your books through your local mom & pop bookstore. Keep them and your town vibrant.
JA
Copyright 2023 by Jack Altschuler
Reproduction and sharing are encouraged, providing proper attribution is given.