Reading time – 3:39 + 1:43 .  .  .
Tomorrow is Memorial Day – a formal day of remembrance for those who did their duty, put their lives on the line and died defending America. The flag-draped coffins continue to arrive at Dover, Delaware and, with the healthcare mess we're in, it will take extra effort to remember those who sacrificed everything. Do it anyway.
—————————–
My friend Sheila Markin writes an excellent post and asked a question in her most recent offering. Here's the background information.
Trump is now directing his campaign people to fire up the Trump raucous rally machine to drive numbers for his re-election effort. That means thousands of people will be jammed together with everyone joyously chanting for some Trump opponent to be locked up and doing that without a mask, flaunting their disdain for science. They'll show the world they're tough, rugged people and nobody's gonna tell them what to do.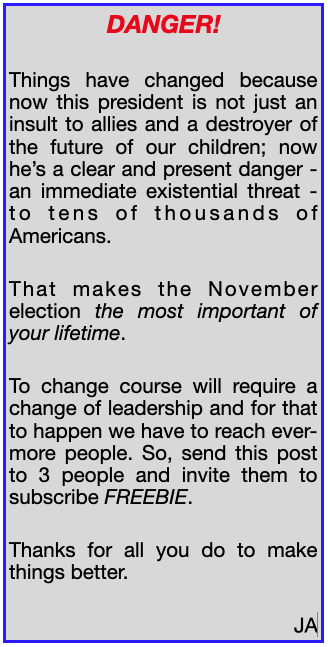 I'm just wondering how they'll be doing 14 days after each rally. I get that Trump isn't worried about that, because doing so would require empathy and you know the professional analyses of his ability for that. But there is obvious risk to these fellow Americans.
That's what Sheila wondered about, ending her post with this question:
"Could it be he is so desperate he would sacrifice any number of his followers to insure his own re-election?"
Here's my answer.
Years ago I had to deal with an individual who was a cruel man. His great joy lay in verbally abusing others and laying false charges against them, including me. Happily, that was a short assignment, but cruelty hasn't gone away.
Today's cruel man is the president and his cruelty isn't just verbal. He's allowing the preventable deaths of our people through his bumbling. And, with his claim of taking hydroxychloroquine, the drug with demonstrated, potentially lethal consequences, he's setting a dangerous example that others might follow and which might kill them, just like his proposing that people ingest disinfectants. Clearly, he thinks our people are expendable, or he doesn't think about them at all.
There are analyses showing how many more people have died and will die because of Trump avoiding doing what is needed to protect us – swift action, robust testing, tracing and quarantining, adequate protective equipment, leadership to influence people to distance, etc. It's approximately 60% of our total COVID-19 deaths (more information here and here and here)  The numbers of excess deaths caused by Trump's ineptitude are staggering. If you want to begin to grasp the magnitude of this, have a look at today's New York Times front page.
But of course, they're just numbers, statistics – until we realize that Granny is one of those people who died an avoidable death. So is nurse Sally. And cousin Jamie. And the pizza delivery guy and the EMT who answered the call and brought my elderly neighbor to the hospital, and the sanitation worker at that hospital, and the high school senior who was excited about her acceptance to West Point. These are metaphors for those actually afflicted. And they weren't just numbers. They were very real people who died avoidable deaths. Over 60,000 of them so far.
Let's make this even more personal with the closing words of John Donne's poem, "For Whom the Bell Tolls:"
Each man's death diminishes me,
for I am involved in mankind.
Therefore, send not to know
For whom the bell tolls,
It tolls for thee.
That notion hasn't found its way into the Oval Office since January 20, 2017. Indeed, it's an odd and cruel trip from "I alone can fix it" to "I don't take responsibility at all."
Now the cruel man insists that we "open up" everything, everywhere, as though that might be safe. 10 days from now let's see if last weekend's happy Milwaukee bar revelers are still well. They were crammed together, shoulder to shoulder, with nobody wearing a mask. And the meat packers in Sioux Falls and in Greeley similarly stand shoulder to shoulder. What do you suppose is in their near-term future?
I desperately want to be wrong about this, but I'm pretty sure there is a looming, now unavoidable catastrophe on the way. "Opening up" will temporarily goose the Dow and the economy, which is good for Trump's re-election prospects, but the price for that may be found in body bags.
Back to the mirage of minimizing the infection and death numbers to make Trump look better to his believers.
This is not about the actual health of our people. All he cares about are the published numbers and how they make him look. Indeed, he has said – even seemed to boast – that more testing would make the count higher, which would be bad for his re-election prospects, so he keeps the count inaccurately, artificially low by keeping the country orders-of-magnitude short of doing the testing we need to do. That gets Trump his sick numbers, but makes us sicker.
To compound Trump's dishonesty about this, we now have 3 states with Republican governors refusing to release infection and death counts. That's a big help to Trump's suppressing-the-numbers game. You don't suppose those Republican governors received a call from the White House, do you?
So, Sheila asked, "Could it be he is so desperate he would sacrifice any number of his followers to insure his own re-election?" They're about to be crammed together at rallies, because that's what's good for Trump. What do you suppose will happen to some of them 14 days later? Do you have even a whisper of a notion that Trump has entertained that question? Or whether he's willing to sacrifice them if doing so helps him?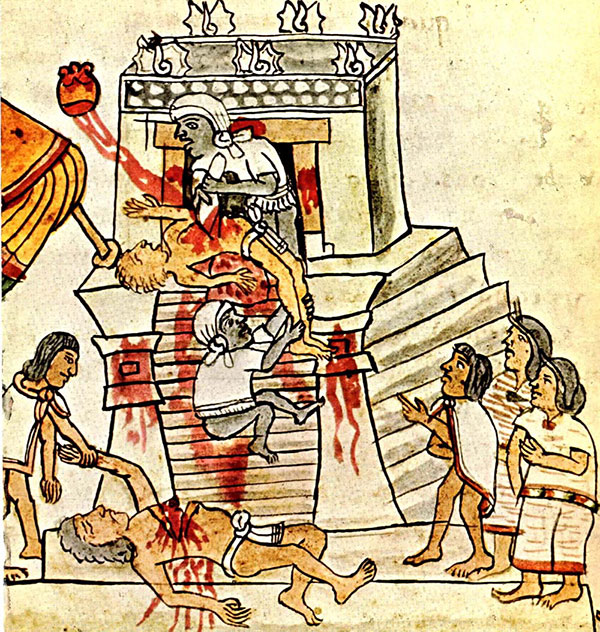 Sadly, it isn't just his followers Trump would sacrifice. There's a Trump-branded human sacrifice alter ready for every one of us whenever he hallucinates that it's in his best paranoid, sociopathic interests to use them.
You've known since at least 2015 that the only thing Trump cares about is Trump. That leaves you eligible for sacrifice on one of his alters. If that's not to your liking, there's something you can do about it. Roll up your shirtsleeves and get to work to put Trump's human sacrifice alter company out of business on November 3, 2020.
And follow President Obama's clear direction: Vote.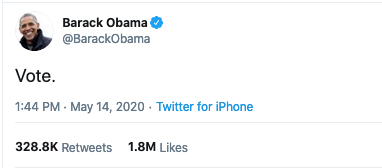 Click here for a 37 second demonstration of how COVID-19 spreads.
Click here for Timeline: Trump's Coronavirus Response. It will tell you all you need to know about what has caused us to have less than 5% of the world's population and 30% of the world's deaths from coronavirus. And it will show you why the majority of American deaths from coronavirus were preventable.
—————————–
Compare and Contrast
This is a true, current story.
British Capt. Tom Moore, the 100-year-old World War II veteran who raised over 32 million pounds ($39.1 million) to support the U.K.'s health workers by walking 100 laps in his garden, will be knighted in recognition of his fundraising efforts.
"I have, exceptionally, recommended to The Queen that he be awarded a knighthood, in recognition of his extraordinary fundraising achievements, and as a signal of the kind of contributions we will want to mark in the months to come," Johnson said in a statement.
The centenarian launched his charitable campaign in late April as his 100th birthday approached. Wearing a coat and tie as well as his military medals, he pushed his walker lap after lap around his garden in the hope of donations.
He was trying to raise 1,000 pounds (over $1,200) for National Health Service (NHS) charities to show his appreciation for the medical treatment he received for cancer and a broken hip.
Donations gathered pace after his fundraising effort received national and, before long, international attention amid the increasing severity of the COVID-19 pandemic.
"I am certainly delighted and overawed by the fact this has happened to me," said Moore, who will be known as Captain Sir Thomas Moore after he is knighted.
The award is expected to be formally presented in the fall, with details of the ceremony, where the Queen will officiate, still to be worked out.
"I'm looking forward to that," Moore said, adding, "I hope she's not very heavy-handed with the sword, because by then I might be rather a poor old weak soul."
After the fundraising effort, Moore released a charity single, "You'll Never Walk Alone," with singer Michael Ball, which became a hit, reaching number one on the charts and making him the oldest singer ever to have a number-one single in the U.K.
Moore fought in Burma, now called Myanmar, and went to Sumatra with his regiment following the Japanese surrender.
It's clear that this gentleman is still the upright man of service he has always been. He sees his duty and does it. That's quite inspiring in a time when we can use all the inspiration we can find.
——————————-
Ed. note: We need to spread the word so that we make a critical difference, so
Pass this along to three people, encouraging them to subscribe (IT'S A FREEBIE!).

Engage in the Comments section below to help us all to be better informed.
Thanks!
The Fine Print:
Writings quoted or linked from my posts reflect a point I want to make, at least in part. That does not mean that I endorse or agree with everything in such writings, so don't bug me about it.
Sometimes I change my opinions because I've learned more about an issue. So, educate me. That's what the Comments section is for.
Errors in fact, grammar, spelling and punctuation are all embarrassingly mine. Glad to have your corrections.

Responsibility for the content of these posts is unequivocally, totally, unavoidably mine.
JA
Copyright 2023 by Jack Altschuler
Reproduction and sharing are encouraged, providing proper attribution is given.