Reading time – 4:49  .  .  .
1. Immigration Vile

We're all appalled by the forced, medically unnecessary, inept and deceitful sterilizations of would-be immigrants at the hands of at least one doctor at the U.S. Immigration and Customs Enforcement ("ICE"),  Irwin County Detention Center. It is a privately owned (LaSalle Corrections), for-profit immigration jail in rural south Georgia. We don't yet know if such things are happening in other ICE prisons.
First question: Why do we pay private corporations to run this and many other prisons, where they have incentives to lock up as many people as possible and perhaps perform stomach turning additional revenue enhancing acts?
The hideousness of these forced sterilizations – by some counts as many as 18 known and medically unnecessary, non-consensual surgeries – is now known and the full story isn't out yet. This is a new chapter in American immigration cruelty. The good news, of course, is that this has never happened before.
Except it has. Many times.
In the 20th century alone (and it didn't start there) tens of thousands of men and women were forcibly sterilized and it will come as no surprise to you who the targets were. From a report on this travesty (and here's another report on this):
More than 60,000 people were sterilized in 32 states during the 20th century based on the bogus "science" of eugenics, a term coined by Francis Galton in 1883.
Eugenicists applied emerging theories of biology and genetics to human breeding. White elites with strong biases about who was "fit" and "unfit" embraced eugenics, believing American society would be improved by increased breeding of Anglo Saxons and Nordics, whom they assumed had high IQs. Anyone who did not fit this mold of racial perfection, which included most immigrants, Blacks, Indigenous people, poor whites and people with disabilities, became targets of eugenics programs. [emhasis mine]
But that was way in the past, right? Wrong.
Such practices are documented as occurring as recently as 2010. Over 1,400 forced sterilizations were performed in California prisons in just over 13 years. These were all state-sanctioned, non-consensual sterilizations.
To give you an idea of the cruelty of eugenics, the Nazis copied it, using the laws of Indiana and California as models for their 1930s laws that led to roughly 400,000 forced sterilizations. The Nazis weren't the kind of people to whom we would want to be compared, and yet in this sense we can be.
Second question: Why do we tolerate this cruelty as part of our stomach turning immigration practices?
——————————
2. COVID-19 Deaths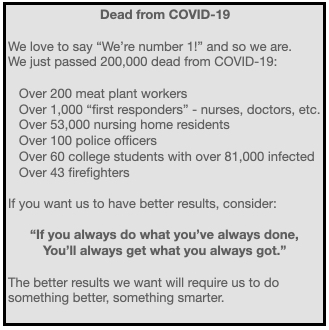 Trump's cruelty and ineptitude remains exactly what the Oxford study said it was. Worse, he continues to do what is counterproductive to beating this pandemic and he avoids doing what would make things better. Nevertheless, there is more to this story and it's likely not exactly what you think.
If you want to know why some countries have had relatively good results dealing with COVID-19 and why the U.S. has fared much poorer, read this.
Third question: Why have we tolerated a stomach-turning hundreds of thousands of unnecessary deaths?
——————————
3. RBG's Seat

Ruth Bader Ginsberg, progressive, civil rights icon of the Supreme Court has died. Separate from her loss and ours we must contend with Mitch McConnell, Senate Majority Leader, promising to hurry Trump's replacement pick through the Senate. He announced that less than two hours after the news of her death broke. His was truly astonishing disrespect.
This is the same Mitch McConnell who declared from a dark corner of his manipulative, power-grabbing mind that in the last year of his administration President Obama couldn't refill the seat left empty by Antonin Scalia's death. It wouldn't be fair to the voters, McConnell told us. The next president should handle that, he said. Besides, he informed us that no president had ever nominated anyone for a Supreme Court seat in his last year in office.
And he was right. Except for Anthony Kennedy, who was nominated by Ronald Reagan in his final year in office. And William Rehnquist and Louis Powell, who were nominated in the last year of Nixon's first term – you get the idea. But it was really important to the Grim Reaper to prevent President Obama from having a Supreme Court pick in his last year in office, so McConnell made up precedent and put a knee on the neck of Obama's nomination of Judge Merrick Garland.
Now, though, we're hearing from the other fork of McConnell's tongue. Somehow his phony precedent doesn't matter so much, now that Trump is the one doing the nominating. Now McConnell has promised to ram Trump's pick through the Senate before the November 3 election.
Fourth question: What does that do to your stomach?
——————————
4. American Wars

From Sheila Markin's recent post:
Trump has called himself a wartime president. Yes, America is at war. Our country has been beset by 4 huge assaults at once.
First, there's the pandemic which, because of Trump's interference and mismanagement, has cratered our economy and devastated the lives of Americans, resulting in lost jobs, lost health care, lost health, lost homes, and food insecurity for millions of Americans.
Second, there's climate change which has created huge raging fires in the West with smoke that turned into cyclones with their own embedded lightning, more powerful hurricanes in the Gulf of Mexico, and ice caps melting at a rapid rate which will cause sea level rise, imperiling coastal areas.
Third, there is social unrest and mainly peaceful marches to support the Black Lives Matters movement in response to the unfairness documented by cell phone footage proving that people of color are treated horribly and are killed by police in disproportionate numbers.
Fourth, our democracy and cherished "free and fair elections" are being attacked by Russia working in tandem with Trump and Republicans to suppress the vote, discourage Dems from coming to the polls and cast doubt on the reliability of mail-in ballots.
America IS at war and Trump is not on our side.
It's time for we soldiers to report for duty, leading to the
Fifth question: It appears that we have perfected the art of complacency. It's time to abandon that dark art in all of these issues before our stomachs go terminal. Are you ready?
From Rosh HaShanah commentary:
"If you want to see God save the innocent, you need to get off the couch and save the innocent. If you want to see God feed the hungry, you need to feed the hungry. If you want to see God stand by while the innocent suffer, all you need to do is stand by and do nothing yourself." (emphasis original) – by Rabbi Brent Chiam Spodek and Ruth Messinger.
—————————————-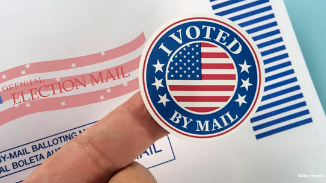 Ed. note: We need to spread the word so that we make a critical difference, so
Pass this along to three people, encouraging them to subscribe (IT'S A FREEBIE!).

Engage in the Comments section below to help us all to be better informed.
Thanks!
The Fine Print:
Writings quoted or linked from my posts reflect a point I want to make, at least in part. That does not mean that I endorse or agree with everything in such writings, so don't bug me about it.
Sometimes I change my opinions because I've learned more about an issue. So, educate me. That's what the Comments section is for.
Errors in fact, grammar, spelling and punctuation are all embarrassingly mine. Glad to have your corrections.

Responsibility for the content of these posts is unequivocally, totally, unavoidably mine.
JA
Copyright 2022 by Jack Altschuler
Reproduction and sharing are encouraged, providing proper attribution is given.