Join the Disambiguation Gang right over there (scroll down just a bit) →



Reading time – 4:48 .  .  .
Update To The Trump Election-Rigging Show
This is an occasional feature of these posts to and through the November election, as Trump attempts to manipulate, lie and cheat* his way to staying in office.
Recall that Trump must win the election in order to avoid criminal indictments for fraud, money laundering, obstruction of justice, Conspiracy Against the United States and more**. Those indictments will land in his lap the moment he leaves the protection of the Justice Department "no-criminal-indictments-while-in-office" memo. Let's just say that he's motivated to be "creative" in order to stay in office.
Trump installed Louis DeJoy as postmaster general. DeJoy is no joy, as he has removed 600 high speed mail sorting machines, removed hundreds of mail drop boxes, eliminated overtime for postal workers and he makes postal trucks run around empty. The result is a hobbling of the Postal Service, such that it advised 46 states that mail may not be delivered in time to meet state requirements for the election. That will effectively throw millions of ballots into dumpsters. Trump wants to see that happen because more Democrats vote by mail than Republicans.
Trump has accelerated his attack on the FDA. At first it was just blatantly disagreeing with the science around the pandemic. Since then it has become pressure to approve treatments that aren't fully vetted and even more pressure to produce a vaccine, whether vetted or not – and he's promised that it will be delivered before the election.
He's cut funding and recommendations for testing for COVID-19 in an effort to reduce the apparent number of cases. Of course, reducing testing won't reduce the number of people infected and, in fact, will increase the number of Americans who get sick and die, since we won't know to self-quarantine or be able to trace contacts.
He's attacked the FDA and now, "  .  .  .  the administration recently installed a gun-rights advocate and right-wing journalist as the FDA's chief spokesperson, allowing for partisan communication from an agency that has historically put out apolitical messaging. Now Trump has baselessly claimed that the FDA was part of a "deep state" conspiracy to harm his reelection campaign.
He repeats his completely fact-less accusations of in-person and mail-in voter fraud.
Trump used the White House, National Mall and other federal properties for his nomination acceptance speech. Looked great, if a bit over the top. But that ain't kosher.
He had Attorney General Wm. Barr's Justice Department investigate the investigators of Russian interference in the 2016 election. Look for the release of Barr's dishonest Trump-suck-up summary in mid-October, just as Barr did with the Mueller Report. He will then withhold its distribution so that there isn't time to get the truth out before the election. Sadly, there is no law against the Attorney General, the top law enforcement official in the country, lying to the public.
At Trump's direction, The Office of the Director of National Intelligence will no longer give in-person briefings to our legislators, leaving them semi-ignorant at best. This is another Trump dirty trick to keep us in the dark about Russia's involvement to help him win re-election and his conspiracy to defraud

**

.
September 2 – From the Times: "Senior officials at the Department of Homeland Security intervened to prevent the publication of an intelligence report raising alarms about Russian interference in the 2020 election, according to a report by ABC News last [Wednesday]." That effectively prevents you and all of us from knowing about the breadth of Russian interference in our current election.
Trump urged supporters in North Carolina to vote by mail and then attempt to vote in person on November 3. He later claimed that was how they could determine if their mail-in vote had been counted. Actually, Trump solicited fraud, a felony.
September 11 – "President Donald Trump threatened Thursday to 'put … down very quickly' [protests and] riots on election night should aggrieved Democrats take to the streets in the wake of his potential victory." Politico No word on whether he'd do the same if there were protests and riots by right wing hotheads when Biden wins.
September 12 -"Political appointees at the Department of Health and Human Services have sought to change, delay and prevent the release of reports about the coronavirus by the Centers for Disease Control and Prevention because they were viewed as undermining President Trump's message that the pandemic is under control." Washington Post
September 13 – Trump signed an Executive Order in a last-ditch drug pricing plan to force pharmaceutical companies to charge Medicare no more than the lowest prices charged in other countries. While that sounds attractive: first, it isn't clear he has the power to do that; second, a lawsuit is on the way to stop this; third, other than flap his lips about phantom victories over drug pricing for 3.5 years, why do you suppose this is happening just 50 days before the election? Could it be that the election is more important to him than the health of American seniors?
"Michael Caputo, the assistant secretary of public affairs at the Department of Health and Human Services, accused the Centers for Disease Control and Prevention of harboring a 'resistance unit' determined to undermine President Trump, even if that opposition bolsters the Covid-19 death toll." He accused CDC scientists of sedition and predicted left-wing violence if Trump loses the election and refuses to leave office. Perhaps worst, he's in charge of warping CDC communications to the public into what Trump wants us all to hear.
"  .  .  .  first Politico, then The New York Times and other news media organizations published accounts of how Mr. Caputo and a top aide had routinely worked to revise, delay or even scuttle the core health bulletins of the C.D.C. to paint the administration's pandemic response in a more positive light." New York Times
That's just top of mind stuff. With 40 days to go, we can be sure of an October surprise. What needs to be included? Provide links if you can. With your help we'll keep a running tally until and beyond this election, showcasing the most brutally ANTI-DEMOCRATIC acts of this most ANTI-AMERICAN president in U.S. history.
——————————
* Read Frank Bruni's clear take on this.
** 18 U.S. Code § 371. Conspiracy to Commit Offense or to Defraud United States
If two or more persons conspire either to commit any offense against the United States, or to defraud the United States, or any agency thereof in any manner or for any purpose, and one or more of such persons do any act to effect the object of the conspiracy, each shall be fined under this title or imprisoned not more than five years, or both.
18 U.S. Code § 2383. Rebellion or insurrection
Whoever incites, sets on foot, assists, or engages in any rebellion or insurrection against the authority of the United States or the laws thereof, or gives aid or comfort thereto, shall be fined under this title or imprisoned not more than ten years, or both; and shall be incapable of holding any office under the United States.
Just getting started on the list.
——————————
From RepresentUs:
"With just 2 weeks until voter registration deadlines across the country, don't let National Voter Registration Day pass you by without confirming that you can vote this fall. 
"Our voter registration tool powered by VoteAmerica makes it easy. So register to vote – or confirm your registration today."
Click this sentence and confirm your right to vote."
—————————————-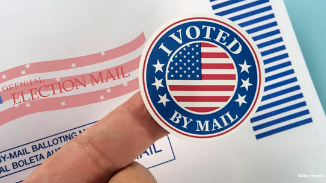 Ed. note: We need to spread the word so that we make a critical difference, so,
Did someone forward this to you? Welcome! Please subscribe and pass this along to three others, encouraging them to subscribe, too. (IT'S A FREEBIE!) Use the simple form above on the right.

Engage in the Comments section below to help us all to be better informed.
Thanks!
The Fine Print:
Writings quoted or linked from my posts reflect a point I want to make, at least in part. That does not mean that I endorse or agree with everything in such writings, so don't bug me about it.
Sometimes I change my opinions because I've learned more about an issue. So, educate me. That's what the Comments section is for.
Errors in fact, grammar, spelling and punctuation are all embarrassingly mine. Glad to have your corrections.

Responsibility for the content of these posts is unequivocally, totally, unavoidably mine.
JA
Copyright 2023 by Jack Altschuler
Reproduction and sharing are encouraged, providing proper attribution is given.