.
You read that right.
Pence was on the wrong side of nearly every issue, like reproductive rights, gay rights, failing to prevent an Indiana HIV outbreak from becoming far worse and more. His public religiosity didn't extend to caring about those who got hurt by his policies. And he sucked up to Trump and his malfeasance for four years plus two campaigns.
All he did on January 6 was to obey the rules of the Constitution to do his clerical job. He could have spoken up at least a month before the insurrection and that might have saved lives, but he refused to do that.
We all know that he was under great pressure from Trump, who didn't "want to be Pence's friend anymore" if Pence wouldn't lie and cheat Trump back into the White House. Pence didn't knuckle under. That one time. I guess they aren't friends now.
Sorry, Mr. Last, but this guy's no hero. His tombstone might read, "At long least I got one right – in the last minute." The sub-text will be all the things he got so terribly wrong for such a very long time.
Similarly, we learned from the June 23 public hearing of the January 6 House Select Committee proceedings that DOJ men of integrity had prevented Trump from invoking the Department in his efforts to steal the 2020 election. But, like Pence, they didn't speak up when it could have prevented the injury, death and destruction of the January 6 insurrection.
What If  .  .  .
.  .  .  the January 6 insurrectionists and seditionists had started a large bonfire just a short way from the gallows intended to be used to hang Mike Pence?  What if they had brought with them a poster size version of the United States Constitution? What if they had ripped one page at a time from it and fed it into the flames of that bonfire? Would that have been worse than what they actually did?
They were bashing the Capitol Building, defecating on its marble floor, ransacking offices, bear spraying cops and viciously mauling every person and every thing that stood for our Constitution and our country. They tried to overturn the democratically determined will of We The People. They tried to paralyze the very government that is outlined in the Constitution. They sought to establish authoritarianism in place of democracy. They wanted and still want government by vigilante.
They were motivated and led by Republican officials, the likes of which have been working to overturn and end our democracy since at least 1960 and probably since FDR. The Republican Party may as well have burned the Constitution back then.
So, what if the insurrectionists, the seditionists, had lit a bonfire and burned the Constitution? They as much as did that, as they tried their best to end America. And vacuously, ignorantly, they claimed they are the patriots. That was no 1776 event. It was a Benedict Arnold betrayal.
One More Time
We've known all along that Trump knew he lost the election fairly and we've learned through testimony to the January 6 House Select Committee that he was told that by an army of his own people. They begged him to tell the insurrectionists to stand down, but he didn't listen to any of them, not even his own daughter. He sat watching and enjoying the destruction. And there is exactly one reason why.
Trump was desperate to remain president because he knew that as soon as he was an ordinary citizen once again that he would no longer have the protection against prosecution that accompanies that office. He knew that prosecutions for election tampering, money laundering, conspiracy to commit a dozen crimes and so much more would come down on his head and he would spend the rest of his life in prison. That's why he was and is willing to do anything, bray any unpatriotic lie and more just to stay in office.
Plus, of course, he would have to admit publicly that he's a loser.
"Desperate people do desperate things." – Rachel Caine
Special from The Texas Republican Party
From the June 18, 2022 report by Professor Heather Cox Richardson:
.  .  . delegates to a convention of the Texas Republican Party today approved platform planks rejecting "the certified results of the 2020 Presidential election, and [holding] that acting President Joseph Robinette Biden Jr. was not legitimately elected by the people of the United States"; requiring students "to learn about the dignity of the preborn human," including that life begins at fertilization; treating homosexuality as "an abnormal lifestyle choice"; locking the number of Supreme Court justices at 9; getting rid of the constitutional power to levy income taxes; abolishing the Federal Reserve; rejecting the Equal Rights Amendment; returning Christianity to schools and government; ending all gun safety measures; abolishing the Department of Education; arming teachers; requiring colleges to teach "free-market liberty principles"; defending capital punishment; dictating the ways in which the events at the Alamo are remembered; protecting Confederate monuments; ending gay marriage; withdrawing from the United Nations and the World Health Organization; and calling for a vote "for the people of Texas to determine whether or not the State of Texas should reassert its status as an independent nation."
That's pretty much the horrific bleeding edge of the GOP today and what they want to do to America. So, right now, this minute, mark your calendar to vote – November 8, 2022 and November 5, 2024 – unless you want what's in that paragraph above.
From reader and writer Steve Sheffey:
Democracy is not a friend of Republicans, and instead of changing their policies to win votes, they are fighting democracy so that they don't have to change their policies.
A Republican Song Of Today
To the Tune of This Land Is Your Land
Chorus
This land is my land,
I don't mean thy land.
It's just for my clan,
Not for those we can't stand.
So if you're all woke
You're sure not our folk.
This land was made for me and mine.
Verse 1
I schemed and hated
And I agitated.
And scammed and ripped-off
And l lied my ass off.
We won't be lonely
'Cause it's White's only.
This land was made for me and mine.
Chorus
Verse 2
We band together
To hate forever.
Stick it where it don't shine,
'Cus you just aren't me'n mine.
We are the patriots,
Unlike you idiots.
This land was made for me and mine.
Chorus
Verse 3
So, send the Blacks back
To where they came from.
We don't need Asians
Making us all feel dumb.
And adios to
Hispanics, all of you.
This land was made for me and mine.
Chorus
————————————
Our governance and electoral corruption and dysfunction and our ongoing mass murders are all of a piece, all the same problem with the same solution:
Fire the bastards!
.



The days are dwindling for us to take action. Get up! Do something to make things better.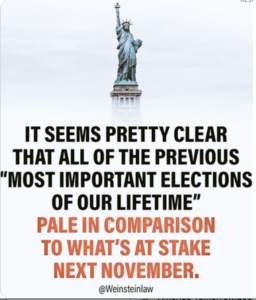 Did someone forward this to you? Welcome! Please subscribe – use the simple form above on the right. And pass this along to three others, encouraging them to subscribe, too. (IT'S A FREEBIE!)

And add your comments below to help us all to be better informed.
Thanks!

The Fine Print:
Writings quoted or linked from my posts reflect a point I want to make, at least in part. That does not mean that I endorse or agree with everything in such writings, so don't bug me about it.
There are lots of smart, well-informed people. Sometimes we agree; sometimes we don't. Search for others' views and decide for yourself.
Errors in fact, grammar, spelling and punctuation are all embarrassingly mine. Glad to have your corrections.

Responsibility for the content of these posts is unequivocally, totally, unavoidably mine.
Book links to Amazon are provided for reference only. Please purchase your books through your local mom & pop bookstore. Keep them and your town vibrant.
JA
Copyright 2023 by Jack Altschuler
Reproduction and sharing are encouraged, providing proper attribution is given.