In 1974 Gerald Ford, the guy whose only professional ambition had been to one day be Speaker of the House, found himself to be President of the United States. That followed the crystal clarity of the breathtaking criminality of Richard Nixon that drove Nixon from office just ahead of a Senate impeachment posse. With Nixon's disgrace on view across the globe and the passions in this country still white hot over Watergate, what would Ford do?
According to his public statement, Ford gave Nixon,
"a full, free, and absolute pardon…for all offenses against the United States which he, Richard Nixon .  .  . has committed or may have committed or taken part in"
Ford excused his accountability-killing action by saying that prosecution of the perp would,
"cause prolonged and divisive debate over the propriety of exposing to further punishment and degradation a man who has already paid the unprecedented penalty of relinquishing the highest elective office of the United States."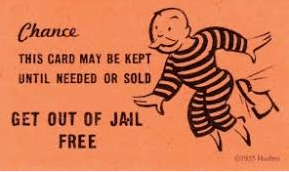 And so Nixon avoided being held accountable. That left us wondering if the pardon was part of a shady deal that had made Ford Vice-President following former Vice President Spiro Agnew's sordid bag man criminality and forced resignation.
In his third interview with David Frost, Nixon declared that, "Well, when the president does it, that means that it is not illegal." That stunning Nixon moment of Through The Looking Glass lunacy left many of us dumbfounded and enraged. This is the man who abused his power by ordering the Watergate break-in, obstructing justice, illegally bombing Cambodia and using the apparatus of government (FBI, IRS, etc.) to persecute everyone on his "enemies list."
According to Nixon's idiotic declaration, all of those crimes he committed weren't crimes because he was President when he committed them. He was a self-serving, counter-factual, inherently evil man making a statement that matched his derangement. Yet Ford had pardoned him even before he was indicted, much less convicted.

The Nixon get-out-of-jail-free card wasn't the last one issued. In fact it was modern history's bedrock upon which an expanding avoidance of accountability has been built.
From 1985 – 1987 Ronald Reagan's administration committed multiple crimes captured under the banner of the Iran-Contra affair. The basic framework was that a team headed by Vice-President George H.W. Bush sold arms to Iran, then funneled the proceeds to the Contras in Nicaragua to help them overthrow the far left government ruling their country.
The problem was that only Congress has the power of the purse, not the Chief Executive. As well, Congress had made specific law that prohibited the actions of the Reagan-Bush cabal. Once the illegal activity was exposed, we got an "Oh, golly" from Reagan, as he took responsibility in scripted Hollywood fashion, playing nothing more than a pretend role. The significant part came later.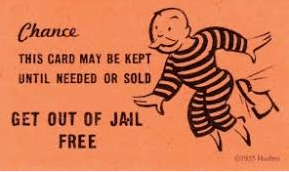 Eleven administration officials were indicted, convicted and sent to prison for their Iran-Contra crimes. Both Reagan and Vice-President Bush were implicated in the scandal, but not a thing was done about that. When Bush became President he pardoned all of the convicts – on advice from his attorney general, William Barr. Yeah, that William Barr. And all the criminals were freed. So much for accountability.
Barr was and is a strong proponent of the "unitary executive," the main point of which is the belief that the President, as head of his own branch of the government, is not subject to oversight or check on his actions by Congress or the courts. That theory would make a President a dictator, completely above the law and any accountability. Hello Viktor Orbán.
In 2004 George W. Bush told us that he was a strong proponent of that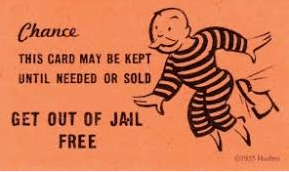 cockamamie notion, which is handy for him, because he had lied us into two intractable wars. And he refused to accept intelligence warnings before the 9/11 attack, leaving us completely unguarded and unprepared. And he led us into the Great Recession of 2008. When a CV includes such things, it's good to have a Get Out of Jail Free card in order to avoid accountability.
Look at the progression:
Nixon sent out thieves and then obstructed justice and the Congress.
Reagan flagrantly violated the law and covered it up.
H.W. Bush pardoned all the criminals of the Iran-Contra affair.
W. Bush's lies led to wars that killed hundreds of thousands and his dereliction of duty led to 9/11 and the Great Recession.
Lack of accountability does exactly what you would expect: it leads to greater and more harmful wrongdoing, because the message is that if you're high enough in government you'll never pay a price for your criminality or incompetence.
Which brings us to today.
The doomsday predictions of far right violence if Trump is indicted and convicted might actually come about. But what we know with certainty will happen is that if he isn't indicted for his alleged string of crimes, like incitement to riot and sedition, obstruction of justice, election interference, wire fraud, money laundering, extortion, violations of the Presidential Records Act, lying to federal agents, violations of the Espionage Act and more, we're setting the stage for – wait for it – worse things to happen.
Because as horrid as Trump's alleged crimes are, if Trump gets away with them, the next President will do far worse, because s/he will know in advance that there won't be a price to pay for breaking the law. We've seen the continuing descent into ever worsening lawlessness, so we know how this works.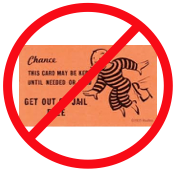 And the next guy may be – probably will be – way smarter, more manipulative and far more clever than Donald Trump. That will be the moment when everything is lost.
But we don't have to wait for that and then cry "woe is us." All we have to do is to establish solidly that nobody – not anyone – is above the law. All we have to do is to hold Trump and his operatives fully accountable for every one of their might be, could be, likely are crimes.
Hey, Merrick Garland: got a minute to chat?
————————————
Our governance and electoral corruption and dysfunction and our ongoing mass murders are all of a piece, all the same problem with the same solution:
.
Fire the bastards!
.
The days are dwindling for us to take action.

Get up!

Do something to make things better.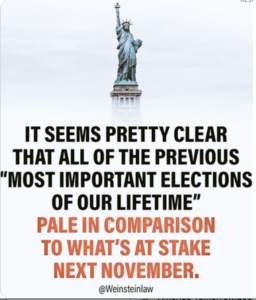 Did someone forward this post to you? Welcome! Please subscribe – use the simple form above on the right. And pass this along to three others, encouraging them to subscribe, too. (IT'S A FREEBIE!)

And add your comments below to help us all to be better informed.
Thanks!

The Fine Print:
Writings quoted or linked from my posts reflect a point I want to make, at least in part. That does not mean that I endorse or agree with everything in such writings, so don't bug me about it.
There are lots of smart, well-informed people. Sometimes we agree; sometimes we don't. Search for others' views and decide for yourself.
Errors in fact, grammar, spelling and punctuation are all embarrassingly mine. Glad to have your corrections.

Responsibility for the content of these posts is unequivocally, totally, unavoidably mine.
Book links to Amazon are provided for reference only. Please purchase your books through your local mom & pop bookstore. Keep them and your town vibrant.
JA
Copyright 2023 by Jack Altschuler
Reproduction and sharing are encouraged, providing proper attribution is given.