Reading time – 4:05  .  .  .
Arguments abound about whether to prosecute Donald Trump once he's out of office for his alleged extensive and nefarious lawbreaking both before and since becoming President. He may be Dear Leader to his MAGA nation followers, but in the eyes of the law he is, at best, a suspect in numerous felonious activities. What are we to do with this?
If Trump is indicted and prosecuted for his many crimes like extortion, multiple counts of obstruction of justice, money laundering, tax fraud, bank fraud and so much more, his angry followers will become yet more enraged and our national divide will surely widen. Some of the hot heads may commit violent acts including vandalism and maybe murder. After all, they are well armed and many believe that the Second Amendment is their Constitutional protection against the evils of government encroachment and is the right tool to use when they feel aggrieved. They may believe it's their patriotic duty to violently overthrow the government, having been told repeatedly that anything that looks different from Trump World is unpatriotic. Use your own imagination to conjure what red-faced angry people might do if their cult leader is indicted. Preventing such dangerous events is a strong argument against prosecuting Trump. I think, though, that it fails to persuade and is, in fact, negotiating against ourselves. Here's why.
Richard Nixon was clearly guilty of obstruction of justice of the congressional investigation into the Watergate "Plumbers," the burglars who broke into the Democratic National Headquarters in what was labeled a "third rate burglary." Nixon finally left office when Republican senators told him the jig was up and he had to resign or he would be impeached and removed from office. In other words, he was so plainly guilty of having broken laws that even Republicans couldn't or wouldn't protect him, so he resigned. That was good. It was also the beginning of a lot of bad.
In a tortured piece of logic that flew in the face of the rule of law, Gerald Ford granted a "full, free, and absolute pardon unto Richard Nixon for all offenses against the United States which he, Richard Nixon, has committed or may have committed or taken part in  .  .  .  " That logic was:
"  .  .  .  the tranquility to which this nation has been restored by the events of recent weeks could be irreparably lost by the prospects of bringing to trial a former President of the United States. The prospects of such trial will cause prolonged and divisive debate over the propriety of exposing to further punishment and degradation a man who has already paid the unprecedented penalty of relinquishing the highest elective office of the United States."
In other words, jeez, some people might become upset over Nixon being held to account for his criminal acts, so we should simply do nothing. So much for accountability.
Ford took a lot of heat for that pardon and was defeated in the next election, but Nixon went on a tour to rehabilitate his public image so that he could be seen as an elder statesman, rather than the felon he truly was. And that surely cranked up the get-out-of-jail-free card that we've issued to all tenants of 1600 Pennsylvania Avenue since then.
Reagan negotiated with the Iranians before his 1980 election and persuaded them not to release our people who were being held hostage. He convinced the Ayatollah with promises favorable to Iran, to hold the hostages until after the election so that Reagan would more easily defeat Carter. That's illegal, but there was no accountability.
Reagan had his fingerprints all over the Iran-Contra crimes. As close as he got to being held accountable was a reporter calling out to him as he and Nancy walked across the White House lawn from Marine 1. He cupped his hand to his ear and mouthed, "I can't hear you," and the scandal slipped off him as though he were coated with Teflon. No accountability.
When he was president, H.W. Bush pardoned the Iran-Contra criminals, which was doubly interesting because Bush was part of the criminal conspiracy and the cover up, so he benefited from those pardons and escaped accountability.
Clinton lied to a grand jury and got away with it. Of course, the circumstances were muddy because Ken Starr had spent 4.5 years looking under every rock for anything Clinton had ever done that might be indictable and found nothing but illicit sex in the Oval Office, which isn't a crime. So, Starr set up Clinton by forcing him to embarrass himself by telling the truth or lying.
W. Bush got away with the torture of prisoners and lying us into 2 wars. Torturing was and is illegal. I don't know if lying to Congress to get us into wars is illegal. It sure ought to be.
W. Bush and Cheney got away with awarding massive, no-bid contracts to Halliburton.
Obama got away with refusing to prosecute CIA people who did Bush's torturing.
And now we have Trump violating the law over and over.
The point is that none of the perps has been held accountable , resulting in violations becoming so ordinary that we no longer expect anything to be done, other than some partisan gnashing of teeth. Refusing to hold wrong-doers accountable guarantees we'll have more and worse wrong-doing in the future. As horrid as Trump is, I fear the felon who follows him even more.
If Trump is allowed to get away with his noxious crime spree, we can be certain that some future President will do far worse, safe in the knowledge that there will be no accountability. And in our refusing to act properly and hold leaders accountable, invoking any of our rationalized reasons in the manner of Gerald Ford, we are eliminating – demolishing – the rule of law and our very democracy that we say we hold dear.
Caving into threats from MAGA cultists would amount to that very thing. In fact, it amounts to caving in to terrorists. Absurdly, any argument against holding Trump accountable now is caving into the fears of our imagination.
Perhaps you share my preference not to have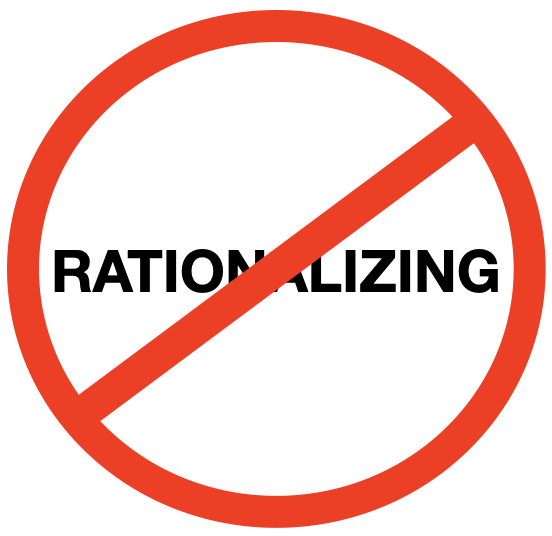 terrorists running our country. Perhaps you agree with the Founders who refused the divine right of kings and declared that this nation will never have a king. It's why they set us up with presidents instead. Indeed, read the Declaration of Independence, specifically to review the list of abuses of power of King George III, who was never held to account except by losing a colony. That's what we will have and perhaps far worse if we neuter the rule of law.
If we want accountability from our leaders, we must hold them accountable. No rationalizing allowed.
—————————————-
—————————————-
Ed. note: We need to spread the word so that we make a critical difference, so,
Did someone forward this to you? Welcome! Please subscribe and pass this along to three others, encouraging them to subscribe, too. (IT'S A FREEBIE!) Use the simple form above on the right.

Engage in the Comments section below to help us all to be better informed.
Thanks!
The Fine Print:
Writings quoted or linked from my posts reflect a point I want to make, at least in part. That does not mean that I endorse or agree with everything in such writings, so don't bug me about it.
Sometimes I change my opinions because I've learned more about an issue. So, educate me and all of us. That's what the Comments section is for.
Errors in fact, grammar, spelling and punctuation are all embarrassingly mine. Glad to have your corrections.

Responsibility for the content of these posts is unequivocally, totally, unavoidably mine.
JA
Copyright 2023 by Jack Altschuler
Reproduction and sharing are encouraged, providing proper attribution is given.