This is Part Two of The American ISIS. Part One was published on Wednesday, July 7, 2021. You can find it here.
————————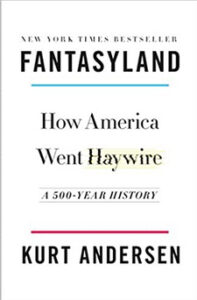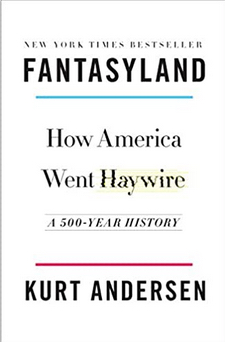 Kurt Andersen's 2017 book Fantasyland is a remarkable journey through our 5 century endeavor to perfect our ability to believe almost anything. It's about how we blind ourselves to obvious reality and embrace outrageous explanations and fantasies to fill our gaping ignorance and feed our passions. We may be reaching perfection in that right now and could achieve escape velocity.
I recommend Andersen's book to you but caution that you may find some of his views objectionable. Should that happen, simply focus on the basic American manias of belief in whatever puffs our bubble and our need to be wowed by ever more spectacular wow. There are hard consequences to those vulnerabilities. Our enthusiasm to believe the otherwise unbelievable is especially true when we live in fear of the ground shifting farther away from what feels solidly familiar. We clutch after vaporous memories of an imagined better time that never happened and we demand that it return.
He concludes his book quoting Hannah Arendt, who escaped Germany in 1933, came to America and became a leading political philosopher. In her 1951 book The Origins of Totalitarianism she wrote, "The essential conviction shared by all ranks [in a totalitarian movement], from fellow-traveler to leader, is that politics is a game of cheating." Consider that in the context of our fellow-traveler mobs chanting "Stop the steal!" and their dear leader having whined, accused and lied incessantly since 2015 about rigged elections and who now donkey brays about how the 2020 election was "stolen" from him and his mobs.
Back to Arendt:
"A mix of gullibility and cynicism have been an outstanding characteristic of mob mentality before it became an everyday phenomenon of masses. In an ever-changing, incomprehensible world the masses had reached the point where they would, at the same time, believe everything and nothing, think that everything was possible and nothing was true  .  .  .  Mass propaganda discovered that its audience was ready at all times to believe the worst, no matter how absurd, and did not object to being deceived because it held every statement to be a lie anyhow. The totalitarian leaders based their propaganda on the correct psychological assumption that, under such conditions, one could make people believe the most fantastic statements one day, and trust that if the next day they were given irrefutable truth of their falsehood, they would take refuge in cynicism; instead of deserting the leaders who had lied to them, they would protest that they had known all along that the statement was a lie and would admire the leaders for their superior tactical cleverness."
Her references were to Stalin and Hitler but she could as well have been writing about 21st century America and Donald Trump. We're not a different species from any other people at any other time and this story is a recurring one. The difference is that it is being played out on us today and it is our democracy that is in danger.
The Nazi Brown Shirts and Stalin's Death Squads and Pol Pot's Kymer Rouge were each absolute followers of an absolute, tyrannical leader. They were constantly infused with propaganda. So, too, were and are the al Qaeda and ISIS vengeful mobs.
Right here at home our American ISIS is propagandized by Trump. He is yet another megalomaniac who will get his way or he will burn it all down. His followers have promised death to whomever he points a stubby finger at, including the Vice President of the United States. There are over 300 million guns in private hands in America and most are owned by a relative few, meaning that we have propagandized militias with over-stocked arsenals and barely contained rage. Even some of our military and police are fully propagandized.
These American ISIS members have promised ongoing violence fueled by their self-righteous certainties of patriotism and their imagined unity with 18th century revolutionaries. They have demonstrated their eagerness to inflict their violence on others. In fact far right extremists are the biggest perpetrators of domestic terrorism in America – by far. Now consider what will happen when their tyrannical leader, their Caligula, is indicted and convicted of his crimes.

Consider, too, how critical it will be to pass S.4263, the John Lewis Voting Rights Advancement Act and H.R.1, the For The People Act to stop a Republican steal of our upcoming elections and of our democracy.
The facts are before us, so expecting the American ISIS to make good on their threats is an exercise in reality. Believe your eyes.
————————
Good News!
On Friday President Biden fired the Trump appointed head of the Social Security Administration, Andrew Saul, and solicited and received the resignation of his chief deputy, David Black. Saul spent the past years doing everything he could to deny benefits to seniors, our disabled and others for whom the system is supposed to work. He tried to bust the employee union and more.
Saul's firing is a fine start to removing all the Trump toadies who have their jobs due to campaign donations and blatant conflicts of interest with the agencies they lead, like Postmaster General Louis DeJoy, who spends his days hobbling the post office system and slowing your mail.
Well done, President Biden. Keep purging!
————————————
Did someone forward this to you? Welcome! Please subscribe and pass this along to three others, encouraging them to subscribe, too. (IT'S A FREEBIE!) Use the simple form above on the right.

Said John Maynard Keynes, "When the facts change, I change my mind. What do you do, sir?" So, add your comments below to help us all to be better informed.
Thanks!
The Fine Print:
Writings quoted or linked from my posts reflect a point I want to make, at least in part. That does not mean that I endorse or agree with everything in such writings, so don't bug me about it.
Errors in fact, grammar, spelling and punctuation are all embarrassingly mine. Glad to have your corrections.

Responsibility for the content of these posts is unequivocally, totally, unavoidably mine.
JA
Copyright 2023 by Jack Altschuler
Reproduction and sharing are encouraged, providing proper attribution is given.