Religion has been the driving force or the excuse for more death, misery and suffering than any other cause in all of recorded history.
I refuse to do the research necessary to numerically substantiate that claim. If it's important to you, do your own research. If my claim isn't exactly right, it's close enough to merit our concern.
Religious beliefs are precisely that: beliefs. They are necessarily a leap of faith that is driven by internal, non-analytical forces, not by observable facts. They are neither right nor wrong but they are customarily held to be absolutely, factually right, regardless of how many language translations and manipulations have assaulted original texts. Therein lies the problem, because personally held certainties overwhelm higher brain functions, which then causes humans to insist on cramming their certainties onto others. See: the Spanish Inquisition and many other forced conversion and murder rackets.
The Pilgrims left England seeking relief from the domination of the Church of England. Seventeen decades later their quest for religious freedom was enshrined into the First Amendment of the American Constitution:
"Congress shall make no law respecting an establishment of religion, or prohibiting the free exercise thereof .  .  . "
For the past 250 years we've been trying to tie down the various threads hanging off that phrasing.
For example, Congress passed a law adding "In God We Trust" to all U.S. currency in 1955. No, those words were not always there and yes, that sounds suspiciously like tying religion to government. But back in the Cold War days we had to somehow differentiate ourselves from the godless Commies, so there was little opposition to the additional words. Besides, who would object to those words in those days, and thereby risk accusations of being a closet communist?
Nevertheless, that phrase doesn't work too well for people who fervently believe that there is no God. If people are to use money, that phrase explicitly denies the free exercise of the religion of no religion every time they buy something. That's a big chink in the armor of separation.
Here's another example. George W. Bush managed to get federal money sent to "faith-based initiatives" during his Reign of Doofus. That meant that church run schools were given public money – your tax dollars – for the purpose of religious indoctrination. That sounds a great deal like pre-Pilgrim England. What happened to the separation of church and state during the glorious Doofus Days?
Last month 1 Episcopal (raised Catholic) and 5 Catholic justices of the Supreme Court commanded the State of Maine to pay for the education of children attending private, parochial schools. Insert the same question about separation here.
Now you can add to this hanging thread list the North Carolina public school football coach who wants to pray at the 50 yard line after each game. The religion-powered Supreme Court decided that his ostentatious public display of his private religious beliefs at his public school function was just fine. The Supreme Court implied, "Take a knee in the middle of the field, catechism coach, and implicitly direct your players to do the same."
You don't suppose that with all that peer pressure and obeisance to The Coach that impressionable teens might find it impossible to refuse to participate, do you? So much for their freedom from religion. We're back to the separation issue, except it seems to be fading into a distant memory, now with the enthusiastic support of the "We're substituting our personal beliefs for the Constitution" Supreme Court.
We have religious fundamentalists all over this country claiming that our country was founded to be a Christian theocracy, which is true only if you ignore the contrary facts offered by the Founders.
Yes, this issue is fraught, as the Founders (at least some of them) believed that " . .  .  we are endowed by our Creator  .  .  .  " Nevertheless, they signed off via the First Amendment on individuals being free from any governmental imposition of religion. I'll support the freedom side in that conflict every time.
The most urgent time for confronting this threat to our liberty is now, as public school boards are inserting both Christian prayer and religious teaching into their curricula. And public school boards themselves are now saying Christian prayers before their meetings. Florida is banning books based on bureaucrats imposing their religious views on public libraries and public schools.
One would hope that all the people at these public, governmental venues would realize that they are not running Brother Love's Traveling Salvation Show. If they don't see that – and apparently they don't – and if we don't take action, most urgently with our votes, we will be on the slippery path to theocracy.
Wake up call: Many of your neighbors think that's what this country should be.
In case you think theocracy would be just peachy, let's look at other theocracies around the world to see how those work for the people. Try Iran. Or Afghanistan. Or Saudi Arabia. Now how do you feel about creating theocracy here?
Don't foolishly think that a Christian theocracy would be better than a Muslim theocracy. That's never been true. We disproved that deluded notion during the aforementioned Spanish Inquisition, the Crusades and even as we were burning women as witches in Massachusetts.
TO ALL PUBLIC OFFICIALS: If you want to practice religion, go to a religious institution of your choice or to the privacy of your own home. Or go to that traveling salvation show. But keep your religion out of our government and out of our public squares.
But that is exactly where Christian nationalists want to put it. For a chilling read on this, see The Washington Post piece, After Court Ruling, Activists Push Prayer Into Schools. The subtitle is "They say church and state are already too separate."
Not so! Cramming Christianity into public school classrooms and onto public school football fields simply isn't separate. It's an establishment of religion exactly as prohibited by the Founders. Take that, self-proclaimed originalists!
If you want to fully understand Christian nationalism (which is neither Christian nor nationalist), link here and then click the orange "View the report" button. That will get you a download of the PDF "Christian Nationalism and the Jan 6 Insurrection." This document is required reading for all patriots and believers in freedom.
————————————
Our governance and electoral corruption and dysfunction and our ongoing mass murders are all of a piece, all the same problem with the same solution:
.
Fire the bastards!
.
The days are dwindling for us to take action. Get up! Do something to make things better.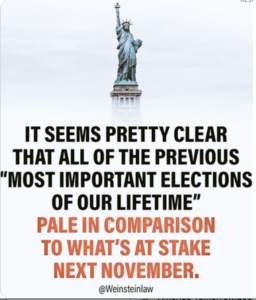 Did someone forward this post to you? Welcome! Please subscribe – use the simple form above on the right. And pass this along to three others, encouraging them to subscribe, too. (IT'S A FREEBIE!)

And add your comments below to help us all to be better informed.
Thanks!

The Fine Print:
Writings quoted or linked from my posts reflect a point I want to make, at least in part. That does not mean that I endorse or agree with everything in such writings, so don't bug me about it.
There are lots of smart, well-informed people. Sometimes we agree; sometimes we don't. Search for others' views and decide for yourself.
Errors in fact, grammar, spelling and punctuation are all embarrassingly mine. Glad to have your corrections.

Responsibility for the content of these posts is unequivocally, totally, unavoidably mine.
Book links to Amazon are provided for reference only. Please purchase your books through your local mom & pop bookstore. Keep them and your town vibrant.
JA
Copyright 2023 by Jack Altschuler
Reproduction and sharing are encouraged, providing proper attribution is given.