Reading time – 3:55  .  .  .
Heroes
As of this post we have lost – as in: they died – over 2,000 of our frontline healthcare workers – nurses, doctors, techs, EMTs, sanitation staff – all the people who make it so that we can get healthcare when we need it. They work hellishly long hours and risk their lives every day for the rest of us. And that risks transferring infection to their children, significant others, perhaps their parents, too.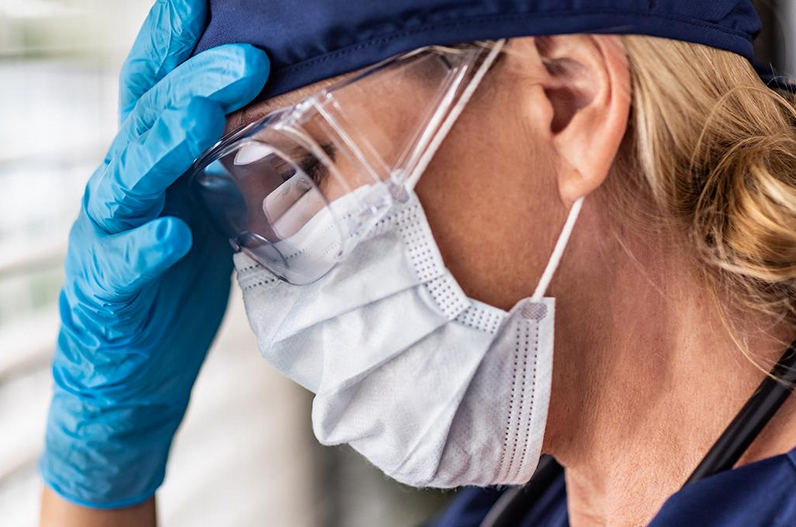 They risk their lives for the supermarket clerk who, in spite of gloves, a mask and plastic partitions still gets infected. And they risk their lives for the school children who get sick and the elderly in our nursing homes who might be your mom or dad or grandma or grandpa.
They even risk their lives for the MAGA hat wearers, those who boldly and defiantly attended a Trump rally or the Harley Davidson rally in South Dakota – the people who refuse to wear a mask or socially distance. Same for the gilded set who attended White House functions and who refused to follow the advice of the experts. They were all warned repeatedly, but they called it a hoax and acted as if there were no pandemic at all. That means that our frontline healthcare workers are dying because some refuse to follow some simple instructions.
Nevertheless, to our refusers, the ones for whom a simple mask is a terrible infringement of their freedom and a sign of personal weakness, who take delight in conspiracy theories and for whom science and truth are unimportant concepts, I have good news for you.
When you crawl into the ER, in terrible pain and gasping for breath, feeling like you're drowning and you're begging for help, our healthcare heroes will take you in and give their all to save your sorry ass. They will put themselves at risk of getting sick, dying and perhaps infecting their loved ones, all to save your life and your defiant, selfish attitude. They'll do all that, knowing that you were repeatedly given the choice to be healthy and to stay out of the hospital, but you refused it every time, insisting instead on being contemptuous. Then you came into their world, sick and infectious and threatening them with suffering. Still, they'll be there for you.
And that is why they are heroes and you are not.
But you could be.
Yesterday was Thanksgiving. I hope you told everyone that you give thanks for our healthcare heroes, because instead of being with their families yesterday, they showed up for work in case you showed up in their ER. If you didn't express your gratitude – best done with a call to your local hospital or by mailing a note of appreciation – do it now before one of our heroes has to drug you and shove a ventilator tube down your throat to save your life at the risk of their own.
——————————
75 Years
World War II ended 75 years ago, with Adolph Hitler committing suicide in his bunker in Berlin. The world is still writing about, talking about and detailing those awful years of brutality and suffering, which is an interesting legacy for a monster.
PBS is running a series, The Rise of the Nazis, and it is quite informative, but that isn't why it's mentioned here. The point is to recognize the world's continuing examination – even fascination – with the Nazis and the mindsets and the behaviors of the criminal leaders that produced the world's greatest hate-fueled brutality.
They detail Hitler's disinterest in governing, refusal to read and learn, his focus solely on himself, on his powerful skills of lying and manipulating and more, traits that are disturbingly familiar to us today.
One could say that we don't have concentration camps today, but of course we do; or that certain groups aren't being discriminated against and marginalized, but of course they are. One could say that there isn't a flagrant call for violence, but of course there is. One could say that there isn't a power grab to destroy democracy and control all of government, but of course there is that, too. One could even say that there isn't a refusal to honor the will of the people, but of course there is.
I predict that 75 years from now people will still be writing about Trump and Trumpism in an effort to explain the horror of our home grown megalomaniac, the complete capitulation of our Republican Congress and the anger and threats of violence from the right, each of which seems inexplicable and boundless in its destruction. Call me in the year 2095 to discuss the then-current books on the subject.
——————————
Cabinet Announcements
On Tuesday President-elect Biden made public several of his cabinet picks for his new administration. Most striking was his naming John Kerry as his Special Envoy on Climate (read this post) and making that a cabinet level position, as well as assigning Kerry to sit on the National Security Council. It will be refreshing for us to take the planet seriously.
In addition, Biden announced the ending of a cabinet department that had been an office created especially for the Trump administration. Biden said that as soon as he finishes taking the oath of office at noon on January 20 the Department Of Obviously Fraudulent Underhanded Stuff (DOOFUS) will close permanently. No successor department will be named and all employees of that office will be instructed to submit their resignations and have their offices cleared of personal items prior to that date and time.
The same directive applies to the outgoing President. Anything left behind will be submitted to the FBI Museum Of Really Obtuse National Swindlers (MORONS) and put on public display as the modern equivalent of putting people in stocks in the public square for shaming and ridicule. Sadly, many in the outgoing administration are not capable of experiencing shame.
——————————

The JaxPolitix Game
This edition of the JaxPolitix Game is inspired by an accident with a Thesaurus.
Read this entry, then answer the question below:
double-cross
verb
he was double-crossing his family behind their backs: BETRAY, CHEAT, defraud, trick, hoodwink, mislead, deceive, swindle, break one's promise to, be disloyal to, be unfaithful to, break faith with, play false, fail, let down; informal two-time, sell down the river; British informal stitch up, do the dirty on.

QUESTION: Who does this describe?
Enter your answer in the Comments section below. The first 80.6 million entrants with the correct answer will win a new president, complete with a full set of action figures. You must be 18 or older in order to be 18 or older and only those who spend the majority of their time on this planet may enter. Not valid for residents of states beginning with the letter Q.
Bonus Questions!
The Constitution does not prohibit convicted felons from becoming President, even if they're still incarcerated for money laundering, tax evasion or fraud. How is it that the Founders didn't consider the possibility of that happening? Oh, right, they thought there were norms – guardrails – for our democracy.
For 25 points each:
Will Trump run in 2024?
Two trains leave their stations heading toward one another on parallel tracks. The stations are 107.9 miles apart. Train A travels at 31.6 mph; train B leaves 41 minutes later than train A and travels at 77 miles per hour. How far from the station from which train A departed would Donald Trump say the trains will pass one another? (Hint: Trump will hire someone to solve this problem for him and will add to his answer baseless accusations of fraud, claiming that the quiz was rigged. And he will stiff the person he hired to help him.)
Who would Donald Trump say is buried in Grant's tomb and which name would he call him: "loser" or "sucker"?
For 9 points each, answer these critical TP questions:
What are the creative ways you're hiding your TP from your neighbors?
Other than the standard purposes, what are the other uses you have for all that TP in your house?
—————————————-

Ed. note: We need to spread the word so that we make a critical difference, so,

Did someone forward this to you? Welcome! Please subscribe and pass this along to three others, encouraging them to subscribe, too. (IT'S A FREEBIE!) Use the simple form above on the right.

Engage in the Comments section below to help us all to be better informed.

Thanks!

The Fine Print:

Writings quoted or linked from my posts reflect a point I want to make, at least in part. That does not mean that I endorse or agree with everything in such writings, so don't bug me about it.
Sometimes I change my opinions because I've learned more about an issue. So, educate me. That's what the Comments section is for.
Errors in fact, grammar, spelling and punctuation are all embarrassingly mine. Glad to have your corrections.

Responsibility for the content of these posts is unequivocally, totally, unavoidably mine.

JA
Copyright 2023 by Jack Altschuler
Reproduction and sharing are encouraged, providing proper attribution is given.