Reading time – 3:42; Viewing time – 4:39  .  .  .
The second round of over-populated candidate debates will occur this week. Instead of hearing them snipe at one another, jockey for position or clutch desperately for air time, here's what I want from the candidates.
Vision is the "THAT way" clarity that guides us in both the best of times and the worst. We have a national vacuum where that direction should be and that leads to proposals that are foolish and often self-defeating and which leave us adrift in the hot air that is today's sound bite politics. Our leaders, whose task it is to name it and keep us focused, are vision-challenged in our hyper-partisan, post-reality swamp, so we wander about without direction.
We are a fractious and largely confused people, often acting only on impulses borne of the amygdala, the "reptile brain," which is acutely tuned to fear. That leaves us vulnerable to the demagogue's exploitation, as we mindlessly react to the most recent fear mongering. That causes us to lose our ability to stay true to our values. It turns out that Darth Vader was right when he said:
Jamelle Bouie makes that clear in his essay The Joy of Hatred, wherein he speaks of, "our history of communal, celebratory racism." Communal and celebratory, indeed. We've seen that in Donald Trump's chanting crowds, with their nearly all white faces smiling and reveling in the dark side of rejecting "others." That isn't the least bit helpful to our American condition or to our possibilities and it is utterly without hope for the future.
Trump speaks and acts as though he is a disciple of Darth Vader and he is
leading us backward into authoritarianism. That is the very thing that motivated the Founding Fathers to say to King George III, "No more." While they didn't utter those words, their actions and the Declaration of Independence made clear that was their message.
To find our way to that more perfect union and our true potential we need to regain our aspirational nature. We have to abandon our impoverishment of ourselves and stop looking through the rear view mirror. We have to restore our vision ahead. We've done that before, as we did under the leadership of President Kennedy, which resulted in our Apollo program successes.
During that period of our history we were in perpetual danger of civilization-ending conflict. Gaining preeminence in space was our way of saying to the world and to ourselves that we are America. Might it be possible to regain that forward looking, can-do spirit? Might we be able to articulate the inspiration of creating that shining city on the hill?
I have two essays for you that speak to that.
Lori Garver, former deputy administrator of NASA, wrote an exceptional vision for a new and critical mission for NASA and it doesn't include sending anyone to the moon or to Mars. It is rooted in real world need that is incrementally manifesting itself in unmistakable ways.
The other essay is from David Brooks. He speaks to who we really are and who we can be. Do yourself a favor and click his link to a Langston Hughes poem.
Back to the Apollo program.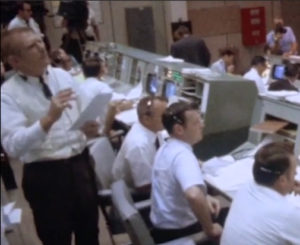 Gene Kranz was flight director for the Apollo 13 mission. A catastrophic failure of their spacecraft put the lives of the men aboard in peril. Kranz' engineers and scientists were working to cobble together the life-sustaining measures needed to save our astronauts when Kranz is reputed to have said, "Failure is not an option." That is still true.
Who has what it takes to inspire this nation? Who will call upon what Lincoln termed our better angels and lead us in the direction of our greatness?
What I want is for our politicians and candidates to stop the silly, often self-destructive stuff and focus on who we can be. I want them to awaken our sleeping capabilities and to light a beacon to shine on that hill and guide us all. Rarely has the need been so great.
As I watch the debates I'll be looking for the candidate who will do that.
---
President Trump is obsessed with attacking opponents by using the word "infested." His vision for America seems to be constant attack, constant degrading of others. That's exactly the kind of future where there is no hope. That's the kind of future that rips us apart. Click here to see what CNN's Victor Blackwell had to say about that. Decide for yourself which vision moves your spirit.
---
————————————
Ed. Note: I don't want money or your signature on a petition. I want you to spread the word so that we make a critical difference. So,
YOUR ACTION STEPS:
Pass this along to three people, encouraging them to subscribe (

IT'S A FREEBIE!

).

Engage in the Comments section below to help us all to be better informed.
Thanks!
Copyright 2023 by Jack Altschuler
Reproduction and sharing are encouraged, providing proper attribution is given.