Reading time – 3:42  .  .  .
Be sure to see the Bonus Opportunity at the end of this post.
————————-
Regular readers of this column will recognize my occasionally offered behavior geek comment that most people simply don't react to danger until it is in our faces. Climate warming is an easy example, as most people have not been significantly affected by it and consequently they don't recognize it as a threat.
We pay little attention to reports that nearly every year since 1975 is the hottest on record, right until the following year comes along to become the newest hottest year on record. Here in the Midwest the worst thing most of us have noticed is that we have to water our lawns more frequently, a minor nuisance, and we shovel less snow, which we like. That we don't feel significantly adversely affected by global warming is both understandable and precisely where the roadblock to preventing this looming catastrophe lies. So, too, for the global pandemic.
We all see the numbers of infections and deaths and we watch the news reports of over-maxed hospitals and exhausted nurses, techs, doctors and sanitation workers. But unless you or someone close to you has been exposed to or infected by the virus, it's unlikely you feel the threat. Perhaps you're well informed, like my neighbors at a recent block party, who, despite their understanding, didn't wear masks and did a poor job of social distancing. They weren't uninformed about the threat or what they needed to do; they were unmotivated.
And that's the obstacle to beating the virus in the United States; we just aren't motivated to do what's necessary to beat it. We're annoyed that our kids aren't back in school full time and it's a real problem for parents who need to leave the house to work and where school is effectively their child care service. We're frustrated by stores that won't let us in without a mask. We want to sit indoors as we eat at our favorite restaurant, but that isn't possible. We want our jobs and income and our old lives back, but there's a roadblock in our way: the pandemic.
And it's worse, because the information from the federal government often conflicts with that of the experts and even with itself. We don't have a clue what to do with that, so we tune out. Perhaps there isn't a big outbreak nearby or at least we believe that to be true, so we figure the virus won't touch us. That's using wishful thinking as a strategy. Not recommended. Here's some good news.
Read COVID-19 Is Transmitted Through Aerosols. We Have Enough Evidence, Now It Is Time to Act from Time magazine and America Could Control the Pandemic by October from The New York Times. As you'll see,
We've always known what to do to beat this thing and begin to get our lives back.
Yeah, I know a lot of people will dismiss the facts in those essays because they believe that the mainstream media is an enemy of the people. They believe it's populated by antifa anarchists, socialists, mongrels, pizza shop child sex traffickers, advocates of poor and Black people moving into your white suburban neighborhood, Second Amendment haters who want to take away your guns and drinkers of children's blood. News flash: All of that and more is Trump and Q-anon BS-smeared propaganda. Feel free to forward this paragraph to your Uncle Bubba.
Meanwhile, read the above pieces because,
We've always known what to do to beat this thing and begin to get our lives back.
We've seen nearly every country in the world get the job done except our own nation, even as we proclaim our American exceptionalism. And because of our exceptionally inept handling of this virus, most nations have declared that every American is a persona non grata.
We don't do what's required, like contact tracing, and then we see our friends and family members get sick and die. All we have to do to beat this pandemic is to take politics out of the driver's seat.*
We have the plan, we've read the classified briefs, we know the secret handshake, we have the well-folded roadmap with the X that marks the spot, we have the secret decoder ring, the Sherlock Holmes spyglass and double-billed hat, and the L-shaped Boy Scout flashlight – everything we need except the will to act. But the disease of inertia can be cured.
Are you willing to sacrifice just a little for just a short time in order to stop this ongoing horror show and then get your life back? That's the question for every one of us and the correct answer is YES.
Until we get strong leadership, just follow the
Simple, Clear and Non-negotiable Marching Orders To Beat Covid-19

⋅
Wear a mask in public.

Socially distance.

Wash your hands often.

Put your damn mask on.
Now you know what to do to beat this thing and begin to get your life back. There is no other path, so just do it. I'll do it, too. Then the day will come when we celebrate V-P Day.

————————-
The Trump Unbelievable, Like Nothing You've Ever Seen Election Rigging Show
This will be a regular feature of these posts to and through the November election, as Trump attempts to manipulate, lie and cheat his way to staying in office. Recall that he must win the election in order to avoid criminal indictments for fraud, money laundering, obstruction of justice and more the moment he leaves the protection of the Justice Department memo. Let's just say that he's motivated to be creatively criminal.
Trump installed Louis DeJoy as postmaster general. DeJoy is no joy, as he has removed 600 high speed mail sorting machines, removed hundreds of mail drop boxes, eliminated overtime for postal workers and he makes postal trucks run around empty. The result is a hobbling of the Postal Service, such that it has advised 46 states that mail may not be delivered in time to meet state requirements for the election. That will effectively throw millions of ballots into dumpsters. Trump wants to see that happen.
Trump has accelerated his attack on the FDA. At first it was just blatantly disagreeing with the science around the pandemic. Since then it has become pressure to approve treatments that aren't fully vetted and even more pressure to produce a vaccine , whether vetted or not – and he's promised that it will be delivered before the election. He's called the FDA part of the "deep state"** and now,

"  .  .  .  the administration recently installed a gun-rights advocate and right-wing journalist as the FDA's chief spokesperson, allowing for partisan communication from an agency that has historically put out apolitical messaging. Last weekend, Trump baselessly claimed that the FDA was part of a "deep state" conspiracy to harm his reelection campaign."

He constantly makes completely fact-less accusations of in-person and mail-in voter fraud.
Trump used the White House, National Mall and other federal properties for his campaign. That ain't kosher. You can look it up.
He had Wm. Barr's Justice Department investigate the investigators of Russian interference in the 2016 election. This is just another episode of pulling the rug from under government, especially those parts that examine him and his behavior. Look for the release of the report from this fraudulent investigation, as well as Barr's lying, suck-up summary of it in mid-October. And just like the Mueller Report, Barr will issue his Trump supporting lies about the report, then withhold its distribution so that there isn't time to get the truth out before the election.
That's just top of mind stuff. What's missing? Provide links if you can. With your help we'll keep a running tally until and beyond this election, showcasing this most brutally anti-democratic act of the most obviously un-American president in U.S. history.
————————-
* You've seen how Trump handles this and the results are the worst in the world. To get politics out of the driver's seat, Trump has to go. Otherwise, he'll continue to watch our friends and family die, cavalierly saying, "It is what it is." So vote him away.
** There is no deep state. It's just another enemy Trump has made up to rally his base. Think: Nothing makes fast friends as powerfully as a common enemy, and Trump is always in victim mode. It appeals to all those whining, "Look what they've done and are doing to me."
————————-
Bonus Opportunity
I've signed up to register voters in Wisconsin with Rust Belt Rising on Saturday, Aug 29, 2020. Here's a link for you to sign up, watch the tutorials and get comfortable with these neighborly chats. I'll be on more calls in coming days, too, so join me. Let's turn Wisconsin BLUE!
—————————————-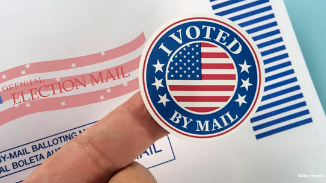 Ed. note: We need to spread the word so that we make a critical difference, so
Pass this along to three people, encouraging them to subscribe (IT'S A FREEBIE!).

Engage in the Comments section below to help us all to be better informed.
Thanks!
The Fine Print:
Writings quoted or linked from my posts reflect a point I want to make, at least in part. That does not mean that I endorse or agree with everything in such writings, so don't bug me about it.
Sometimes I change my opinions because I've learned more about an issue. So, educate me. That's what the Comments section is for.
Errors in fact, grammar, spelling and punctuation are all embarrassingly mine. Glad to have your corrections.

Responsibility for the content of these posts is unequivocally, totally, unavoidably mine.
JA
Copyright 2023 by Jack Altschuler
Reproduction and sharing are encouraged, providing proper attribution is given.