It isn't about
banning or burning books,
or refusing to do anything to stop the mass shooting carnage
or disrupting school board meetings by spewing hatred
or restricting or eliminating abortion services and other women's healthcare
or marching with Tiki torches and swastika flags or moronically seig heil-ing while wearing black ski masks and sunglasses and carrying swastika flags. And no, there weren't very fine people on both sides in Charlottesville.
or inviting despot Viktor Orbán to deliver a Republican Party keynote address
or banning DEI training or banning the teaching of CRT, even when and where it isn't being taught
or manipulation of our courts
or discriminating against LGBTQs
or the ethics outages of the Supreme Court
or the cruelty inflicted on helpless people at our southern border
or holding hostage our nation and the world economy
or any of the rest of the deranged things the extreme right wing hollow heads have done and are doing.
We see the cruelties they create and we naturally respond. But often we dilute our own power chasing after the latest outrage, because it isn't about those outrages. It is entirely about them crushing anyone seen as opposition. It's about them "owning the libs." It's about using whatever brutality is at hand to confuse and enrage the liberals and even the moderates. It's about using violence and the threat of violence to terrorize people, all for one single goal:
It is all about grabing and hoarding
all the power and all the money for themselves.
.
It's about domination.
To facilitate that, they're driving our government to fail – as with the idiotic, self-inflicted, wholly without integrity debt limit crisis.
They've been doing their power and money grab in plain sight at least since Reagan was sworn in on his happy-face version of discrimination and prejudice.
During the 1980 campaign against Jimmy Carter he liked to pose the question, "Are you better off now than you were four years ago?" Many people weren't better off, as we had weathered soaring inflation, the Arab oil boycott and more.
His supply side tax windfall for rich people was supposed to be invested to create jobs and better pay for workers, but it didn't work that way. Supply side economics has never worked that way. It just sent more money to already rich people.
Except for the recent recovery from the pandemic, wages have been essentially flat for over 40 years and the average American's net worth has declined. While that was happening, the net worth of the top 10% and especially the top 1% has multiplied many times over at your expense.
So, back to Reagan's (slightly modified) question: Are you better off now than you were 40 years ago?
Answer: Nope.
But the rich have grabbed ever more power and money as our middle class has been hollowed out, because it's your power and your money that they grab. See the RED font above.
An Example of How They Grab Power



Look at this Breaking News email headline from May 3.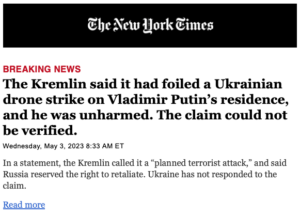 Wait: The Ukrainians attacked Russia not on the battlefield in Ukraine, but inside Russia? In Moscow? In a "planned terrorist attack?" Who's crazy enough to do that?
Answer: Nobody.
This is a standard bad guys tactic. They accuse opponents and enemies of nefarious stuff – most often of things they themselves are doing – and then they claim victimhood. Think: the Reichstag fire in 1933. Click this link and see for yourself what happened. The headline above is today's version of the same thing.
Poor Vlad claims he's been victimized by a Ukrainian drone strike on his capitol – they're much like Putin's drone strikes on Kiev – so he claims the right to hit back lethally. But in this case as in so many others, there is never any evidence to support his or any other abnormal psych victimization claim.
We've seen over eight years of Trump doing this and before that three decades of Republican extremists doing it, starting even before the performative and falsely named Tea Party bleated out their victimhood.
It's a highly effective way to justify abhorrent acts to grab power and money. That is to say, it isn't about the alleged victimizing attack. It's about using false victimization as a cover.
It is all about grabing and hoarding
all the power and all the money for themselves.
.
These poor Republican babies claim they are victims of Democrats and all their out groups, like Blacks, Hispanics, Jews, Asians, Muslims, etc. You know: the non-White, non-Christians. Woe be unto the Republicans, as they suffer under the yoke of the libs! They use their phony victimization to extort our entire country, like they're doing with the debt ceiling right now.
That is to say, they create victimization crises and then, in a massive leap of fiction, they tell us that only they can save us.
Legislators are focused almost exclusively on self-interest – getting reelected. That's why moderate Republicans won't stand up to the flamers – they'd only be primaried by a far right wacko. Here's what all of this means for you.
Rallying, protesting, marching and the rest are most often exercises in trying to get elected representatives to change their behavior, which they are extremely unlikely to do. We largely waste our energy on lobbying these minor despots.
As I stated in my "NO!" posts last month (here, here and here),
ALL OF THE POWER COMES FROM THE VOTING BOOTH!



.
If you want change, stop chasing the symptoms. Instead, focus your energy on changing the legislators. As Barack Obama implored,
"

Don't boo

:

VOTE!"
.
And work hard to get others to vote. It's long past time for tens of millions more of our voices to be heard from that powerful place, the voting booth, saying, "NO!" to the people who want to steal your power and your money. Mark your calendar to do that on November 5, 2024, because either you'll take action or they will act on you. And you won't like that.
And that is what it's really about.
You can find What It's Really About – Part One here.

---

Today is a good day to be the light.

______________________________

Our governance and electoral corruption and dysfunction and our ongoing mass murders are all of a piece, all the same problem with the same solution:

Fire the bastards!

The days are dwindling for us to take action. Get up! Do something to make things better.

Did someone forward this post to you? Welcome! Please subscribe – use the simple form above on the right. And pass this along to three others, encouraging them to subscribe, too. (IT'S A FREEBIE!) It's going to take a lot of us to get the job done.


And add your comments below to help us all to be better informed.

Thanks!


The Fine Print:

Writings quoted or linked from my posts reflect a point I want to make, at least in part. That does not mean that I endorse or agree with everything in such writings.
There are lots of smart, well-informed people. Sometimes we agree; sometimes we don't. Search for others' views and decide for yourself.
Errors in fact, grammar, spelling and punctuation are all embarrassingly mine. Glad to have your corrections.

Responsibility for the content of these posts is unequivocally, totally, unavoidably mine.
Book links to Amazon are provided for reference only. Please purchase your books through your local mom & pop bookstore. Keep them and your town or neighborhood vibrant.

JA
Copyright 2023 by Jack Altschuler
Reproduction and sharing are encouraged, providing proper attribution is given.