First, Something Personal

Parkinson's Disease is a miserable critter. It strikes famous people like Michael J. Fox, Linda Ronstadt and Neil Diamond and it hits we little folk as well. Nobody knows what causes it, so nobody knows how to prevent it. It's progressive (it gets worse over time), so all that can be done now for those stricken with Parkinson's is to manage symptoms. There's no cure – yet.
There are ongoing medical trials and much research happening, so hope continues, The research and trials take a long time and are very expensive. That's why son Scott and Wendy and the boys have dedicated their hike of the John Muir Trail this month to raising money for the cause. If you click on their picture you'll find a donation page for The Michael J. Fox Foundation for Parkinson's Research. Your joining in this battle in any amount will be greatly appreciated by my family, others who suffer from this disease now and for the millions in the future who will have more hope because of your help. Thanks.
And please pass this along to folks you know. Post on FB, Twitter  .  .  .  you get the idea.

Kudos to all who make the extra effort to raise funds for worthy causes. We're way proud of this particular extraordinary help-the-cause people. You rock, kids!
Now, On To What's Going On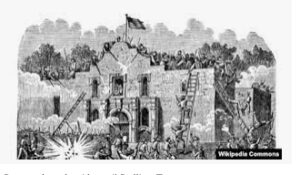 I reported last Wednesday about the State of Texas proudly committing itself to denial of facts and reality and ever more firmly embracing Texas myths. The governor himself tweeted proudly that Texas children should be taught that those who died at the Alamo are heroes. No facts need be presented to impressionable minds about the real motivation of these men to fight. We wouldn't want them to learn that Mexico prohibited slavery, so the actual (not mythical) truth about the battle at the Alamo was that Texas independence from Mexico meant free labor in Texas cotton fields.
And that's why Texans wanted independence from Mexico. Now I get it!
But Governor Greg Abbott doesn't want Texas school children to get it, so he's stifling education. Pay no attention to the fact that those heroes were only heroes to slave owners. Ignore that this is the state that took two extra years to tell its slaves that they were free. Nothing to see here. Move along.
The governor also doesn't want to allow today's Texans to be free. He's promised to arrest all the Democratic state legislators who left Texas to prevent a vote on his draconian voter suppression laws. There is no law that those Democrats have violated by leaving the state, but Abbott wants to arrest them anyway. He intends to incarcerate them in the state Capitol Building until the end of this special session of the legislature.
And he did more.
Abbott dictatorially vetoed funding for the legislature the first time Democrats fled his inquisition to prevent his voter suppression from becoming law. That stiffing of legislators is being challenged in court, but what can't be challenged is that Abbott is a dictator wannabe. He thinks he's a candidate for the presidency in 2024. If so, he's heading the Anti-Democracy ticket.
——————————-
"The Tennessee Department of Health will halt all adolescent vaccine outreach – not just for coronavirus, but for all diseases – amid pressure from Republican state lawmakers," reports the Tennessean. The geniuses in the state legislature are also stopping all Covid-19 vaccine events on school property. Plus they're ending mailed vaccination reminders to teens. All that and only 38% of Tennesseans have been vaccinated. What could possibly go wrong?
Oh, and they also fired Michelle Fiscus, the state's top vaccination official. The hollow heads in Nashville are even talking about eliminating the state Department of Health altogether. Yes, really.
Halting outreach for ALL vaccines means that the State of Tennessee is now allowing – even encouraging – the elimination of vaccines for measles, chicken pox, smallpox, hepatitis, diphtheria, whooping cough, tetanus, polio, HPV  and more. Who cares about epidemics that maim and kill children? Apparently, not the Republicans in the Tennessee state house and in the governor's mansion.*
Perhaps they think we should revert to the medicine practices of hundreds of years ago, like leeches, blood letting, driving out evil spirits and purification by fire. Remember, this is the state that refused to allow children to be taught evolution. It looks like they're on the way back there again. Maybe they can burn some witches and thereby Make America Great Again.
——————————-
As reported last Wednesday, the new members of the library board in Niles, IL want to cut back hours, programs and pay for librarians by 23%. I guess the Enlightenment is so far back in our rear view mirror that we can now ignore its teachings and proudly go back to mass ignorance. Maybe the new library trustees will burn books and smash printing presses. Then they can cut the library budget by 100%.
As said about Nazis by Dr. Jones, Sr. in Indiana Jones and the Last Crusade, "Goose stepping morons."
——————————-
Tying It Together

All of this is being led by Republicans, who seem to be engaged in a frantic race for us to become mentally medieval. They are appealing to our most base animal instincts and would dumb us down to pounding drums in the forest. At the same time, they are scrambling for power in the most dishonest, anti-democracy ways possible. Here's what happens when we put those two things together.
We get minority rule by autocrats – despots – dictators – leading an ignorant, uniformed public that can be manipulated into anything. We get theocracy and all its vile perversions, cruelties and suppression and a complete elimination of freedom. There has never been a theocracy that did not devolve into that and we have no reason to believe anything different will happen if the bible thumping, chest pounding, democracy smashing Republicans get their way.
Be clear that this isn't about conservatism. There is nothing that today's Republicans are doing that is even remotely conservative. They are anti-democracy radicals.
The actions in Texas and Tennessee and Niles, as well as children having been ripped from the arms of their parents at our southern border by the prior administration look cruel because they are, but John Pavlovitz cautions us that cruelty isn't the point. Power is. And when some are grabbing and hoarding power, others are losing power. Others like us. Read David Frum's Atlantic essay, There's a Word for What Trumpism Is becoming.
The Founders didn't have in mind that We the People should be ignorant peons enslaved by a cruel autocrat. Those conditions are exactly what led to our revolution. I sure as hell know those conditions are not what I have in mind for us and our country.
——————————-
* I recently had a nightmare about Nazis. Being an early Boomer I was raised in the aftermath of WW II when Nazi atrocities, the capture of Adolph Eichmann and so much more were commonly discussed. It's likely I'm not alone in occasional recollections or even nightmares of those things. When I awoke I wondered if people born, say, 20 years after me – the late Boomers and those born after them – have such dreams. It's probable they have no memories of talk of Nazi terror during their childhoods.
Then my head scratching latched onto the Tennessee Republicans and their actions to cripple medical protection for children. I'm guessing that these politicians are young enough to have no memory of children in iron lung machines, measles epidemics, whooping cough ravaging the nation and the rest. Perhaps the same can be said for our Covid-19 vaccination refusers who simply refuse to understand.
They can "OK, Boomer" all they want, but there is so much being done in our country that suggests that we've lost individual and collective memory of enormous suffering and death. It seems that all that is left is a knee-jerk reaction to any public policy that contacts rugged individual freedom. And it seems they now want to force their automatic rejections onto helpless others – children.
Very strange. And very dangerous.
————————————
Did someone forward this to you? Welcome! Please subscribe and pass this along to three others, encouraging them to subscribe, too. (IT'S A FREEBIE!) Use the simple form above on the right.

And add your comments below to help us all to be better informed.
Thanks!
The Fine Print:
Writings quoted or linked from my posts reflect a point I want to make, at least in part. That does not mean that I endorse or agree with everything in such writings, so don't bug me about it.
Errors in fact, grammar, spelling and punctuation are all embarrassingly mine. Glad to have your corrections.

Responsibility for the content of these posts is unequivocally, totally, unavoidably mine.
Book links to Amazon are provided for reference only. Please purchase your books through your local mom & pop bookstore. Keep them and your town vibrant.
JA
Copyright 2023 by Jack Altschuler
Reproduction and sharing are encouraged, providing proper attribution is given.