Reading time – 5:19  .  .  .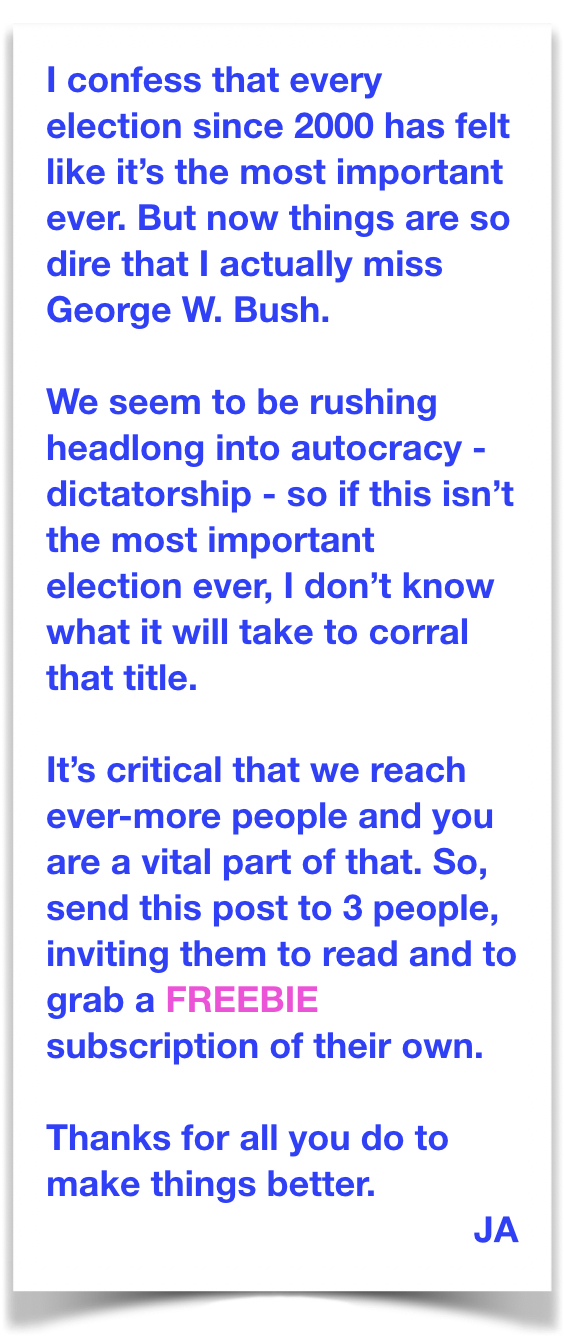 Sure, you're sick of coronavirus 24/7, but it's killing so many of our family and friends that we need to know the truth. For that, read Sheila Markin's post and you'll understand both what's happened and what needs to happen.
The president can't tell the difference between reality and a reality TV show, but you know what he doesn't know, that when people die from coronavirus they're permanently dead. They won't come back for the next episode. That's why you and I need to understand reality, including what must be done.
This is important, because even if the virus fades during our warm months, it will be back next autumn and winter and will kill many more of us unless we do the right things all along. That's why it is not hyperbole to say that the general election this November 3 is the most important of your lifetime. It really will be a life or death choice.
——————–
Connected to that, you also need to understand the devolution of our welfare, our politics and our democracy.
In 2016 you saw enthusiastic Trump supporters chanting at every campaign rally, "Lock her up! Lock her up!" It was all about some unsubstantiated accusation that Hillary Clinton had broken some unnamed law at some unidentified time according to some unknown evidence and some unavailable accusers. Nevertheless, the hate chanting was enjoyed by all in attendance. What a power rush for them!
Now it's back.
Governor Gretchen Whitmer has Michigan on lock down against the spread of coronavirus and, of course, nobody likes being locked down. The far right hair-on-fire types don't just dislike that: they rebel violently against anyone telling them what to do.
They organized a rally on the steps of the capitol building in Lansing to protest and demand that Michigan be "reopened." They invoked Revolutionary War era slogans to amplify their aggrieved insistence. Clearly, their individual wants are more important to them than that they may be killing others by passing their asymptomatic  infection – like to you or to your granny or to your children. And their self-focus stands in gob-smacking contrast to the over 2,000 Michiganders who are now dead from coronavirus, as though that never happened.
Bear in mind that LESS THAN 1% OF ALL AMERICANS HAVE BEEN TESTED FOR CORONAVIRUS. That means that WE DON'T EVEN KNOW WHO'S SICK AND INFECTING OTHERS AND WHO WILL INFECT MANY MORE OTHERS IF EVERYONE IS SET FREE TO COUGH AND SNEEZE CLOSE TO ONE ANOTHER. But no matter, Governor Whitmer. the Michigan protesters are telling you plainly that you can't tell them what to do.
Of course, there was no social distancing among the protesters as they marched and shouted, nor was anyone wearing a mask or gloves. Perhaps they think the power of their dark side is so dreadful that the virus can't touch them. Sadly, they almost certainly have a nasty surprise coming. Some of those protesters surely were infecting others and the virus will spread among them and likely to yet others, too.
They were carrying the de rigueur symbols, the Don't Tread On Me flag, the ultimate victim symbol, and a Confederate flag, the ultimate anti-patriotism flag. There were Nazi flags, too, yet they think of themselves as true patriots. And, as you already suspect, without any evidence of Michigan gubernatorial wrongdoing, they were chanting, "Lock her up! Lock her up!" What a power rush for them!
This is what now passes as Republicanism.
This is what now passes as conservatism.
This is what now passes as patriotism.
This is what now threatens our lives, our democracy and our entire republic.
I believe we are reaching an inflection point, the path to which was instigated by Ronald Reagan's intentional demeaning of government, with his repeated mantra that, "Government is the problem." He began a cascade of attacks and criticism telling citizens not to trust government (and gave them reason with his Iran-Contra lawlessness), and led us to despise the commons. The Newt Gingrich crazies, the Tea Party crazies, the alt-right crazies and the Freedom Caucus crazies were and are ego power trips for the angry and all about destabilizing government and even overthrowing it. Steve Bannon, Trump's anarchy whisperer, was and is all about "tearing it all down" – his words. These blatherers are all big megaphones for selfish anger.
If you're angry at government, perhaps filled with rage over perceived betrayal, tearing it all down sounds pretty good. You believe that the Second Amendment is foremost a message from the Founders to arm yourself against your own government, rather than its original meaning, to be a substitute for a then-unaffordable standing army in case the British came back, which they did. You believe that the Declaration of Independence says, ".  .  .  whenever any Form of Government becomes destructive of these Ends, it is the Right of the People to alter or to abolish it  .  .  ." and that it means we should tear it all down because you're not happy about some things and, of course, it's all about what you want. In Jefferson's 1787 letter to the son-in-law of John Adams he wrote, "The tree of liberty must be refreshed from time to time with the blood of patriots and tyrants." You quote that, finding justification for insurrection and violence. Of course, it's always about someone else's blood.
If you're angry at government, perhaps filled with rage, you have guns, concealed carry, flag symbols so that you feel connected to some imagined noble cause of the past and you don't play well with others. You insist that your rugged independence is more important than our collective welfare. So, you show up on the steps of the Michigan capitol building and you yell and you spit and cough and sneeze with your fellow coronavirus protesters. "You have to disobey," you declare, with your Uzi strapped to your back and your Glock in your holster. What a power rush for you!
Just like all of us, these people want to go back to work. They want their old normal lives back. We all get it. The only thing that's missing is their having any concern whatsoever for anyone else. It's an astonishingly selfish stand to say, "My individual rights are more important than yours, even when I infect you and others, some of whom will die. I'm more important than all of us."
All of that is bolstered by a president who doesn't clearly call for individual sacrifice for the welfare of us all. Instead, he stokes division, telling us to follow the direction of our governors, then he encourages protesters to refuse to comply. Instead of leading a healthcare Manhattan Project, he seeks to set up others for blame when the whole thing explodes, as it's doing right now. Indeed, the protesters are led by a president whose only interest is in what serves him, which is to say, selfishness is what is most important. This is the same president who has warned of violence by "his people" should he be removed from office. Read more about our ongoing "Wartime President's" dysfunction here.
So, Reagan's starting point has led us to where we are now, this inflection point, where mob behavior is our standard. In the 1960s conservatives contorted themselves into pretzels condemning protests against the Vietnam War, calling the protesters nothing less than a mob and other considerably less savory names. Now our self-defined patriotic conservatives are on the steps of our state capitol buildings as frothing mobs themselves, and somehow they now think that's good.
The conservatives we elected to Congress drove our lobbyist-funded redirection of the Second Amendment, making it legal to take your AR-15 to your kid's school or to the grocery store. After all, you never know when a threat might appear and assault weapons might be needed in the toilet paper aisle. And these protesters brought their heavy armor to the rally in Lansing, thinking they're were making their point stronger. Actually, all they did was to threaten our domestic tranquility and make it clear that it's their way or it's violently their way.
This worldwide pandemic will have effects that will last decades and will impact everyone in ways not yet contemplated. An absolutist mind won't tolerate that well. These people have been trained for decades by leaders teaching them that government is the enemy. Right now their lives, as for all of us, have been turned upside down, they're more angry than usual and they aren't about to tolerate that disruption, that abridgement of their individual rights, without making a lot of noise and threats. And this president has stoked their violence for years.
And they have guns.
——————————-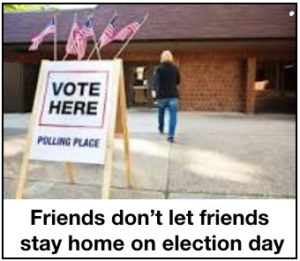 Ed. note: We need to spread the word so that we make a critical difference, so
Pass this along to three people, encouraging them to subscribe (IT'S A FREEBIE!).

Engage in the Comments section below to help us all to be better informed.
Thanks!
The Fine Print:
Writings quoted or linked from my posts reflect a point I want to make, at least in part. That does not mean that I endorse or agree with everything in such writings, so don't bug me about it.
Sometimes I change my opinions because I've learned more about an issue. So, educate me. That's what the Comments section is for.
Errors in fact, grammar, spelling and punctuation are all embarrassingly mine. Glad to have your corrections.
Responsibility for the content of these posts is unequivocally, totally, unavoidably mine.
JA
Copyright 2023 by Jack Altschuler
Reproduction and sharing are encouraged, providing proper attribution is given.