Most of us are t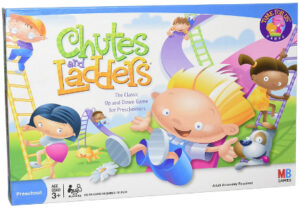 aught to play by the rules from a very young age because human relationships and even civilizations require rules in order to prevent chaos and the breakdown of society. So we play Chutes and Ladders pretty much according to the rules.
Robert Frost said it best:
Good fences make good neighbors.
So we make sure that we agree about the fences, just as we agree on the rules of Chutes and Ladders.
But now we have a national problem: one side isn't honoring the fences. It isn't playing by the rules. It's playing with wanton disregard for order, truth and the law. It is actively breaking down society. That is what bullies and insurrectionists do. That is what "all about me" types do. They play dirty. They cheat. They act without regard for others. They throw sand in the sand box, to invoke yet another metaphor, so they can own it.
When Democrats play by the rules, honor the fences and don't throw sand they keep themselves at a very dangerous disadvantage. As Nicolle Wallace put it, "Democrats continue to bring a knife to a gun fight." Wallace is right.
Senate Minority Leader McConnell has repeatedly vowed to block all Biden initiatives – he has 100% focus on that. Sadly, that leaves no focus for America and the American people. His message could not be plainer: "We want all the power, so screw you, We the People."
And Republicans are pleased to do any and everything to make that happen.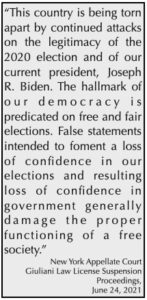 They lie, claiming a stolen election.
They enable and lie about insurrection.
They run a spy ring to sabotage our electoral processes.
They project their wrongdoings on Democrats.
They create and encourage conspiracy thinking to stoke fear and hatred.
They filibuster nearly everything.
They enact onerous, unconstitutional laws to prevent those likely to vote for Democrats from voting.
They put partisan conspiracy nut cases in charge of elections.
They enact laws to enable Republicans to overturn the will of the people.
They remove hundreds of thousands of voters from state voting registers.
Those are just some of the dishonoring of fences and throwing of sand – the "guns" – Republicans are firing in this gun fight.
Democrats respond by saying things like, "That's awful," and somebody gives a speech from the well of the Senate that nobody hears. That's the knife Democrats bring to this gun fight. It's way past time for Democrats to arm themselves properly.
Democrats need to get serious about messaging that will change the minds of the American people. We need talking heads to be everywhere calling out Republican lies and power grabs. We need elected Democrats and pundits telling Americans that Republicans don't care about We the People and that all they care about is stealing all the power and money for themselves  We need bumper stickers that say:
"Republicans are picking your pocket and breaking your legs."
"How do you like being lied to by Republicans?"
"Republicans are coming for you next."
"If you like being a peon, you'll love Republican rule."
"You can't love America and vote Republican."
"Republicans are why you can't get what you want."
"Rs want your rights, so we stand and fight."
We need talkers pointing fingers at cameras and scaring the hell out of voters by telling them the truth about the horrible dystopian future the Republicans are creating. Failure to fully engage, all rhetorical guns blazing, will lead to nothing less than vigilante terrorist murders and the end of democracy.
So, pass this along to your senators, representative and elected state officials. Tell them to stop playing nice, to put some starch into their spines and go on the offensive. This is not a contest against an opponent in a board game. This is a rhetorical and legislative gun fight against a well armed enemy of the We the People. Lock and load.
——————————-
A New Balance
Vaccine refusers have their reasons. Some of those reasons might even be rational and based on something real on planet Earth. I can't think of any, but let's assume that not everyone who refuses to be vaccinated is a conspiracy nut.
My guess, though, is that most believe in some sort of conspiracy, like the Bill Gates nanobots-in-vaccines believers and the autism wailers. My favorites, though, are the freedom screamers, the people who are certain that having to wear a mask is a tyrannical government's abridgement of their freedom. They believe there's no pandemic, that COVID is a hoax and it's no worse than "strenuous flu," as a mentally ill former president described it.
COVID doesn't care if you're in New York City or rural Missouri. All that's required to contract the disease is to be un-vaccinated and in close proximity to an infected person who is still able to exhale on his/her own. And yes, that happens even in rural Missouri. Just ask the people in rural South Dakota what happened last winter. Oh, wait – you can't do that because so many of them are dead.
Last winter South Dakota had the highest rate of death from COVID in the world. "Who needs a mask?" they said. The rest of us know the answer to that question, but the governor of SD still proudly stands for the right to contract COVID and die. And the face mask and vaccine refusing mania has become yet more perilous, as the Delta and Delta Plus COVID variants have made their way into the lungs of lots of Americans.
What's significant about these variants is how much faster and efficiently they spread to others' lungs and that they are far more deadly than yesterday's COVID-19. Let's consider what that might mean.
I bet that a huge percentage of vaccine refusers are rugged individuals and Trump supporters. Imagine what would happen if tens or hundreds of thousands of them manage to get themselves infected with the new ultra-deadly COVID variants. Without their being vaccinated and with anti-viral drugs largely ineffective in people with these variants, the die off this winter will be ghastly.
Here's the Machiavellian craziness of it all: That die off might be great enough to counter-balance the Republican purging of black, brown and young people from voting rolls in swing states.
Not hoping for any such thing, but karma always has its way.
——————————-
←
..
.
.
.
.
————————————
Did someone forward this to you? Welcome! Please subscribe and pass this along to three others, encouraging them to subscribe, too. (IT'S A FREEBIE!) Use the simple form above on the right.

Said John Maynard Keynes, "When the facts change, I change my mind. What do you do, sir?" So, add your comments below to help us all to be better informed.
Thanks!
The Fine Print:
Writings quoted or linked from my posts reflect a point I want to make, at least in part. That does not mean that I endorse or agree with everything in such writings, so don't bug me about it.
Errors in fact, grammar, spelling and punctuation are all embarrassingly mine. Glad to have your corrections.

Responsibility for the content of these posts is unequivocally, totally, unavoidably mine.
JA
Copyright 2023 by Jack Altschuler
Reproduction and sharing are encouraged, providing proper attribution is given.