Reading time – 7:49  .  .  .
Today we have a fresh edition of Future News!, but first this breaking news.
On July 30 Donald Trump tweeted:

Ignore the lies in this tweet and focus on the words in the magenta oval.
I warned about Trump's Wag-the-Dog in last Sunday's post and updated the warning on Wednesday with an Emergency Addendum. We are seeing the invasion of our cities and brutalizing of our citizens by federal shock troops in Washington DC, Portland, OR, Seattle, WA, Kansas City, MO, Cleveland, OH, Milwaukee, WI and Detroit, MI. And now Trump is yet again suggesting "delaying" the election. While he cannot legally do that, just the tweet is threatening to democracy.
It's all happening in plain sight. We are teetering on a knife edge of danger. This is no time to be a spectator. Indeed, democracy is never a spectator sport and protecting it so that we keep it demands that we get involved.
From Lisa Lerer of the New York Times:
"If you're worried about the integrity of the election, spend some time figuring out how you can vote safely in November. And then make sure your neighbors can do the same."
From me:
You don't have to twist arms or have awkward conversations. Just get out and help with voter registration – do a piece of the work of democracy.
Click here for a fabulous list of actions you can take.
Go to www.PostCardsToASwingStates.com and send postcards to voters in swing states to encourage them to register to vote. (Thanks AT for pointing this out.)
Email [email protected] to help register Milwaukee voters.
You get the idea. Get active. November is too late. Do it now.
And while you're motivated, contact your legislators and tell them to get off their butts and take action to get the storm troopers out of our cities. I haven't heard a peep out of Congress about Trump's blatant moves toward martial law and we need vocal opposition from those who can mandate restraint on Trump's authoritarian actions.
To paraphrase John Lewis, this is the time to get into good trouble. Necessary trouble. Every one of us.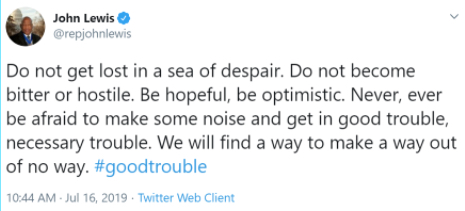 You owe it to yourself to read Lt. Col. (Ret.) Alexander Vindman's essay about doing what is right.
Now on to tomorrow's breaking news.
---
Future News!
"All the news that's fit to predict"
Washington DC, 4 November 2020
With so many states having enacted legislation requiring proportional voting by its electors in order to more closely represent the will of the people, along with the 49 state popular vote defeat for the president yesterday, the Electoral College is reeling from the smack down. Having just exited the secret passageway from its double secret room in the sub-basement of the Capitol Building, Dragon "Bubba" Duke, the provost of the College appointed by President Trump, said, "Who would have thought the American people could get their way? This really hurts our feelings."
The obvious disdain citizens have for the Electoral College came hard on the heels of the 2016 election, when, feeling its oats, the Electoral College disenfranchised 51% of the electorate. When College officials were telephoned this morning for further comment on what just happened, all that could be heard were the sounds of sniffling and noises very much like those in a bar.
Washington DC, 20 January 2021, 12:15PM

As soon as the inauguration ceremonies were complete, former President Trump was handcuffed and forcibly removed from the Oval Office by Secret Service agents and whisked to Joint Base Andrews in an unmarked car with blacked-out windows. There was no motorcade. He boarded the presidential Boeing 747, the customary call sign of which is Air Force One. Since he was no longer the president, the call sign for this flight was Getaway Car.
The former president was flown directly to Disgustistan, a small country southeast of Moscow along the Volga River, where he announced that he intends to build a casino and tower. The former president is said to have changed his permanent residence to that country and has transferred his assets to Swiss banks. The United States does not have an extradition treaty with Disgustistan.
Washington DC, 20 January 2021, 4:00PM
In a solemn ceremony in the Oval Office, where all department secretaries from the Trump administration were present except former Attorney General William Barr, resignations were submitted to President Biden. Former Secretary of State Mike Pompeo spoke for the group, pledging their ongoing support to President Biden's administration, asking only that they not be prosecuted for their wrongdoings.
President Biden accepted their resignations gladly, replying, "Fat chance!" and said that his new Attorney General, "will be contacting you very soon." As they departed he  turned to his chief of staff, saying, "This is going to be a BFD."
Riyadh, Saudi Arabia, 21 January 2021, 5:12PM local time
The Qatari news organization Al Jazeera reported today that former President Donald Trump's son-in-law Jared Kushner has requested asylum in Saudi Arabia. When asked for comment about the request by the now-former Senior Advisor to the President, Prince Mohammed Bin Salman, with whom Kushner has seemed to have had a good relationship for several years, replied, "Who?"
Washington DC, 27 January 2021, 8:10AM
Former Attorney General William Barr arrived at the Oval Office, having submitted his resignation with those of the other department secretaries a week earlier. He told President Biden that he had left the Department of Justice in perfect autocratic order, ready for presidential edicts and the new president's absolute power. Barr said that he understood that many had opposed his actions, but that he hoped the new president would both enjoy the greatly expanded presidential power Barr had manipulated into place and, in gratitude, offer Barr an absolute pardon for any and all crimes he committed or may have committed since time began.
President Biden heard him out, replying, "Are you f#!king kidding me?!" He then recommended that Barr get a really good lawyer and had members of his Secret Service team escort Barr by the elbows out to the sidewalk beyond the White House fence. Barr seemed perplexed by Biden's apparent lack of gratitude, as he leaned against the fence for support.
A nearby reporter asked Barr how his meeting with President Biden had gone and he replied, "That's something that is in process and I don't comment about ongoing issues. What I can say is that the terrible situation we find ourselves in can be traced directly to malfeasance by President Obama and his ineffectual administration." Barr refused to elaborate further and walked away in a huff, kicking a homeless man who was sitting on the sidewalk.
Miami, FL, 16 June 2021
In a surprise announcement, Donald Trump, Jr. stepped before the microphones and a phalanx of reporters at the Doral Country Club in Miami and announced that all Trump golf course properties worldwide have declared bankruptcy.
He spoke from prepared remarks, saying that once his father was out of office that interest in membership at their clubs, ".  .  .  dropped off the edge of the Earth." Trump, Jr. said he was extremely suspicious that people were terminating their memberships, ".  .  .  almost like it was being coordinated."
Further, he reported that 85% of the rental properties in Trump Tower-New York were for sale, owners were unable to find buyers and prices for the luxury condos were plummeting. Because of the timing of these situations, Trump, Jr. claimed that company lawyers were looking into filing lawsuits.
When asked who they might sue, the younger Trump angrily replied, "They know who they are and they know that we know who they are and they know we won't take this lying down, because they know that we know what they know and we know it – nobody has ever known it as well as we do. We'll sue them back to their s#*t-hole countries or wherever they're from."
Trump Jr. attempted to end the session, but was clearly agitated, stating, "Look at what they're doing to me! We'll get the people who've done this to us. We'll bring them fire and fury. They've never seen fire and fury like we'll bring. It will be fire and fury for them. Nobody's seen fire and fury like this. Fire and fury."
His sister, Ivanka Trump, immediately came to stand by him and put an arm around his shoulders, saying, "There, there. Don't cry or Daddy will be angry with you and he'll cut you off. We'll just do what Daddy would do and pretend it isn't happening."
"You're right!" said Trump, Jr. Turning back to reporters he said, "All of our clubs are having record years, record years! – so great that no one in the world has ever before had such spectacular success. We're geniuses – very stable business geniuses." Here he seemed to become remote, his eyes glassy and far away.
"It's like you've never seen before  .  .  .  best courses  .  .  .  fantastic clubhouses  .  .  .  already planning for Trump World Expo, coming soon  .  .  .  it'll be like nothing you've ever seen, we  .  .  " His voice at last trailed off as he was escorted back to his room by his father's hand-picked handlers. Ivanka followed, clutching her Chinese made purse and a can of Goya beans.
Centers for Disease Control and Prevention, Atlanta, GA, 1 July 2021, 9:00AM

Dr. Anthony Fauci held a press conference at the CDC headquarters to update the public about the ongoing battle against the worldwide pandemic, COVID-19.
Fauci said, "Since management of the national effort to fight the disease was turned over to the CDC in January we've made significant progress in reducing both infections and deaths. While there still is no safe and effective vaccine available and likely there will not be one for months or even years to come, wearing masks, social distancing and the washing of hands continue to be our most powerful weapons against this disease. If we fail to practice these simple safeguards, our country's death toll will rise dramatically from its current level of 362,000."
Fauci made it clear that the CDC, ".  .  .  will continue to order local or regional business shut downs as necessary to keep Americans safe and hasten full reopening of our economy."
In making his closing remarks he said, "I only wish we could have started this a year sooner. We could have saved over a quarter of a million lives."
Viper, Disgustistan, 30 September 2021, 11:10AM local time

Premier Volgonazi Torchenmarch of Disgustistan took to the airwaves early this morning to respond to the tweet storm unleashed over the past four days by former President Trump. He said that it's clear that the former president has a fine command of the social media platform, especially the use of the caps lock, as well as a skillful expression of white supremacy. He said, "Now that former President Trump is in all-Caucasian Disgustistan, he is with his peeps."
"However," said Torchenmarch, "his casino, the construction of which is nearly complete, will operate solely to my benefit. Further, I cannot guarantee that former President Trump will be paid for all of his construction work, this in accordance with Trump's modeling of this practice in the U.S. My entire family thanks him specifically for this leadership."
In an apparent aside from his prepared remarks, Premier Torchenmarch wondered aloud how President Trump would like being stiffed, adding, "So, sue me. I'll sue you all the way back to where you will be criminally prosecuted."
Former President Trump could not be reached for comment, but was said to be in contact via Zoom with his former lawyer, Rudy Giuliani, who is presently serving an 8 year sentence in Danbury Minimum Security Prison. Note that Giuliani is unable to provide legal advice to Trump, having been disbarred immediately upon his convictions for attempted extortion, racketeering and lying to federal agents.
The former president's former lawyer, often called his "fixer", Michael Cohen, was told of the way his former boss was being treated in Disgustistan. His only comment to the press was, "It's about damned time."
—————————
You won't want to miss any upcoming issues of Future News! so be sure to subscribe now. And if there's an upcoming event worthy of our predictive reporting, please submit it to our editor for consideration at [email protected] Or use the Comments section below.
"All the news that's fit to predict"
——————————-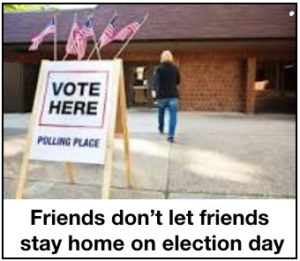 Ed. note: We need to spread the word so that we make a critical difference, so
Pass this along to three people, encouraging them to subscribe (IT'S A FREEBIE!).

Engage in the Comments section below to help us all to be better informed.
Thanks!
The Fine Print:
Writings quoted or linked from my posts reflect a point I want to make, at least in part. That does not mean that I endorse or agree with everything in such writings, so don't bug me about it.
Sometimes I change my opinions because I've learned more about an issue. So, educate me. That's what the Comments section is for.
Errors in fact, grammar, spelling and punctuation are all embarrassingly mine. Glad to have your corrections.

Responsibility for the content of these posts is unequivocally, totally, unavoidably mine.
JA
Copyright 2023 by Jack Altschuler
Reproduction and sharing are encouraged, providing proper attribution is given.