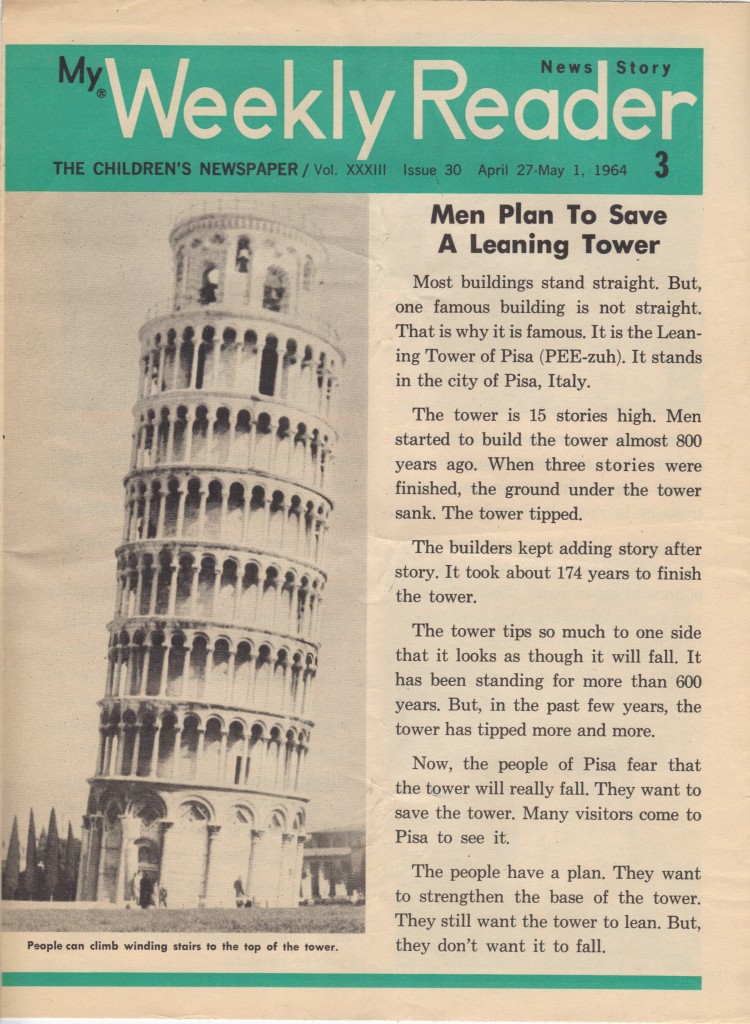 Reading time – 3:57  .  .  .
We're taking a break from the gigantic stories of the day, the pandemic, racism, our teetering economy and our perennially incompetent government to have a look at other vitally important stories that belong on the front page but have been pushed back to Section B beneath the fold.
Bully Barr
Did you ever wonder why Attorney General William Barr is such an immoral creep? Turns out it's a lifelong obsession of his. Read about his commitment to being a bully here.
Popeye Point
There is a never-ending commentary on the Sociopath-In-Chief and the anti-democratic, self-serving and illegal things he does. So, it isn't the slightest shock to learn that Trump begged President Xi of China to buy more farm products from the U.S. so that Trump could win farm states and get reelected. Hint: That's the same kind of presidential election tampering that got him rightly impeached.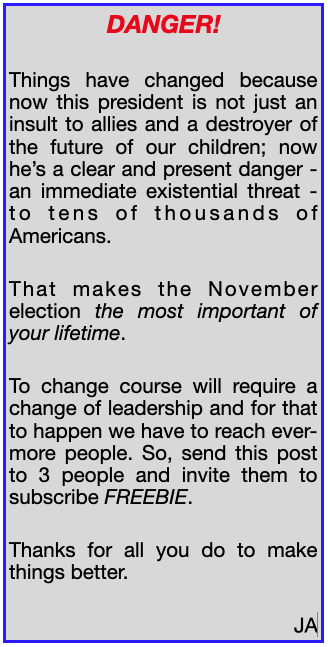 Meanwhile, there are the moral and ethical perversions of President Caligula that by now seem almost normal. Here's a smart analysis by someone who knows a bit about such things. Rabbi Wolkoff has reached his Popeye point, where it's all he can stands, he can't stands no more.
Foreign Danger
Perhaps you think international affairs and national security are important things. I have warned about the danger to the U.S. (here's one example) when weakened by things like a pandemic, a ravaged economy, deeply damaged alliances with friends, civil unrest and, of course, our sucking up to tyrants. But that was just me talking. How about the view from an expert with decades of experience and keen insight? Have a look at what Richard Haass, now President of the Council on Foreign Relations, has to say.
Anti-Corruption Wins!
Just taking a chance here, but you might care about corruption in government. I've done countless presentations on the corrosive impact of big money in government because it is both damaging to the Constitution and it's anti-democratic.
For example, since those kids and teachers at Sandy Nook Elementary School were massacred 8 years ago 90% of Americans have wanted universal background checks on the sale of any firearm. Since that atrocity there have been mass shootings at Marjorie Stoneman Douglas High School, Mother Emanuel AME Church, the Pulse Nightclub, the Las Vegas outdoor concert, the Sutherland Springs, TX church, Ft. Hood, the El Paso Walmart, Tree of Life Synagogue and more and we still don't have those background checks. (BTW – had those Sandy Hook kids not been gunned down they'd be entering high school this fall.) Watch this video (scroll down just a bit to find it) by the remarkably clear-headed and hugely effective folks at Represent.us. They're successfully fighting the corruption that drives Congress to ignore We the People.
Migrant Health
Trump has waged a war on immigrants, regardless of their documentation, ever since the abhorrent escalator rant against Mexicans in 2015. That war went on to include his baby and child cage farms, his ripping babies from their mothers' arms and separating them for life, his slandering all people from "shit hole countries" and far more. For those who have made it to our shores there is nothing easy, including healthcare during this pandemic, especially for migrant workers, many of whom are immigrants.
Download and read this piece of advice from Diane Harrison at HealthPSA.info and pass it along to those in need, because they're pretty well forgotten otherwise. Like you and me, they want to live and they want their children to live, and that's much harder for migrant workers in the age of coronavirus.
Dying for Leadership
It turns out that the Columbia University study that I reported to you on May 24 showing that approximately 30% of American COVID-19 deaths were preventable was right in concept, but things are far worse than they calculated.
A new Oxford University study detailed in "STAT" shows that 70% – 99% of American coronavirus deaths could have been prevented. That would have required early, aggressive, responsible, competent national leadership. We didn't have that. We still don't. One could argue that the avoidable death of 84,000 – 118,000 Americans is in the past – nothing we can do about that now. One would be right – and completely missing the point.
That same inept or completely absent leadership continues to allow and indirectly encourage massive numbers of unnecessary deaths of Americans. Read about it here.
Weekly Snark
Surely you'll recall that President Trump proudly proclaimed following a visit with the brutal, murderous North Korean dictator Kim Jong-un in 2018 that they, "fell in love." That suggests a solution to several issues.
Since Trump and Kim love each other, Trump should move to North Korea to live with his lover. Maybe Kim will allow Trump to build Trump Tower Pyongyang or a golf course at Mar-a-Demilitarized-Zone. Of course, since it's a closed society and nobody from the rest of the world vacations there, both properties would go bankrupt. That would be okay, though, because for Trump that's just another genius day at the office.
Also, each year the Darwin Awards recognize those who have done the most to improve the human gene pool by removing themselves from it. Could it be that last night we had 6,100 applicants in Tulsa?
Trump had bragged it would be 19,000 or 100,000 or a million, but he couldn't fill the place – gobs of empty, appropriately blue seats in the arena – and there was no overflow crowd to watch him on the outdoor look-at-me big screen. Still, there were 6,100 Darwin volunteers. Thanks go to MSA for the Darwinian insight.
From the 'Hood
10-year-old Elisa asks, "What's orange and ugly?"
You supply the answer.
Closing question:
Trump is notoriously ignorant on even the most basic things. For example, John Bolton reports in his new book that Trump asked if Finland is part of Russia. Yes, really. That kind of demonstration of his boundless ignorance goes on every day.
He's clueless enough that he couldn't pass even a middle school geography test, much less succeed at a top university. Plus, payoffs are in his blood (think: Stormy Daniels). Given his boundless, bottomless ignorance and reliance on pay-to-play, how much did he or his daddy pay for his Wharton diploma?
Far more important: how much are we paying for his constant fraudulence?
——————————
Ed. note: We need to spread the word so that we make a critical difference, so
Pass this along to three people, encouraging them to subscribe (IT'S A FREEBIE!).

Engage in the Comments section below to help us all to be better informed.
Thanks!
The Fine Print:
Writings quoted or linked from my posts reflect a point I want to make, at least in part. That does not mean that I endorse or agree with everything in such writings, so don't bug me about it.
Sometimes I change my opinions because I've learned more about an issue. So, educate me. That's what the Comments section is for.
Errors in fact, grammar, spelling and punctuation are all embarrassingly mine. Glad to have your corrections.

Responsibility for the content of these posts is unequivocally, totally, unavoidably mine.
JA
Copyright 2023 by Jack Altschuler
Reproduction and sharing are encouraged, providing proper attribution is given.