Reading time – 3:41; Viewing time – 5:10  .  .  .
Exposed
You know that anything you post on FaceBook or Twitter is available to anyone, anywhere, right? And you also know that even if you remove your content it still exists in archives and will stay there and be available to anyone willing to snoop as long as electrons move through the ether, right? You're exposed. (BTW – click here for instructions to permanently delete your FaceBook account.)
Dreamers were promised that if they signed up for DACA that their information would not be shared or used against them in any way. But then they were betrayed by the Backstabber-in-Chief in 2017. They're exposed.
And now we learn that pharmaceutical companies are sharing your user data about their medicines through their mobile apps. That means that when you actively or passively report anything about your use of a med and its effect on you, providers can and will send it along to whomever they like, wherever they like and you have no privacy whatsoever. HIPPA laws offer no protection. Exposed again.
Nobody reads user agreements about websites or apps. They are mind numbing in the extreme. Besides, we just want the site or the app and don't care about the legal mumbo-jumbo. But the information collectors do care. They want your information. And they share your information with others you've never heard of. You never intended for your information to go to others, but that's what happens. They sell your information to others who are free to share it with still others, leaving you totally exposed.
The FaceBook, DACA and pharma exposures of your information make it clear that promises to keep your information private don't rise even to the level of unreliability. Quite literally, no one is worthy of your trust with your private information. The only thing I see that can help you is to refuse to post any personal information. Not an easy thing to do in today's wired environment, but it's better than nothing. Maybe.
Dermatologist Report
In a fit of pique, President Donald Trump demonstrated his perilously thin skin by ranting about Sen. John McCain, who died in 2018. In a 5-minute rant, Trump made it clear that he resented Sen. McCain because he was everything that Donald Trump is not.
The majority of what Trump said is false (nothing new there); most of the rest is simply idiotic, like his complaining that McCain failed to thank Trump for what he did for the funeral, which consisted primarily of providing transportation of McCain's casket from Arizona to Washington. Trump gave no indication of how McCain might have expressed his appreciation from the grave, but somehow he seemed to think such appreciation should have been provided to him. Yes really.
The "F" Word
For the past few weeks I've been promoting the talk by Professor Jason Stanley of Yale University that was delivered to a packed house in Evanston, IL on March 23, based on his book How Fascism Works. So sorry if you missed it, because he put in front of us in plain, compelling language the clear and present danger that is before us.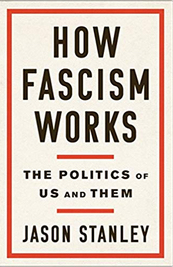 Yelling "Fascism!" likely falls on ears that refuse to hear; it sounds hyperbolic and is off-putting. After all, this is America and we're a democracy.
Yet it is irrefutable that democracy is under attack. You hear the assaults on our judiciary, the press, the FBI, our intelligence community, free speech, immigrants, the right to vote and more. You'll have to educate yourself to fully realize the depth of the assault, which means reading Dr. Stanley's books, as well as others, like How Democracy Dies and  Do Facts Matter?
Trump floated the idea of his becoming President for life, perhaps laying the groundwork for a permanent power grab. Michael Cohen warned us at the end of his testimony before the House Oversight Committee that if Trump loses the 2020 election that there ".  .  .  won't be a peaceful transition of power." How many warning signs do we need before we recognize that danger is right in our faces?
Tens of thousands of Jews wouldn't leave Germany in the 1930s, even as their neighbors were being disappeared into concentration camps. They refused to hear and they refused to see what was right before them. Then it was too late. It's up to us in America today to be more perceptive to danger than that.
You need to get smarter on this, so read Jason Stanley's book. It's an easy read. I found myself underlining lots of it because there is so much valuable information. Go on – get smart.
                ————————————
Ed. Note: I don't want money or your signature on a petition. I want you to spread the word so that we make a critical difference. So,
YOUR ACTION STEPS:
Pass this along to three people, encouraging them to subscribe (IT'S A FREEBIE!).

Engage in the Comments section below to help us all to be better informed.
Thanks!
Copyright 2023 by Jack Altschuler
Reproduction and sharing are encouraged, providing proper attribution is given.