Reading time – 4:02  .  .  .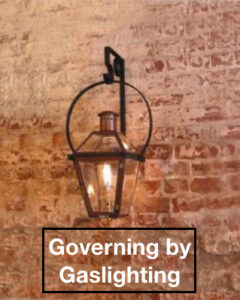 We've had years of hearing Donald Trump say whatever came into his fraudulent head and many of us are way past shock and indignation. We see that's just the criminal, disconnected-from-reality way he rolls and it's become what we expect. But he's infected pundits and members of Congress who now ignore reality so well and who are so facile with rationalizations that they no longer recognize when they're just making up crap. Reference: the impeachment trial defense team.
We now have governing by gaslighting and these reality deniers have infected the 38% voting bloc that has adopted their practices. We may soon hear a thundering claim of a flat Earth, a serious proposal for a National Alchemy Act and the burning of witches.
Often we're slow to figure out that we aren't dealing with reality. For example, we didn't do a good a job with the war on drugs. It was based on lies and was heavily weighted against non-white people. Essentially, it was and is a tool of suppression, not unlike any Jim Crow law, giving us the highest rate of incarceration in the world. A consciousness of that hypocrisy has started and at last we're doing something to bring us back to actual reality. It's taken half a century for us to recognize the facts.
Now we're in the midst of the impeachment trial of the Criminal in Chief. The blindingly fast stampede away from actual reality (e.g. promoting the totally debunked Russian propaganda story of Ukrainian interference in our 2016 election) being done by Trump's supporters is astonishing in its vehemence and audacity. They deny documented actions. At the same time they admit that Trump did those very things, but claim they aren't impeachable offenses. But really, now, they can't have it both ways.
They deny Trump's solicitation of foreign government interference in our upcoming election (read Federalist 68 for an adjustment back to reality – see the pertinent paragraph below), even though his own words and actions show us plainly that's what he did. Hugh Hewitt, a man who otherwise appears to be conscious, claimed this on Meet The Press last Sunday – watch starting around the 1:00 minute mark for a fine example of departure from reality.
Majority Leader McConnell claimed that the impeachment trial process that he created is the same as the process used in the Bill Clinton impeachment trial (not even close). That and a thousand other distractions, whataboutisms and whining lead us ever further away from actual reality. This is the kind of blatant refusal to acknowledge fact that is poisoning our nation. The more we deny actual reality, the more difficult it will be to fix what we've broken and the easier it becomes for people to deny any and all reality.
Countering fantasies with facts to redirect back to what actually happens here on planet Earth is pretty much an exercise in wheel spinning; deniers are immune to logic, so it's time for us to get tough on this craziness. I propose a War on Reality Denial. Too bad for you, Kellyanne Conway, Sarah Huckabee Sanders and Sean Spicer.*
It's time to draft a law making it a felony to knowingly promote false realities. We need a stop-and-interrogate provision. Playing off Donald Trump's invitation to police officers, it's okay if perps routinely get roughed up during questioning.
There will be mandatory sentencing to prevent wussy judges from undermining the program. And there will be a 3-strikes rule, just like in the war on drugs and the war on crime. I want to see repeat offenders put away for a long time. And while they are there we won't provide training or rehabilitation, so that when they are released, recidivism will be their reality. That will let us keep them locked up even longer. And because reality denial offenders are primarily white I want to see these laws disproportionately enforced on them.
Science and education are under attack in this country from many angles, but the overriding issue is the wholesale denial of reality. Let's put our shoulders to the wheel and move this legislation right past our fact contradicting politicians and send them where they belong: to RDP – Reality Denial Prison.
One bright spot: Yesterday I was once again a judge in the local middle school science fair. Seventh and eighth grade students proudly strutted their science stuff with a wanton embracing of reality. These kids learn and use the scientific method – you know, factual, testable real world reality. They are our hope.
Useful stuff: Because of what I learned at the science fair, check with me to learn about the best batteries, the fastest seed germination methods and ways to marginally increase memory performance. Also, I can now tell you which colors improve test performance and why a recording of your own voice doesn't sound like you.  These kids teach me a lot every year.
---
Resources:
Alexander Hamilton warned us about factional (i.e. partisan) lunacy in impeachment trials in Federalist 65**. Click through for the complete essay. Here's the pertinent paragraph:
"A well-constituted court for the trial of impeachments is an object not more to be desired than difficult to be obtained in a government wholly elective. The subjects of its jurisdiction are those offenses which proceed from the misconduct of public men, or, in other words, from the abuse or violation of some public trust. They are of a nature which may with peculiar propriety be denominated POLITICAL, as they relate chiefly to injuries done immediately to the society itself. The prosecution of them, for this reason, will seldom fail to agitate the passions of the whole community, and to divide it into parties more or less friendly or inimical to the accused. In many cases it will connect itself with the pre-existing factions, and will enlist all their animosities, partialities, influence, and interest on one side or on the other; and in such cases there will always be the greatest danger that the decision will be regulated more by the comparative strength of parties, than by the real demonstrations of innocence or guilt."
Have a look here for an interesting take on impeachment from the Harvard Law Review that will open your eyes. It might even poke at a cherished notion or two.
From a recent Lawfare brief:
"  .  .  .  the Founders had a broader conception of bribery than what's in the criminal code. Their understanding was derived from English law, under which bribery was understood as an officeholder's abuse of the power of an office to obtain a private benefit rather than for the public interest. This definition not only encompasses Trump's conduct—it practically defines it."
*From Federalist 68:
"Nothing was more to be desired than that every practicable obstacle should be opposed to cabal, intrigue, and corruption. These most deadly adversaries of republican government might naturally have been expected to make their approaches from more than one querter [sic], but chiefly from the desire in foreign powers to gain an improper ascendant in our councils. How could they better gratify this, than by raising a creature of their own to the chief magistracy of the Union?" [emphasis mine]
Maybe our "originalist" (interpreting the Constitution as the Founders intended) senators could stop denying this reality  .  .  .  ?
——————————————
*"Better a cruel truth than a comfortable delusion." Edward Abbey. Thanks go to MG.
————————————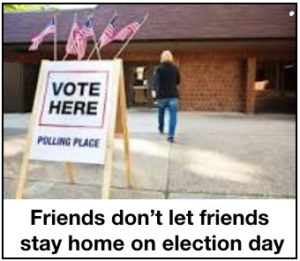 Ed. note: We need to spread the word so that we make a critical difference, so
Pass this along to three people, encouraging them to subscribe (IT'S A FREEBIE!).

Engage in the Comments section below to help us all to be better informed.
Thanks!
Fine Print:
Writings quoted or linked from my posts reflect a point I want to make, at least in part. That does not mean that I endorse or agree with everything in such writings, so don't bug me about it.
Sometimes I change my opinions because I've learned more about an issue. So, educate me. That's what the Comments section is for.
Errors in fact, grammar, spelling and punctuation are all embarrassingly mine. Glad to have your corrections.
Responsibility for the content of these posts is unequivocally, totally, unavoidably mine.
JA
Copyright 2023 by Jack Altschuler
Reproduction and sharing are encouraged, providing proper attribution is given.