The word "serendipity" stems from the ancient Persian tale, Serendipity and The Three Princes. It's sometimes called The Three Princes of Serendip.* It was translated in 1557 into Italian as The Peregrinaggio. It is a tale of "the gift for discovery by accident and sagacity of things  .  .  .  not in quest of [it]." It's commonly thought of as finding something of value while looking for something else.
I just had one of those moments when I came upon one of my long forgotten essays from shortly before the 2018 mid-term election. This isn't about being self-congratulatory. Because of our current circumstances, I think it's worth revisiting.
By 2018 we had endured a year and a half of Trump's general election outrageousness and cruelty, then two years of him in office. That he was greatly popular with a substantial swath of Americans led to a search to understand his voters. The search was more than to satisfy our need to understand why otherwise sensible people voted for this brutish thug. If we were to stop his worst, those who would stand up to his behavior had to be voted into office. Quickly.
I did some research and posted an essay to help in the search, taking care to understand, rather than to persuade. The video is embedded below and I encourage you to have a look at it with fresh eyes, because we are still fighting to stop authoritarian rule.
Here's that video:
Originally posted October 28, 2018, just before the mid-term election
Every bit of what was going on two and a half years ago is still going on. Indeed, some is far worse now. Republicans will not stop it. They have become a cult of anger, hatred, cowardice, violence and subservience. That means that we have to elect Democrats to stop the authoritarian stampede and to keep our democracy.
Expect the illicit Arizona election recount  of Maricopa County – the non-audit done by partisan ignorants and QAnon conspiracy believers, as they violate election ballot integrity – to report massive voting fraud that neither they nor anyone else can substantiate. After watching the video above, consider how our angry citizenry will react to the deceitful reports from Arizona that confirm their biases.
The 2022 mid-term election is of the same critical nature as that in 2018. It's just 506 days away, with Republicans working every day to cheat their way to long term minority rule by gerrymandering, purging voter roles, requiring oppressive voter identification, closing polling stations, intimidating professional voting administrators and more.
We have two key jobs. The first is to fight voter suppression. We're attacking that in the courts and, because there are potentially hundreds of repressive anti-voting laws, that will be a massive challenge.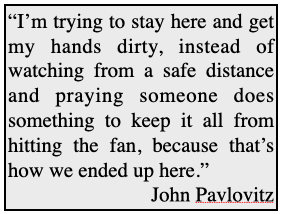 We're also attacking that in Congress. There are two bills – the For The People Act and The John Lewis Voting Rights Act – that we need to get through the McConnell-strangled Senate. The key obstructionist this time is, of course, Joe Manchin. We need a magic wake-up pill for him. It seems that those holding that pill are West Virginia voters. That's why phone banks to those folks are so important right now.
The second job is to figure out a way to appeal to our voting citizens who feel blown off by the establishment. They aren't all crazy. They are all angry. Please jot your ideas of how to appeal to them in the Comments section below.
Meanwhile, we best not count on serendipity to aid us in this mission. It's time to be intentional. If we find something else of great value along the way, then lucky us.
————————-
* Serendip is the classical Persian name for Sri Lanka.
————————————
Did someone forward this to you? Welcome! Please subscribe and pass this along to three others, encouraging them to subscribe, too. (IT'S A FREEBIE!) Use the simple form above on the right.

Said John Maynard Keynes, "When the facts change, I change my mind. What do you do, sir?" So, add your comments below to help us all to be better informed.
Thanks!
The Fine Print:
Writings quoted or linked from my posts reflect a point I want to make, at least in part. That does not mean that I endorse or agree with everything in such writings, so don't bug me about it.
Errors in fact, grammar, spelling and punctuation are all embarrassingly mine. Glad to have your corrections.

Responsibility for the content of these posts is unequivocally, totally, unavoidably mine.
JA
Copyright 2023 by Jack Altschuler
Reproduction and sharing are encouraged, providing proper attribution is given.