Reading time – 4:55; Viewing time – 6:46  .  .  .
The phenomenon of Trump's election and his continuing popularity among his "base" is hard to fathom for many of us, but I just got a dose of clarity from, of all people, Anthony "The Mooch" Scaramucci. He was on Joe Scarborough's program hawking his new book and in the time it took to make coffee I saw enough of the interview to get his main point.
What I heard from him was the two word pairing "wrecking ball." He said that people voted for Trump and continue to support him because they want him to be the wrecking ball of the establishment. Here's why.
1. This country stopped working well for a lot of people a long time ago. For example, when globalization causes the main employer in your town to shut its doors, everyone loses their job, including the waitress at the coffee shop downtown. Everyone working at the movie theater becomes unemployed and the auto parts store closes.
There not only aren't any jobs to be had, there isn't even hope. But the bosses who were running the factory that closed still have jobs pushing paper around for the offshore company where their goods are now made, and they paid themselves huge bonuses for their genius that made that all happen. If you were one of the workers who lost their job and their hope, how would you be feeling about that?
2. There have been huge productivity gains throughout our economy for decades, but nearly all the gains went to the top. Says Paul Volcker, former Chairman of the Federal Reserve, in his interview by Andrew Ross Sorkin,
"We've got an enormous number of enormously rich people that have convinced themselves that they're rich because they're smart and constructive."
Think: The guys who off-shored the factory in your town.
Truth be told, they were, in fact, smart enough to have secured great riches for themselves, including from all those productivity gains. If you were a worker who didn't participate in those gains, would you be okay with that?
3. Unemployment has been steadily going down to the point that we're effectively at full employment. That should drive wages up, as employers fight to hire new workers, but that isn't happening on a scale or at a pace that is remotely proportional to the increased demand for workers. In fact, wages haven't significantly improved since at least as far back as Reagan's presidency. If you were one of the workers affected by stagnant wages, how would that sit with you?
All of that speaks only to the economic drivers of citizen anger, and doesn't touch on the fear of people living in a nation in transition and their imagined terrors of what change will do to them.
I've written several times in these posts (here and here and here) that the 2016 election and the leadership of Trump was and is a raised middle finger campaign. Trump speaks to the angry, the disempowered, the abused and forgotten of America. He speaks a rage that mimics their rage. He constantly targets enemies on whom to focus their rage, chief among which are anything that even suggests the establishment. Here's a short list of Trump's targets:
The press
The FBI
The Justice Department
NATO
The Democratic Party and all Democrats
Brown and black people
Migrants seeking asylum
Muslims
Cable news
And that targeting leads to someone sending pipe bombs to people on Trump's list.
I recall playing Monopoly when I was a kid and can tell you that I didn't like losing. One time I played with a friend and he won 3 games in a row in our Saturday marathon of game playing. I was so frustrated that I swept my hands across the board and scattered all the tokens, the houses, the Chance cards – everything. I took a metaphorical wrecking ball to the game – very much like blown-off Americans want to do with our establishment and exactly what Trump is doing to stoke their anger and resentment and to garner their continuing support. But there is a price that we pay for the wrecking of our establishment.
Paul Volcker named that price, saying,
I don't know, how can you run a democracy when nobody believes in the leadership of the country.
From Sorkin's comments on Paul Volcker:
Mr. Volcker is no great fan of the president, but he acknowledged that Mr. Trump had cannily recognized the economic worries of blue-collar workers. Mr. Trump "seized upon some issues that the elite had ignored," he said.
This rage endures powerfully within about 38% of the electorate, who are so angry and feel so strongly about being victimized that they're perfectly comfortable overlooking Trump's obvious lies, the Russian hacking and possible Trump conspiracy, his boasting of having the right to grab women you-know-where, his blatant use of his office to enrich himself, his refusal to stand up to Putin, his abandonment of the people of Puerto Rico, his use of an unsecured iPhone that's being hacked by the Chinese and others and all the rest of his lunacy, as long as he sticks it to the establishment.
It's possible that populism is a more proper word than mob-ism, which I just made up, but you get the idea. What we're seeing is a continuing public lynching of the foundations of our democracy carried out via non-stop campaign rallies that stoke yet more anger.
People who are energized by Trump show up on election day. People who don't show up to vote enable this self-destruction of America. And the people who vote for third party candidates in their principled protest are enablers every bit as much.
Read Tom Friedman's post, How To Make America America Again from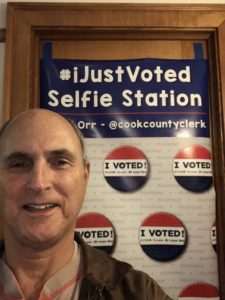 October 23rd. Then follow his advice: vote for Democrats. Not because you're a liberal. Not because you're a Democrat. Not because you're black or brown or a tree hugger or a snowflake or a woman or a graduate of Marjory Stoneman Douglass High School or because you're a believer in global warming or a supporter of Medicare for all and free tuition, but because the most important thing right now is to save our democracy.
Vote for Democrats. Go do it now.
————————————
Ed. note: I don't want money (DON'T donate) or your signature on a petition. I want you to spread the word so that we make a critical difference. That's the reason for these posts. To accomplish the goal requires reaching many thousands of people, so:
YOUR ACTION STEPS:
Pass this along to three people, encouraging them to subscribe (IT'S A FREEBIE!).
Engage in the Comments section below to help us all be better informed.
Thanks!
Copyright 2023 by Jack Altschuler
Reproduction and sharing are encouraged, providing proper attribution is given.