Reading time – 4:09; Viewing time – 5:40  .  .  .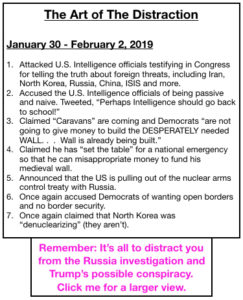 "The history of the Great Wall of China began when fortifications built by various states during the Spring and Autumn [period] (771–476 bc) and Warring States periods (475–221 bc) were connected by the first emperor of China, Qin Shi Huang, to protect his newly founded Qin dynasty (221–206 bc) against incursions by nomads from Inner Asia."
So begins the Wikipedia narrative about the Great Wall. It was a successful defensive measure against warring neighbors and was military state-of-the-art in the first millennium BC.
That was then and, of course, this is now. We don't have warring neighbors or incursions by nomads from
Inner Asia or anywhere else to worry about. Furthermore, a physical wall simply isn't a barrier to anyone today, given that those who would enter the U.S. illegally have all heard of ladders, tunnels and boats. Nevertheless, our unimaginative president is attempting to fix his imagined 21st century crisis with a 771 BC solution.
Trump continues to threaten to declare a national emergency over what is plainly not an emergency. He would then steal $5.7 billion from places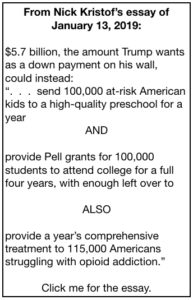 where Congress had appropriated it and would use that to build his useless wall and starve other needs. While he will attract an immediate court challenge that likely will stop him, he'll proceed anyway. When he's stopped he'll wallow in his victimhood, because that's what self-centered autocrats do.
Next, from MarketWatch:
"Lawmakers, already in a protectionist mood, responded to the pain of the Great Depression by passing the infamous Smoot-Hawley Tariff Act of 1930, which raised duties on hundreds of imports.
"Meant in part to ease the effects of the Depression by protecting American industry and agriculture from foreign competition, the act instead helped prolong the downturn. Many U.S. trading partners reacted by raising their own tariffs, which contributed significantly to shutting down world trade."
That is to say, Trump is now using failed tariff policies from nearly 100 years ago to solve a trade problem that doesn't even exist in the way he naively describes it. His tough guy behavior may feel good to some for a moment, but it eventually becomes self-defeating. Just ask Harley Davidson and our soy bean farmers.
Trump thinks and acts simplistically, regardless of the complexity of an issue. His solutions are always puffery and brute force and they're entirely lacking even a whiff of insight from higher level cognitive functioning. Sadly, our international opponents are playing three dimensional chess while Trump is smashing checkers with a big hammer.
Whatever may be his mental issues that caused him to lie over 6,000 times during his first two years in office, the real issue is not Trump's lying. The real issue is Trump's lack of recognition of the truth. It means nothing to him. He seems to believe that all he has to do is to say something and Voila! – it becomes true. For Trump, reality is just a minor obstacle to walk over. It's what autocrats always do. For more on this, refer to Putin, Xi, Duerte, Erdoğan, Hitler and Stalin.
The rise of autocracy around the world has been well documented and it represents a clear and present danger because autocracies have a way of creating wars. Millions suffer and die. Everything is made worse.
Not long ago I wrote,
The worst thing, though, is the ongoing drumbeat of how awful our government is, including blatant lies by legislators and by polarized commentators, like Breitbart, Rush Limbaugh and Alex Jones. That has led to a very angry citizenry. And that has led to the election of a president who is incrementally tearing down the very things that make this country work, including our democracy itself. Somehow, his supporters, otherwise good, solid folks, are so angry that they are willing to ignore Trump's crazy.

I have written (here and here or click Fascism in the Categories list to the right) about the threat of creeping fascism in this country and have seen nothing to indicate that progress has been made to reverse the weakening of our democracy. It continues as predicted by Henry Wallace, Franklin Roosevelt's next to last vice-president, and we've
been warned repeatedly by various clear-headed thinkers that, "When fascism comes to America it will be wrapped in the flag and carrying a cross." That sounds a lot like Trump's appeals to "his base."
Have a look at what former Secretary of State Madeleine Albright has to say about this. Then think about whether it's okay to have a simplistic president solving 21st century challenges with 3-millennia old solutions and all the rest of his crazy, the way autocrats always do. Then think about a wag the dog gambit to keep him in power, like the looming opportunities for war in Argentina and Iran. How are we going to prevent that? If we fail, Trump may have enough time to tear everything down.
                   ————————————
Ed. Note: I don't want money (DON'T donate) or your signature on a petition. I want you to spread the word so that we make a critical difference. So,
YOUR ACTION STEPS:
Pass this along to three people, encouraging them to subscribe (IT'S A FREEBIE!).

Engage in the Comments section below to help us all be better informed.
Thanks!
Copyright 2023 by Jack Altschuler
Reproduction and sharing are encouraged, providing proper attribution is given.