Reading time – 58 seconds  .  .  .

This post is certified to be gluten free, dairy free, soy free and free of contamination from the recent State of the Union address. You
can read with full confidence for your safety and mental health, although if you're allergic to nuts  .  .  .

————————————–
Preface: The post below was written during the hours that the Iowa caucuses were in progress. The sentiments expressed still hold. The screw up of the Iowa Democratic Party doesn't change a thing, except for the opportunity they provided to Republicans to name call like bratty children, which is how the White House is currently run, That makes the meaning of this post all the more consequential.
---
I'm sappy for America. I get a lump in my throat walking to my polling station to vote. The Fourth of July parade and Memorial Day ceremonies mean something deep to me. So, as I watched the coverage of the Iowa caucuses, my heart swelled. I was watching people doing democracy.
They left their warm, comfortable houses on a cold winter night to stand up for our country. They came to the grade school, high school and college gymnasiums to meet with their neighbors and declare what they want the United States to be. And that's the point.
It's about we people declaring what We the People want in a way that will make it stick. And it looks like rejecting Donald Trump is the most important thing. It's more important than such critical issues as health care, climate warming, jobs, the threat of Russian expansion and everything else. It's about elect-ability so we can reset our country back to the values we believe in.
Did I mention that's the point? We get to decide. And that's why you and I and all of us are going to vote in our primaries, phone bank, knock on doors, kick in a few bucks, vote in the general election and, like the Founders, pledge our lives our fortunes and our sacred honor. It's about doing democracy.
————————————
P.S. Since we've begun the primary process, however clunky that's been, John Pavlovitz's post is a must read. It's especially useful:
Ο  If you're a girl or woman
Ο  If you know a girl or woman
Ο  If you had a mother
Check all that apply.
————————————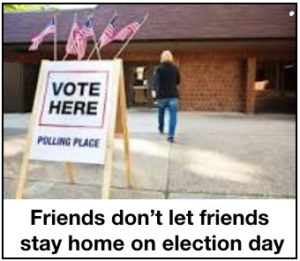 Ed. note: We need to spread the word so that we make a critical difference, so
Pass this along to three people, encouraging them to subscribe (IT'S A FREEBIE!).

Engage in the Comments section below to help us all to be better informed.
Thanks!
Fine Print:
Writings quoted or linked from my posts reflect a point I want to make, at least in part. That does not mean that I endorse or agree with everything in such writings, so don't bug me about it.
Sometimes I change my opinions because I've learned more about an issue. So, educate me. That's what the Comments section is for.
Errors in fact, grammar, spelling and punctuation are all embarrassingly mine. Glad to have your corrections.
Responsibility for the content of these posts is unequivocally, totally, unavoidably mine.
JA
Copyright 2023 by Jack Altschuler
Reproduction and sharing are encouraged, providing proper attribution is given.