Reading time 5:02; Viewing time – 6:59  .  .  .
Trump politicized the Fourth of July.
There were M1A2 Army tanks and Bradley armored vehicles in front of the Lincoln Memorial.
Not content with just stationary vehicles, Trump ordered the military to have airplanes and helicopters pass overhead, saving the Battle Hymn of the Republic to blare over the loudspeakers as the Navy Blue Angles did a fly-by.
The military was there because Trump won't get his military parade to one-up President Macron of France. Such a massive show of hardware would rip up Pennsylvania Avenue and cost more than he could scam through Congress. And they were there because the violent machines of war make him feel powerful and self-important.
He gave a speech written by others which included concepts he doesn't understand, interspersed with self-serving grandiosity. He anchored it to the military because his base would thrill to that; but of course that was only a fraud to justify focus on himself.
"It'll be like no other – it will be special  .  .  . " Trump had promised of his spectacle. Of course, that turned out to be true – it was like no other. But not in the way he meant. (Just for fun you can review his speech here.)
For this Trump "look-at-me" event using our military for political purposes, only big Republican donors and pols were offered tickets. No Democrats were invited. He refused to disclose how much the event actually cost, but we already know that he robbed $2.5 million from our national parks as partial payment.
And all of that is the problem.
Trump made our national birthday party all about Trump instead of all about America. It is the perfect exemplar of what has happened to our country since the craziness began, as foreign affairs, immigration, trade policies, the wall, threats of war, healthcare, taxation and all the rest are solely about Trump, not about America.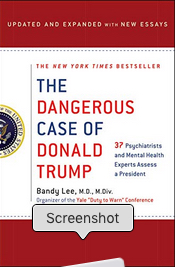 That is why we have to do absolutely everything necessary to get the hands of this dangerous person off the levers of government. Because it's not supposed to be about Trump; it's supposed to be about you and me and 320 million of our country-men and -women.
I'm not an "all Democrats all the time" guy. I am a democracy guy full time and it matters that a huge percentage of our democracy has been demolished by this would-be tyrant. It needs to be rebuilt before we lose it all. I've written about that in many ways, including how We The People aren't getting what we want. A part of what submarines rule by the people is a Republican Congress that is dedicated to chest-thumping fictions and obstruction.
The Republican mantra for the last two Democratic presidents – that's 16 years of government – has been opposition to everything those presidents promoted. That was true regardless of how sensible the policies were and even if Republicans had supported those policies before there was a Democrat in the White House.
That produced hyper-partisan warfare and gridlock. It's why we don't have even a plan to rebuild our infrastructure, yet politicians tell us in every election cycle that they're going to fix it. It's why we don't have common sense gun laws, even as over 90% of us demand them. It's why Roe v. Wade continues to be attacked, while 76% of Americans want it left alone as settled law.
The same is true about healthcare, education, the DACA kids, global warming, Putin's invasion of America and so many other issues. We aren't getting what we want and our pride as Americans continues to slip almost entirely due to – let's call it displeasure – with our politics.
We need to put the building blocks of democracy back in place and the only way to get beyond the Congressional gridlock of the past 30 years is unitary government, at least for a time.
Yes, I know that the very vocal Democrat far left is off-putting to independents and traditional Republicans and even to centrist Democrats. Read Nick Kristoff's piece for more on that. I suspect that there will be a strong moderating force, should the Dems take over Congress, especially if Nancy Pelosi is in charge of the House. I, for one, will be lobbying for that moderation.
And I will be lobbying for democracy and for for clarity about what We The People want and the best ways to deliver that. Join me now in two ways.
First, support candidates who will create the change you want to see. Right now there's about an 85% chance they're Democrats, especially if they're opposing one of the spineless Republicans who hasn't the moral courage to stand up to Trump.
I really don't care if you've never voted for a Democrat, because your predisposition to oppose Ds has no place in our teetering democracy.
The second way may appear to be just for fun, but it isn't.
Confucius tells us that the beginning of wisdom is to call things by their proper name. We certainly need more wisdom in America right now. If Trump is to be removed from power in 2020 so that we can restore our democracy, we must properly name him with unmistakable clarity so that We The People make sensible choices.
What is the name that captures Trump? Put your notion in the Comments section to help expand our wisdom and make America America again. NOTE: This isn't about venting; it's about accurate description.
And this isn't about Trump. It's about Independence Day.
BTW – Senate Majority Leader Mitch McConnell tweeted a happy Fourth of July message on Thursday morning that included a picture of the Betsy Ross 13-star flag. White supremacist and other hate groups have been using that flag to promote themselves and spread hate, likely because slavery was the law of the land when Ross made that flag. Click through and read McConnell's tweet; then read the comments below it. They are stunning in their rebuke of him. Indeed, pass along the link to your friends in Kentucky so that they will remove this democracy killing "Grim Reaper" – that's how he describes himself – from the Senate.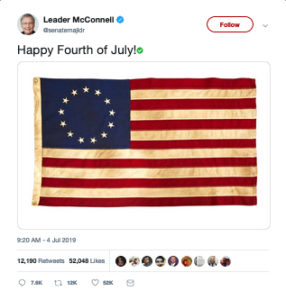 ————————————
Ed. Note: I don't want money or your signature on a petition. I want you to spread the word so that we make a critical difference. So,
YOUR ACTION STEPS:
Pass this along to three people, encouraging them to subscribe (

IT'S A FREEBIE!

).

Engage in the Comments section below to help us all to be better informed.
Thanks!
Copyright 2023 by Jack Altschuler
Reproduction and sharing are encouraged, providing proper attribution is given.